Green Valley Creamery Releases Lactose-Free Cottage Cheese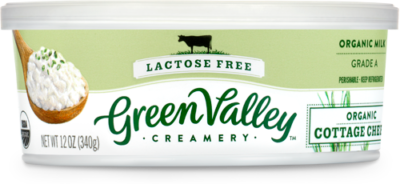 SEBASTOPOL, Calif. – In response to strong consumer demand, Green Valley Creamery (formerly Green Valley Organics) continues to expand its award-winning line of lactose-free, real dairy products with the introduction of organic, lactose-free cottage cheese. Starting in August 2018, Green Valley Creamery cottage cheese will be available nationwide at a suggested retail price of $5.29 per 12oz cup at New Seasons Market on the West Coast, Roundy's and Mariano's in the Midwest, MOM's Organic Markets in the Northeast, as well as other natural food stores and co-ops throughout the U.S.
As the only certified organic, lactose-free and FODMAP-friendly cottage cheese in the U.S., Green Valley Creamery's cottage cheese has a rich, creamy taste and mild cultured flavor. It is made with simple, clean ingredients – organic milk and cream, Celtic sea salt, lactase enzyme, and live, active cultures. With 4% milk fat, it contains no additives and is made without any gums, stabilizers or preservatives. Each serving provides 12g of protein and only 3g of carbs. Cottage cheese can be served simply with fruit, nuts or granola, or enjoyed with savory toppings like tomato, olive oil and black pepper. It also gives a hearty, high-protein boost to recipes like pancakes, muffins or quiches.
"Cottage cheese is by far the most-requested item by our customers. It is high in protein and is a delicious, versatile dairy product that can be enjoyed in numerous ways," says Vice President of Sales & Marketing, Rich Martin. "We are proud to introduce another real dairy product to serve the estimated 30-50 million Americans who are lactose-intolerant or lactose-sensitive. We strive to bring the joy of real dairy back into people's lives, and our organic, lactose-free cottage cheese is another positive step in that direction."
All of Green Valley Creamery's lactose-free dairy products are certified organic, kosher and gluten-free. The company uses a simple enzymatic process to break down the lactose in milk and cream, leaving its nutritional value intact. This renders the milk free of lactose and digestible to even those with severe lactose intolerance. All of its products, which have short and simple, organic ingredient lists, are slowly fermented with live and active cultures in a process that yields billions of probiotics per serving.
About Green Valley Creamery
Green Valley Creamery's lactose-free yogurts, kefirs, cottage cheese, sour cream and cream cheese were created so people with lactose intolerance can bring real dairy back into their lives, enjoying its health benefits and great taste without digestive troubles. Created by Redwood Hill Farm & Creamery, a 50-year-old company with a strong commitment to digestive health, which is operated by Founder Jennifer Bice to this day, Green Valley Creamery is a brand consumers can trust.
Made at a solar-powered creamery, Green Valley Creamery is dedicated to protecting the environment and strengthening its community. The company invests in Sonoma County workers and local non-profit organizations, uses Certified Humane milk for its yogurt and kefir, and supports the dietary needs of consumers. Visit GreenValleyLactoseFree.com for tips on living with lactose intolerance, great recipes and more information about the company's wholesome products and sustainable business practices.