Gonzo Hummus Launches Hummus Line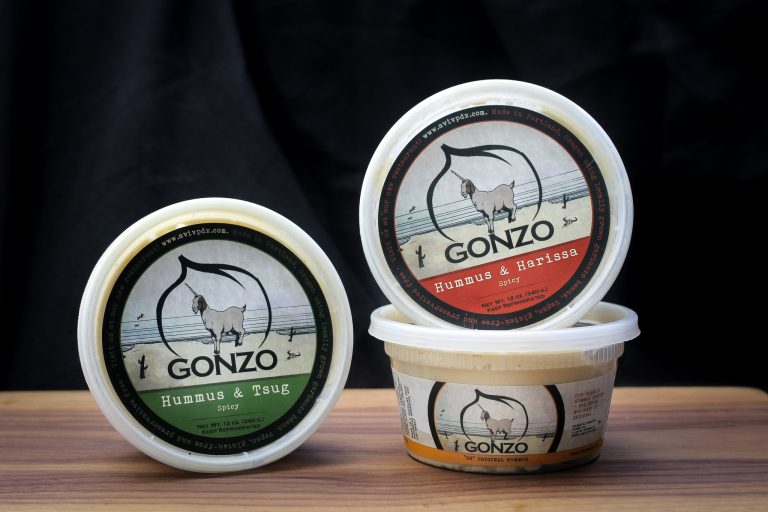 PORTLAND, Ore. — Sublimely smooth and like no other, Gonzo Hummus is now on shelves in three flavors: the classic "OG", Tsug and Harissa. The creamy-rich hummus, originally served at an Israeli-street style food cart in Portland, Ore., swiftly grew a cult following with customers ordering extra sides of to-go hummus. Made with Northwest-grown garbanzo beans, extra virgin olive oil, fresh lemon juice, garlic and Soom tahini, Gonzo Hummus is now ready to take home.
"I wanted something similar to what I ate as a child growing up in Israel but with a twist. I couldn't find it so, I just made it," said Tal Caspi, the Israeli-Argentinian chef and chickpea whirler. Caspi also runs the plant based Israeli restaurant AVIV which offers an extensive rotating hummus menu.
The three most popular flavors have been made available to go:
OG, the Original Gonzo, highlights the balance of the fresh ingredients with the nuttiness of the tahini.
Hummus & Tsug, the tangy-fresh green Yemenite paste made of herbs and jalapeños plays up the brightness of the hummus.
Hummus & Harissa, made of red Fresno Chiles, tomatoes and bell peppers, this combination delivers a yin-yang experience with the heat of the sauce and cooling hummus.
Gonzo Hummus is available in 12oz containers at all New Seasons, AVIV, Caviar and for wholesale purchases. For more information visit ihearthummus.com and @gonzohummus on Instagram.