Fruit Bliss Launches Fruit & Nut Bites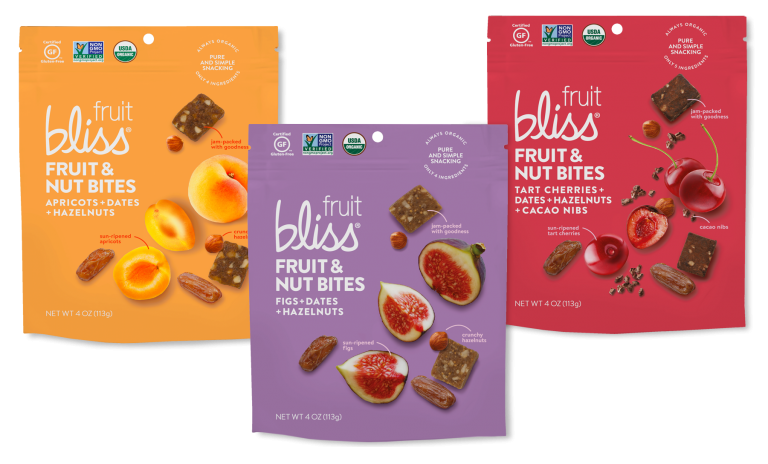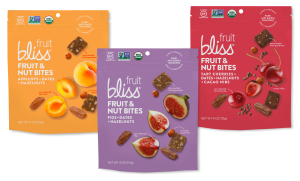 BROOKLYN, N.Y. — Organic snack food company, Fruit Bliss, is proud to announce the expansion of its offerings to now include pure and simple Fruit & Nut Bites. Made with only five ingredients or less, Fruit & Nut Bites combine a tasty blend of fiber-rich fruit and crunchy nut pieces. The result is the perfect bite-sized option for breakfast on-the-go, an afternoon pick-me-up, or a satisfying lunchbox treat. Fruit & Nut Bites are a delicious and versatile snack that can be enjoyed throughout the day.
Snacks with clean labels, and particularly those that include fruit, are on the rise. Innova Market Insights research around snacking trends notes strong growth in 2017 for clean label snacking, particularly with fruit options. In addition, due to the rise in natural fruit snacks, growth occurred in "no added sugar" (+29 percent) claims.
"With healthy snacking on the rise, and consumers looking for real food ingredients, we recognized an opportunity to combine our dried fruit with nuts to create a pure and simple snacking solution," said Susan Leone, Fruit Bliss founder and Brooklyn-based mom.  "Our existing line of rehydrated fruits is already unique in that they are soft and juicy and have been proven to be a great option on their own or added to a recipe. Combining our fruit with nuts, Fruit & Nut Bites are the perfect on-the-go snack the whole family can enjoy.
Fruit & Nut Bites (MSRP – $5.99/4 oz. resealable pouch), come in three flavor combinations, including Apricot, Fig and Tart Cherries. Each flavor is a snackable combination of organic dried fruit, dates and hazelnut.  The Tart Cherries flavor has the added bonus of cacao nibs and powder to create a chocolaty taste without the added sugar. Like all Fruit Bliss products, Fruit & Nut Bites are certified USDA Organic, Non-GMO Project Verified, Kosher, Vegan, Gluten- and Sulfite-Free. At only about 100 calories a serving (about four servings per pouch), Fruit & Nut Bites provide a satiating, guilt-free treat that can be enjoyed throughout the day.
Fruit & Nut Bites are packaged in resealable pouches made with NEO Plastics, a creative solution which allows ordinary plastics the opportunity to provide value after being discarded.  NEO Plastics utilize the power of nature to convert plastic into biogas, a clean renewable energy source, providing an entirely new sustainable solution.
"Choosing to package our Fruit & Nut Bites in a pouch made with NEO Plastics is one small thing we can do to help inspire others to do their part for a sustainable future," shared Leone.
Fruit & Nut Bites are available now on Fruitbliss.com, will go live on Amazon in October, and are expected to hit retail shelves in key markets across the U.S. throughout the fall.  Visit the Store Locator at FruitBliss.com to find nearby stores later this fall.
About Fruit Bliss
One bite and you'll know exactly how Fruit Bliss got its name. Our passion for creating wholesome snacks with simple ingredients is what makes Fruit Bliss downright delicious. It all started as one health-minded mom's mission for clean snacking for her on-the-go family. Established in 2011, Susan Leone founded Fruit Bliss, one of the first companies to bring rehydrated dried fruit to the U.S.  Fruit Bliss products are certified USDA Organic, Non-GMO Project verified, Kosher OU, Vegan, Gluten-free and Preservative-free. Fruit Bliss products can be found in grocery stores nationwide, as well as direct-to-consumer both on Amazon.com and on FruitBliss.com. For more information and a full list of products, visit  www.fruitbliss.com and connect with us on Instagram, Facebook and Twitter.