Country Archer Jerky Co. Debuts Meat Bar Line and New Turkey Jerky Flavor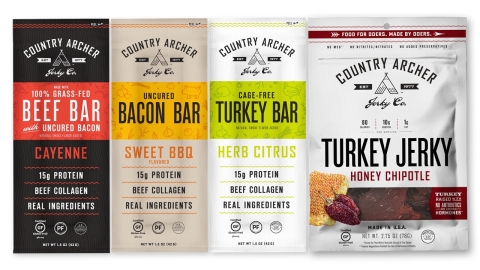 SAN BERNARDINO, Calif.–¬ Country Archer Jerky Co., a trailblazer in crafting delicious gourmet meat snacks, today announced the launch of its new line of meat bars and Honey Chipotle Turkey Jerky at Natural Products Expo West 2018. Available in Cayenne Beef, Sweet BBQ Bacon and Herb Citrus Turkey, the new line takes protein bars back to their primal state by using 100 percent grass-fed beef, uncured bacon and cage-free turkey, along with real ingredients such as collagen, dates and spices. Expo West attendees will be the first to taste the three new flavors, along with the brand'Äôs latest jerky innovation, and are invited to visit booth #5292 in exhibition hall E to experience a cleaner way to fuel their fervor.
'ÄúFor decades, protein bars have been the go-to option for busy people, however they are often made with highly processed whey protein and are high in sugar, calories and have ingredients that are difficult to pronounce,'ÄĚ said Eugene Kang, co-founder and CEO of Country Archer Jerky Co. 'ÄúWe'Äôre getting back to the basics. After months of testing recipes and experimenting with nutritionals, we'Äôve created a bar we'Äôre really proud of. Each bar is made with gourmet cuts of meat, collagen peptides, dates and smoky natural seasonings and spices 'Äď extending our mission to give every doer the right to access clean, whole food snacks anywhere. We'Äôre thrilled for the chance to showcase our expanded portfolio at Expo West 2018 as we continue to redefine the meat snack category.'ÄĚ
Crafted in small batches, the meat bars are a new and improved version of the brand's former Frontier Bars, but are made with the same gourmet cuts of extra-lean, USDA-inspected beef, bacon or tender turkey fans love, all raised without antibiotics or hormones. Each bar contains a complex amino acid profile made of collagen peptides, and is packed with 15 grams of protein, only three grams of sugar from dates and 120-140 calories per bar. The bars are also free of MSG, gluten and soy, making them in line with diets like Paleo, Ketogenic and Whole30. Flavor details include:
Cayenne Beef 'Äď crafted with meat lovers in mind, this hearty meat bar packs a punch of cayenne and flavorful bacon
Sweet BBQ Bacon 'Äď reinventing everyone'Äôs favorite cut of meat, each bar is crafted with classic smoky BBQ seasoning for a touch of sweetness
Herb Citrus Turkey 'Äď vibrant citrus mingles with fragrant herbs for an adventurous flavor combination
Adding even more innovation to a robust meat snack portfolio, Country Archer's latest jerky flavor, Honey Chipotle Turkey Jerky, remains true to the brands original hand-crafted recipes. The jerky is packed full of on-trend ingredients such as organic honey and bold chipotle that are slowly marinated for a smoky, one-of-a-kind complex flavor. With a whopping 29 grams of protein and only 200 calories per bag, Honey Chipotle Turkey Jerky is made with leaner cuts of cage-free turkey and is free of nitrites/nitrates, MSG, gluten, soy, antibiotics and added hormones.
Country Archer's meat bar line is available at Hudson News, 7-Eleven, Sprouts, Mother's Market, Lassen's, Ralph's and online at www.countryarcher.com, with a suggested retail price of $2.99 per 1.5-ounce bar. Honey Chipotle Turkey Jerky will also be available online beginning in March at www.countryarcher.com for $6.99 per 2.75-ounce bag.
About Country Archer Jerky Co.
Country Archer Jerky Co. is a leading producer of delicious gourmet jerky, meat sticks and meat bars. The largest jerky brand in the natural channel, Country Archer crafts all its meat snacks with high-quality, premium and clean ingredients. Made for outdoor adventurers, busy parents, athletes, and all of the everyday doers who want more from their food, Country Archer pushes the envelope with innovative and mouthwatering flavors, and responsibly-sourced and organic local ingredients. A great source of protein, each meat snack is crafted with gourmet cuts of extra-lean, USDA-inspected 100 percent grass-fed beef, tender cage-free turkey and uncured bacon. All Country Archer products are free of nitrites, MSG, gluten, soy, antibiotics and added hormones. Country Archer meat snacks are available nationwide at fine retailers including Kroger, Ralphs, Sprouts, King Sooper, Cost Plus World Market, Gelson'Äôs, Smart and Final, Meijer, Starbucks and more. To learn more about Country Archer, visit www.countryarcher.com, 'Äėlike'Äô us on Facebook, or follow us on Instagram or Twitter.