Circa Cane Sugar Now Available in US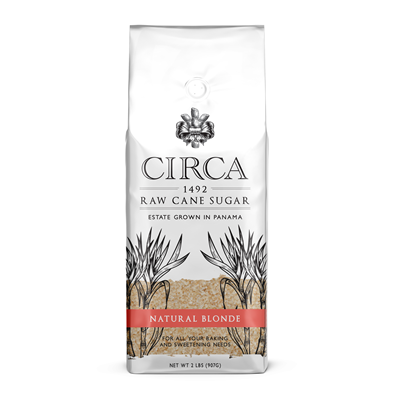 NEW YORK, N.Y. — CIRCA sugar, the first estate-grown, ultra-premium sugar from the Boquete region in the highlands of western Panama, is now available to bakeries, professional chefs, and coffee retailers in the United States.
Unlike other so-called "raw" Turbinado sugars that are painted with molasses to achieve a brownish coloration, 100% non-GMO CIRCA achieves its rich blonde hue naturally. As a result, the color will vary depending on the season, while the flavor and texture remain notably consistent. CIRCA sugar is grown on the Flores family's estate in the nutrient-rich volcanic soils and tropical climate surrounding the Barú Volcano, the tallest peak in Panama.
"The unique terroir of the region, combined with the family's state-of-the-art milling facility and hands-on attention to detail, result in a sugar of unsurpassed quality," said family patriarch Bolo Flores. "Every step of the process from farm to package is carefully controlled, so that the finished product is the very definition of purity: unadulterated, unrefined, no coloring added, nothing processed away."
Boquete overlooks the Pacific Ocean, in the western-most Panamanian province of Chiriquí near the border with Costa Rica, where the climate is ideal for growing quality sugar. In addition to being the source of the world's finest sugar, Boquete is known among coffee aficionados as the source of renowned Geish coffee (also called "Geisha" or "gesha"), often touted as the most prized (and expensive) coffee in the world.
CIRCA's consistent flavor and better dissolving characteristics result from crystal-cut milling, producing a granularity similar to fine beach sand. And because CIRCA is entirely produced on the estate, the brand offers 100% farm-to-table traceability, assuring consistently high quality, purity and consistency. The CIRCA mill is FSSC 22000-certified, meeting the highest European standard, and runs on 100% clean, renewable biomass energy, which empowers the Flores Estate sugar mill (eliminating emissions equivalent to 80,000 vehicles/year) and provides electricity to thousands of homes.
From their first sugar crop in 1998, Bolo Flores and his family have supported food banks and homeless shelters. As CIRCA Sugar expands to the United States, this commitment will be extended to the local markets served by CIRCA nationwide, with a portion of sales to be donated to community-based non-profit organizations serving those in need across the U.S.
"Just as our sugar literally sweetens a wide variety of foods and beverages, so too will it figuratively sweeten the lives of those in need who live in the communities where our products are enjoyed," said Bolo Flores. "Giving back has always been a core value of our family and our company—and it's a tradition we bring with us as we grow in the United States."
"I thought sugar was sugar, but as I cupped CIRCA along with different sugar brands, I was impressed with the result in the sweetness as well as the caramel note," said Anike Wolthers of Red Container Coffee Importers. "I see it as a great fit for cold brew recipes,"
CIRCA Raw Cane Sugar is available to foodservice and coffee retailers in 2-pound, resealable bags; two-pound wide-mouth plastic canisters; 4.5-gram single-serve portions (box of 1,200 for foodservice); and 50-pound bags for chefs. For information about CIRCA sugar, visit www.circarawsugar.com. For pricing and distributor availability, email at info@circasugar.com.