Chung Jung One Debuts Gochujang Powder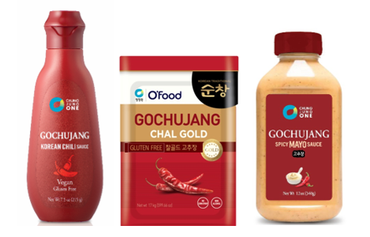 LOS ANGELES — Leading Korean foods manufacturer Chung Jung One will debut its new Gochujang Powder at the 2018 Summer Fancy Food Show (SFFS) in New York City, held June 30 through July 2, 2018. Chung Jung One's seasoned culinary team will also share new ways to enjoy the spicy, tangy, savory flavor of their latest products with show attendees.
Founded in 1956 in South Korea, Chung Jung One's parent brand, Daesang, has since grown to become one of the largest fermentation companies and one of the world's leading producers of consumer and professional food products. Among Chung Jung One's contributions to the U.S. food landscape is Gochujang, a sweet, spicy and umami red chili paste loved by Koreans for centuries.
"Since releasing our Gochujang Sauce collection in the U.S. market in 2014, we're thrilled that gochujang is now a household name in American kitchens and look forward to continued growth in the region with the expansion of our product lines for both home cooks and pro chefs alike," says Brian Tompkins, Vice President of Sales & Marketing at Chung Jung One. "Beyond the consumer audience, chefs across the market have embraced gochujang, incorporating the ingredient into a spectrum of modern cuisines. At this year's Summer Fancy Food Show, we're excited to showcase our products and demonstrate creative ways to enjoy them."
Gochujang Powder, now available in Original and Smoky for the professional market, begins with Chung Jung One's authentic trademark gochujang(fermented red chili paste). The paste is then vacuum-dried to achieve a powder with all of the umami-rich taste characteristics of gochujang in a dry powder form. Smoky Gochujang Powder also has natural smoke flavor added. Gochujang Powder can be used in a variety of applications, especially where a traditional gochujang paste is not convenient: mix the powder into a sauce or marinade; add to a rub for meats, seafood, and vegetables; use topically for fresh fruit, crudité, and other snacks; or coat the rims of glasses for drinks like micheladas, bloody marys, and margaritas.
Along with the new Gochujang Powders (Original, Smoky) Chung Jung One will showcase a range of consumer products, including the hit Gochujang Sauce collection, (Korean Chili Sauce, Spicy Miso Sauce, Spicy Ketchup), Gochujang Spicy Mayo Sauce, Premium BBQ Sauces, and more. In addition, the brand will give attendees a sneak peak of upcoming new products, exhibiting prototypes of a new kimchi series (Kosher Kimchi Jar, Regular Spicy Kimchi Pouch, and Seaweed Kimchi Pouch), Gochujang Salsa, Kimchi Salsa (one version with tomato and one with green pepper), Gochujang Pasta Sauce, and Gochujang Marinara—all produced in Sunchang, a mountainous region in the North Jeolla Province in the southwest of South Korea.
Furthermore, acclaimed international chef Giovanni Mauro Seu joins the event to educate attendees on the versatility of Korean ingredients and cooking with Chung Jung One's range of products in their own kitchens. With an experienced culinary background that has taken him from his home in Sardinia, Italy to Seoul, Korea and beyond, Chef Mauro has mastered the fusing of Italian and Korean flavors to create truly innovative cuisine.Chef Mauro and Chung Jung One's team of culinary professionals will host tastings during the trade show, featuring a combination of modern and traditional menu items including, Gochujang Rubbed Sous Vide Pulled Pork Tacos with Kimchi Salsa, Vegetarian Summer Rolls with Kimchi Puree, Russian Salad with Gochujang Remoulade, and Gochujang Mascarpone and Pistachio Crème in Chocolate Cups.
Chung Jung One's consumer products are available nationwide, online and on supermarket shelves across the country. Chung Jung One Smokey Gochujang Powder is now available in a 10kg box (5 x 2kg packs) either directly through Chung Jung One or its industrial distributor, Dempsey.Chung Jung One is exhibiting at the 2018 Summer Fancy Food Show under its parent brand, Daesang, at booth #3441, June 30-July 2, 2018.
About Chung Jung One
Chung Jung One, a leading brand of foods in Korea, brings exciting food from Korea and beyond to consumers in the United States. Among Chung Jung One's contributions to the U.S. food landscape is Gochujang, a sweet, spicy and umami red chili paste that has been loved by Koreans for centuries. Chung Jung One has not only made this and other products available for US consumer and professional audiences, but also, the company has invested resources into education about Korean food and culture, and how to use these products in both authentic and novel recipes. In addition to the brand's signature Gochujang, Chung Jung One offers a range of professional products including Gochujang Powder, and Gluten-Free Gochujang; as well as consumer products including Gochujang Spicy Miso Sauce,Gochujang Spicy Ketchup Sauce, Gochujang Spicy Mayo Sauce, Premium Korean BBQ Sauce, and more. Look for Chung Jung One to continue to expand on these efforts as well as to bring new products from Korea and beyond. For more information about Chung Jung One, visit the website and check out recipes, photos, and more on Facebook, Instagram, and Twitter.