Chomps to Release Free Range Turkey Snack Sticks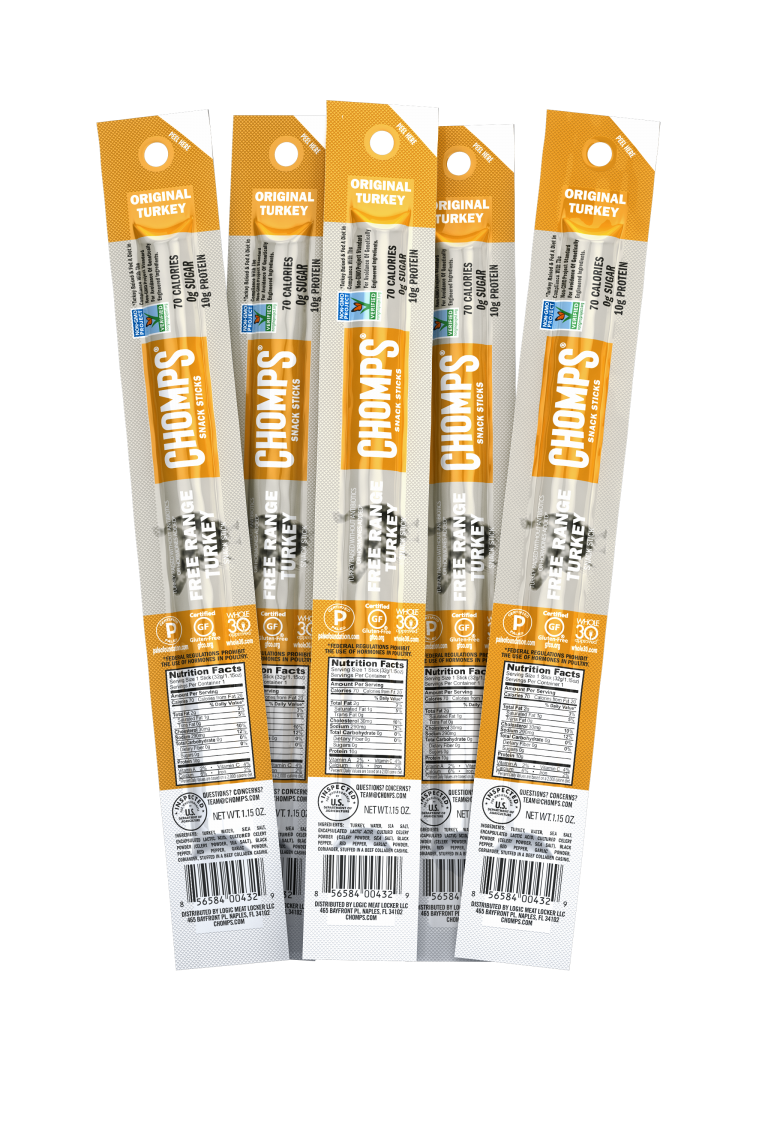 NAPLES, Fla. — Healthy snacking gets tastier and easier with the introduction of Chomps Snack Stick's new turkey varieties: Chomps Original Turkey and Chomps Jalapeño Turkey. As with all Chomps snacks, both are certified non-GMO, are only made with either 100% grass-fed, grass-finished or free range meats, and are always free of antibiotics.
Already a top-selling, breakout brand at retailers like Trader Joe's, Chomps is also one of the best-selling and fastest-growing meat snack brands in the US, and a favorite for followers of the Whole30, paleo and keto diet regimes.
Original Turkey will be available at retailers starting July 2018, including Trader Joe's, as well as online at www.chomps.com. Jalapeño Turkey is a Chomps brand exclusive and will be sold only online. Chomps is available in boxes of 5 units (SRP $11.25) and 24 units (SRP $49.00). Since the brand launched, Chomps has helped redefine healthier snacking across the country. The launch of its new turkey snack sticks will only broaden Chomps' appeal.
The Chomps difference comes down to quality and integrity. Every snack stick the brand produces is hand-inspected to meet rigorous taste, quality and food safety standards. For its new turkey sticks, Chomps uses only free range turkey meat sourced from Certified Humane farms in California. Delicious and lean, convenient and satisfying, Chomps turkey sticks have 10g of protein, just 70 calories and of course, no hidden 'nasty stuff': no sugar, no GMOs, no gluten, no soy, no dairy, no fillers, no added nitrates or nitrites.
Starting with its Original Beef snack stick, Chomps today offers other popular varieties, including Hoppin' Jalapeño Beef and Sea Salt Cracked Pepper Venison. The introduction of its new turkey sticks means consumers now have six Chomps varieties to choose from.
"Chomps has found a diehard following with on-the-go consumers who want a tasty boost or a quick, healthier snack fix, and really care how their food is crafted," said Chomps co-founder and ceo Pete Maldonado. "We emphasize quality as much as convenience because consumers today demand both, and even more, from healthier snack foods like Chomps."
America's demand for better-for-you foods has boosted the protein snacks industry in a big way. Annual sales of meat and jerky snacks were up over 20% in 2017. Chomps' popularity is helping the brand outpace its competitors with 300% y/y growth every year since 2014.
About Chomps Snack Sticks
Chomps knows life gets busy and that snacks should empower your choices, not compromise them! That's why Chomps wants to redefine better-for-you snacking with its signature meat snack sticks, made from the highest quality, humanely-raised meats and containing only natural ingredients. Chomps' stringent quality standards ensure the brand sells only the very best snacks online and in stores. Chomps is the only meat snack that is Whole30 Approved, Certified Gluten Free, Certified Paleo, and Non-GMO Project Verified. In addition to its certifications, Chomps snacks never contain added sugar, soy, dairy, artificial preservatives or colors, MSG, fillers like pork, binders, added nitrates or nitrites. Visit www.chomps.com for more information.