Bear Naked Launches Pumpkin Spice and Pecan Pie Granola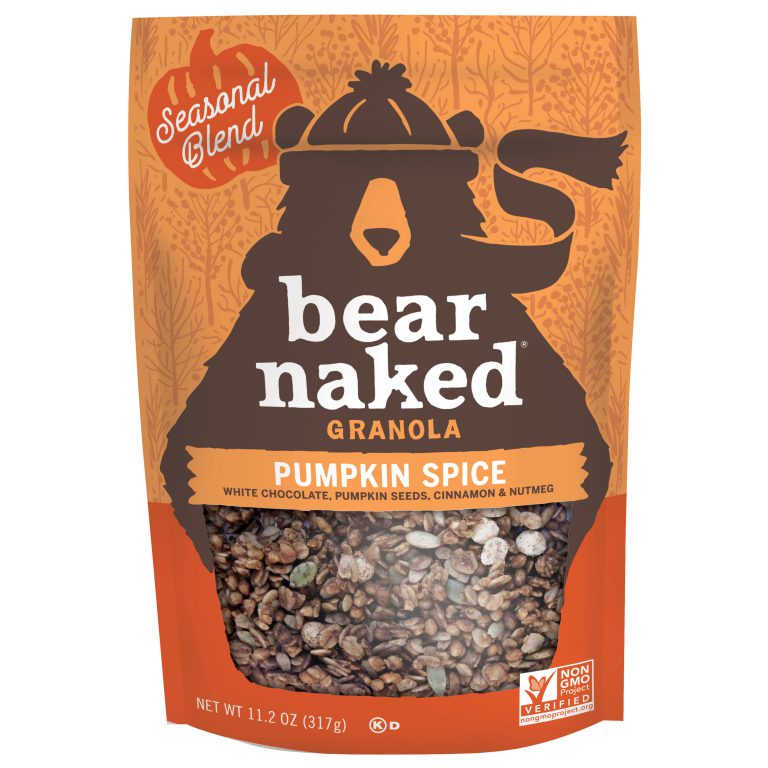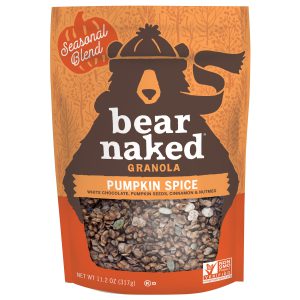 SOLANA BEACH, Calif. — Bear Naked announces the release of two new seasonal granola flavors — Pumpkin Spice and Pecan Pie — in time to celebrate the official first day of fall this Saturday, September 22. Crafted with whole grains, honey, spices, nuts and other simple ingredients, these granolas bring to life the warm nostalgic feelings associated with the changing seasons and are available in two distinct flavors:
Bear Naked Pumpkin Spice Granola: Slow-baked with cinnamon, nutmeg, ginger, pumpkin seeds and white chocolate to create an elevated pumpkin pie experience, this granola is the perfect addition to your favorite fall morning routine.
Bear Naked Pecan Pie Granola: A deconstructed southern favorite carefully crafted with glazed praline pecans, maple syrup, cinnamon, caramel and bits of piecrust brings that nostalgic holiday staple to every spoonful.
"Americans spent $488.7 million on pumpkin spice-flavored foods within the last year according to Nielsen and we know Bear Naked fans are always looking for new food experiences, so it was only natural for us to give unique take on classic favorites," said Jason Moraff, Associate Director of Marketing at Bear Naked. "With that insight and inspiration in mind, we reimagined the familiar flavor profiles of pumpkin and pecan pie, incorporating white chocolate chips and caramel pieces in our granola to mimic the creaminess that you get when eating pie a la mode."
Each granola is Non-GMO Project Verified and delivers diverse plant-based nutrition – including 2g of fiber, up to 6g of protein and 7g of sugar or less. These seasonal flavors are available now for a limited time only at Target, Walmart, Kroger, and Amazon Fresh.
While granola is most commonly enjoyed for breakfast, the Bear Naked Pumpkin Spice and Pecan Pie granola flavors lend themselves to fun, out-of-the-box combinations and pairings. A few ideas to try:
Tailgate Grub: Pumpkin Spice Granola paired with a Pumpkin craft beer
Grab 'n' Go Snack: Pecan Pie Granola with cocoa nibs and nuts for an elevated homemade trail mix
Breakfast Toppers: Pumpkin Spice Granola with Vanilla Yogurt or oatmeal/overnight oats topping
Level-Up Friendsgiving: Pumpkin Spice Granola used in place of graham crackers for a pie crust, Pecan Pie crushed up and added as a topping to cookies, cobblers, crumbles or sweet potato casserole
Dessert Additions: Top vanilla ice cream with a sprinkling of Pumpkin Spice or Pecan Pie Granola
Weekend Warrior Fuel: Make your own energy bites by mixing together dried fruit like dates or figs with granola, flaxseed, honey and a nut butter
Pumpkin Patch/Hay Ride Treats: Roll caramel apples in Pumpkin Spice Granola for an unexpected crunch while enjoying your fall outings
New Movie Night Snack: Mix kettle corn with Pecan Pie Granola + a glass of rosé for an upgraded night in
About Bear Naked
Bear Naked offers a full line of granolas and snack bars made with big, delicious chunks of nature to deliver epic taste. Launched in 2002, the company is passionate about creating great-tasting foods everyone can enjoy, and is best known for its signature, soft-baked granola made from real whole grains and minimally processed ingredients. Today, Bear Naked has evolved into a nationally-recognized consumer brand whose food is available across the U.S. For more information, please visit www.BearNaked.com.