Applegate Updates Deli Meat Ingredients and Packaging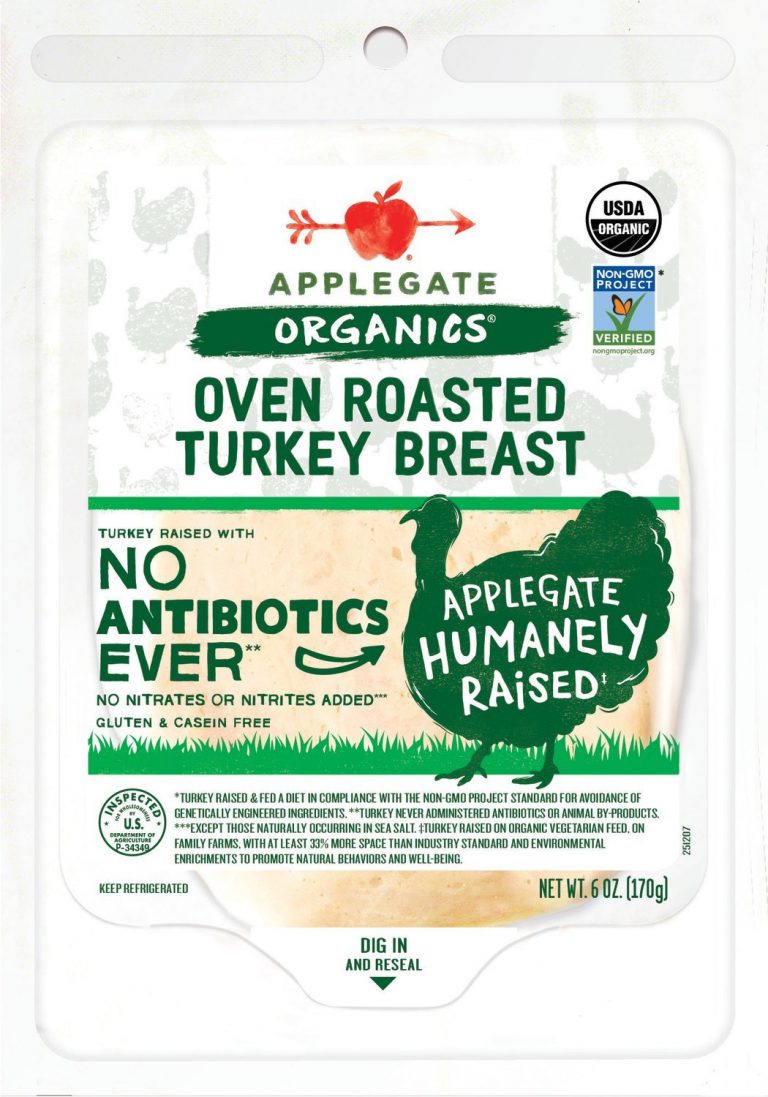 BRIDGEWATER, N.J. — Applegate, the nation's leading natural and organic meat brand, is progressing its mission – Changing The Meat We Eat – by bucking the status quo and improving its line of deli meat products. The brand decided to move forward with removing the controversial ingredient carrageenan in its poultry deli meat varieties, despite a recent United States Department of Agriculture (USDA) reversal on banning the seaweed extract from organic foods and beverages.
In addition to the carrageenan removal, Applegate is enhancing its deli ham varieties, and revealing a new packaging design that will boast a new look and provide an easier experience for consumers in-store and at-home. These deli changes will be transitioning at grocery store shelves now, until the end of the year.
"We're proud to be a brand that not only listens to consumer feedback, but a brand that takes action on that feedback," said Nicole Glenn, Applegate vice president of marketing. "Carrageenan is an ingredient Applegate consumers said they wanted removed from our poultry deli meat, so when we developed a way to replace it AND improve the taste of those varieties, it was an easy decision to move forward with a carrageenan-free recipe."
"Although the USDA overruled the recommendation from the National Organic Standards Board to remove carrageenan from the list of approved ingredients by the end 2018, we're moving ahead and taking it out of both our organic and natural poultry deli meat varieties," said Glenn. "We've never been the type of brand to take the easy way out. We required a no antibiotics policy for the farms we source our meat from long before any government agency stepped in."
For those familiar with the Whole30 program, the removal of carrageenan also expands the number of Applegate's Whole30 compliant options. The transition to carrageenan-free poultry deli varieties will happen in phases, starting in July 2018 with the Applegate Organics pre-sliced line, and followed by the Applegate Naturals pre-sliced line in October 2018.
This fall, Applegate deli ham lovers will experience an improved taste and texture, as well as notice a more natural shape with the slow-cooked ham varieties that will no longer be rectangular.
Along with making improvements to its deli recipes, Applegate will be rolling out a new packaging design for all its product lines, starting with the Applegate Organics pre-sliced deli which now includes an easy-to-open, peel and reseal tab and uses less plastic.
"For consumers who took the time to call and write to us about their difficulties opening our deli meat packaging, I can confidently say the switch to a new deli packaging with a peel and reseal tab provides a much more enjoyable experience," said Glenn.
Applegate's new and improved deli offerings are available for purchase nationally at select retailers and online. For more information, visit www.applegate.com.
About Applegate
Founded in 1987, Applegate produces high-quality natural and organic hot dogs, bacon, sausages, deli meats, cheese and frozen products. Our products are made without GMO ingredients, and we source from farms where animals are treated with care and respect and are allowed to grow at their natural rate, all part of our mission – Changing The Meat We Eat. Natural can mean many things, but to Applegate natural means our food is:
From animals raised humanely without antibiotics, hormones or growth promotants
From animals fed a vegetarian or pasture-centered diet (our beef is 100 percent grass-fed)
Free of added chemical nitrites, nitrates or phosphates
Free of artificial ingredients or preservatives
Applegate became a stand-alone subsidiary of Hormel Foods in July 2015. For more information about our products, visit www.applegate.com or talk with us on www.facebook.com/applegate or twitter.com/Applegate.