Urban Accents Brings Food Truck Flavors to the Kitchen with New Taco Simmer Sauces
SAN FRANCISCO – Your Culinary Wingman™ has done it again! This time, Urban Accents is poised to navigate the burgeoning world of tacos for novice and creative chefs alike. These are not your mama's hard shell, dry spice mix variety. We're talking about today's tacos. Tortillas are the new blank canvas to showcase culinary creativity. With Urban Accents' four global street style Taco Simmer Sauces, it's time for all to confidently join the Instagram chatter and post their #TacoLife photos on #TacoTuesday with pride.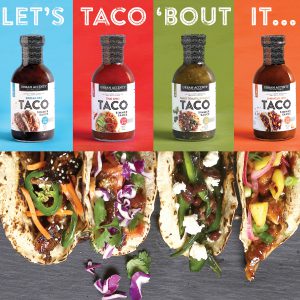 The globally-inspired line draws influence from street food trends from different corners of the world. The four different sauces serve as a flavor-saturating base and can create hundreds of different taco varieties, meat-based or vegetarian. From easy, approachable family dinners to late night eats, each bottle of sauce prepares up to three pounds of meat or veggies in just 20 minutes. Preparation directions and creative serving suggestions are included on the labels.
The Taco Simmer Sauce line's flavor profiles include:
Korean BBQ – A savory and sweet sauce with hints of garlic and sesame that caramelizes perfectly on thinly sliced beef or tofu.
Tangy Tomatillo & Garlic – The most traditional of the sauces, a garlicky tomatillo base with subtle notes of jalapeño heat and a citrusy zing makes it ideal for thinly sliced pork or beans.
Thai Chili – A balanced blend of sriracha, garlic and lime creates a sweet and spicy sauce that pairs best with shrimp or chicken.
Jamaican Jerk – This tropical blend of peppers, citrus and pineapple finishes with a spicy kick, and is delicious on chicken strips or your favorite cut of pork and beef.
"Urban Accents stepped into the sauce game last year when we introduced our first line of simmer and pizza sauces at the Summer Fancy Food Show. These have been an overwhelming success for us," said Tom Knibbs, President and co-founder and of Urban Accents. "We are poised to answer the consumer shift towards newer brands and specialty flavors by bringing these trends to life for our retailers. Last year Americans ate over 4.5 billion tacos—we expect that number to continue rising."
"Many consumers want to cook with new flavors, but aren't always sure how to," said co-founder Jim Dygas. "Our new taco sauce line delivers an approachable introduction to experimentation in the kitchen, by starting with an easy-to-prepare base and inspiration on how to get creative with toppings and garnishes to create extraordinary tacos."
For more information on Urban Accents' brand, its products or where to find them at a store near you, visit www.urbanaccents.com.
About Urban Accents
Urban Accents is Your Culinary Wingman™ and has had your back in the kitchen for over 20 years. The Chicago-based company's creatively spiced seasonings and mixes promise both novices and foodies easy access to brag-worthy culinary creations. Urban Accents was founded in 1996 when Tom Knibbs unexpectedly lost his job in corporate America.  Raised in a food-loving family, Tom chose to turn his attention towards developing his culinary creativity. With his partner Jim Dygas, the dynamic duo has grown the original 12 spice blends to over 150 gourmet products, each still crafted in small batches with unique ingredients. Urban Accents products can be found at retailers such as Sur la Table, Crate & Barrel, Cost Plus World Market, Safeway, Jewel, Whole Foods and online. For more information on products or to find recipes, visit UrbanAccents.com.