Siete Family Foods Debuts 3 Flavors of Grain Free Tortilla Chips
AUSTIN, Tex.– Siete Family Foods, purveyor of delicious, grain free Mexican food, will showcase its newest launch of grain free tortilla chips at booth 861 at Winter Fancy Foods. Made with cassava flour, avocado oil, and other real food ingredients, the chips come in three classic flavor varieties: Sea Salt, Nacho, and Lime. With demand for anti-inflammatory and better-for-you snacks on the rise, Siete is meeting this consumer demand by using innovative ingredients, such as cassava flour, in unique formats that satisfy both taste and dietary needs.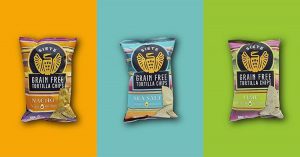 All three varieties of Siete Grain Free Tortilla Chips are Non-GMO Project Verified, Gluten-Free Certified, and are completely free of corn, wheat, rice, beans, soy, and dairy. The paleo and vegan-friendly chips are perfect for snacking straight out of the bag, as well as for pairing with fresh salsa or guacamole.
The Austin-based healthy Mexican food company created the new product line in response to a groundswell of demand from their loyal and vocal customer base. With consumer demand for free-from foods on the rise, Siete is filling this void in the Hispanic food and beverage market by offering grain free tortilla chips with the same focus on clean, grain free ingredients that has propelled the rapid growth of the Siete brand over the past two years.
"We're excited to share our new grain free tortilla chips with families across the country who have grown to love our grain free tortillas," said Veronica Garza, Co-Founder and President of Siete Family Foods. "We were humbled by the overwhelming positive response from our customers after we launched our tortilla line, and we've received numerous messages and emails sharing that our products have been genuinely life-changing for individuals and families. That's why we started Siete in the first place, and that's what motivates us to keep making Mexican food that is worth sharing."
Siete Grain Free Tortilla Chips will be available for purchase at Whole Foods Market locations nationwide starting January 2017 (SRP $4.99).
Siete Family Foods will be serving samples of the grain free tortilla chips, in addition to the brand's existing line of grain free tortillas at Winter Fancy Foods booth 861 from January 22-24 at San Francisco's Moscone Center. For more information on the brand and products, please visit sietefoods.com.
About Siete Family Foods
Siete Family Foods makes delicious, grain free Mexican foods. Based in Austin, Texas, Siete offers grain free tortillas (Almond Flour, Cassava & Coconut, and Cassava & Chia varieties) and grain free tortilla chips (Sea Salt, Nacho, and Lime varieties). All of the brand's products are gluten-free, paleo, non-GMO, dairy-free, and preservative-free. All seven (siete) members of the Garza family are passionate about making and sharing whole food that brings families together around the dinner table. A few years ago, the whole Garza family began exercising together and adopted a low-inflammation, grain free diet to support Veronica, their sister and daughter, who was diagnosed with multiple autoimmune conditions, including Lupus. Eating grain free meant that this third-generation Mexican-American family from South Texas could no longer eat traditional flour or corn tortillas, so Veronica created grain free tortillas her whole family could enjoy. When their Grandma Campos confessed that Veronica's grain free tortillas tasted even better than the homemade flour tortillas she had been making for decades, the family realized they had created something special, and Siete was born. Siete is on a mission to bring families together to experience the flavors and traditions that brought the Garza family together in their journey to health. The brand's products are found in hundreds of natural grocery stores across the United States and are also available online at sietefoods.com.