Nello's Sauce Rebrands as Nellino's Sauce Co.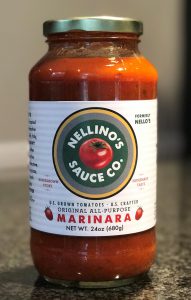 Raleigh, N.C. – As the result of a settlement of a trademark dispute, Nello's Sauce will change its name to Nellino's Sauce Co. The transition will not be immediate. The website, social media, and packaging will change to reflect the new name over the course of the next few months.
While a trademark dispute is at the heart of the change, the owner and founder, Neal McTighe, feels it is more of a passing of the torch from himself to his sixteen-month-old son, Henry. Nellino means "Little Nello" in Italian.
Says McTighe, "Trademarks must be respected, especially when there is potential for confusion. I am more than optimistic for the brand, and believe the new name and improved logo and look of the packaging will actually help, not hurt, it as it continues to grow over the years. Response by buyers has been incredibly positive. "
The new branding will first appear on a large grocery chain's shelves (surprise, surprise!) in early February and also in Plated's February meal kit shipments nationwide. The product quality, in fact, will improve due to higher quality supplier partners, but no changes will be made to the brand's story or its placement in stores. All current product bearing the name Nello's Sauce will remain in distribution until sold.