Just Desserts Announces Launch of Latest Bites Innovation
SAN FRANCISCO– Just Desserts expanded its innovative Bites line with the new Ghirardelli White Chocolate Flavored Snickerdoodle Bites. Just Desserts' latest addition to its growing Bites line also expands its partnership with Ghirardelli Chocolate.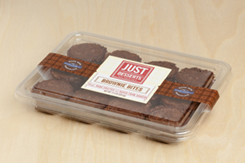 Michael J. Mendes, CEO of Just Desserts, notes that its Bites product line has seen rapid growth over the past several years. "We have been pleased with consumer and retailer reception to our Bites line, fueled by a strong combination of premium ingredients, innovative new recipes, and a convenient portion-controlled format," said Mendes. He adds, "These hand crafted, baked from scratch Bites deliver every bit of the superior taste and texture that Just Desserts has been known for since 1974."
The Just Desserts Bites line celebrates its 10th anniversary in 2017. In 2007, the original chocolate Brownie Bite was selected as Outstanding Baked Good by the National Association of Specialty Food Trade. From that beginning, the Just Desserts Bites line has grown significantly in both flavors and pack sizes, serving a full range of eating occasions.
In 2016, reaffirming its commitment to quality locally sourced ingredients, Just Desserts forged a partnership with Ghirardelli Chocolate, an iconic brand that was also founded in San Francisco. The partnership has led to the launch of brownie bites, cupcakes, and cakes made with Ghirardelli Chocolate. Now, for its latest Bites innovation, the baking team at Just Desserts developed the unique Ghirardelli White Chocolate Flavored Snickerdoodle Bites. Mendes notes, "We took a painstaking approach to deliver a Snickerdoodle Bite that had the moist, indulgent texture of a Snickerdoodle cookie. We are thrilled to have perfected a Snickerdoodle Bite that possesses these qualities."
About Just Desserts
Just Desserts is an artisan-inspired baking company that makes premium desserts and wholesome sweet snacks that are sold in grocery and convenience retailers from coast to coast. Just Desserts was founded in San Francisco in 1974 with a passion for making the most delicious desserts that are always hand-crafted and made from the highest quality kitchen pantry ingredients.
For more information, visit: JustDesserts.com