Horseshoe Brand Collaborates With Crown Maple On New Maple Cayenne Hot Sauce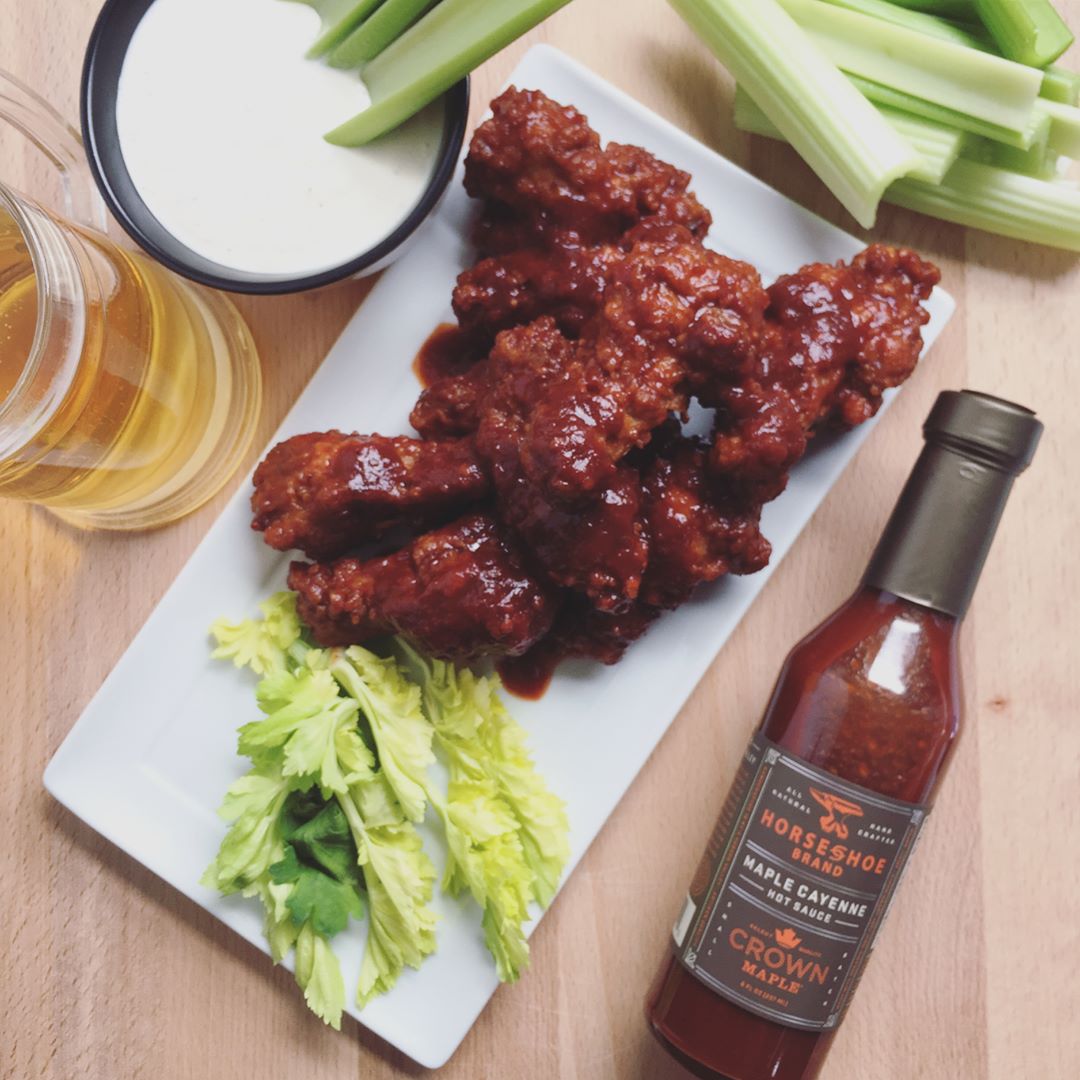 DOVER PLAINS, NY– Continuing to expand on its ever-growing line of maple-inspired food and beverage offerings, Crown Maple, a leading organic, artisan-quality pure maple syrup brand, enthusiastically announces the launch of Horseshoe Brand Maple Cayenne hot sauce today.
"This small-batch creation was born out of a partnership with Horseshoe Brand and Crown Maple to create a tantalizingly sweet, yet bold and spicy hot sauce that is the first of its kind," said Horseshoe Brand owner, Ryan Fleischhauer. "As two Hudson Valley based artisan brands, this partnership has allowed Horseshoe Brand and Crown Maple to come together to create a new, high-quality hand-crafted hot sauce."
The Horseshoe Brand Maple Cayenne hot sauce is made with hot red cayenne pepper and rich, smoky chipotle for a classic, fire-y flavor. However, the addition of organically crafted Crown Maple syrup and sugar add a new and dynamic layer to the sauce, creating an entrancing hot sauce with the welcoming flavors and sweetness of maple coupled with a substantial, long-lasting level of heat. A crowning touch for all types of foods, the Horseshoe Brand Maple Cayenne hot sauce pairs particularly well with pork and seafood, as well as classic dishes such as chicken and waffles, or even just a simple cracker.
"We believe maple syrup is such an exciting and diverse work horse in the culinary world, and we want to continue sharing Crown Maple's pure, rich products with consumers that demonstrate maple's capabilities far beyond your classic breakfast table," said Mike Cobb, CEO of Crown Maple. "Partnering with Horseshoe Brand to create a hot sauce – well, how many maple syrup brands can say they've done that? Combining our sweet syrup with contrasting hot and spicy ingredients packs a unique and powerful punch that we know you'll enjoy."
To help introduce this new product to store shelves, a release party celebrating Horseshoe Brand Maple Cayenne hot sauce will occur on April 8, 2017 from 12pm-5pm at the Crown Maple Estate. A $5 admission fee provides attendees a tasting flight of three hot sauce-inspired food bites paired with a choice of three local craft beers or wines. Live music from local artist Steve Black will also be featured from 12:30pm-3:30pm. Reservations are highly recommended and can be made at CrownMaple.com.
This limited-time, small-batch Horseshoe Brand Maple Cayenne hot sauce will be available for purchase for $7.95/bottle at the Crown Maple Estate or online. For more information or to purchase online, visit: CrownMaple.com and HorseshoeBrand.com. ###
About Crown Maple Crown Maple is Quite Possibly the Purest Maple Syrup on Earth® and sets a new standard of excellence for maple. Established in 2010, Crown Maple has been carefully crafted from the ground up to become the preeminent maple syrup brand. By pairing the best from nature with artisan craftsmanship and breakthrough state of the art proprietary production technology, Crown Maple creates an exceptional maple experience. Crown Maple syrup and sugar products are estate-produced, certified-organic and provide a superior and distinctive taste and performance that elevates Crown Maple beyond a sweetener and into a defining ingredient.
The Crown Maple Estate is based in New York's Hudson Valley and has quickly become New York's No. 1 maple syrup producer. Open to the public on weekends, Crown Maple invites guests to visit the estate, experience the sustainable maple grove firsthand, and learn about the maple production process. The on-site maple-infused café also offers a variety of innovative maple foods and craft beverages to further inspire guests.
In an effort to continually push industry boundaries, Crown Maple regularly collaborates with an array of nationally-known brands to incorporate maple syrup into a variety of sweet and savory foods and beverages that go well beyond the pancake platter, and the brand is the syrup of choice served at top restaurants, resorts, and culinary institutions nationwide. Crown Maple products are available for purchase from coast-to-coast at select grocery stores, natural retailers, specialty stores, and foodservice distributors. Crown Maple products can also be purchased online at http://www.CrownMaple.com.
About Horseshoe Brand
Horseshoe Brand is an all-natural, handcrafted sauce company founded in New York's Hudson Valley. Horseshoe Brand currently produces a portfolio of unique hot sauces with different heat levels to satisfy a variety of tastes and food applications. Using only the highest quality peppers from around the world, Horseshoe Brand is committed to delivering a fresh, high-quality hot sauce with the perfect unity of heat and flavor. To enjoy the Horseshoe Brand experience, please visit http://www.horseshoebrand.com.