HNINA GOURMET Sprouts 'Nuts About Chocolate'
Los Angeles, CA-– HNINA GOURMET, a healthy gourmet chocolate, snacks & spreads company will be exhibiting at their first Fancy Food Show this month and unveiling two new product lines as a followup to their best-in-class raw chocolate & sprouted nuts & seeds truffles. HNINA GOURMET continues to bridge the gap between health and gourmet, with compromise free product, always using the best sourced organically certified ingredients, just a touch of the healthiest sweeteners, and never any processed or refined ingredients or any additives.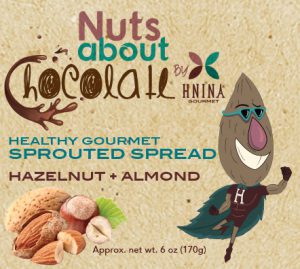 NUTS ABOUT CHOCOLATE by Hnina Gourmet is a new line of vegan sprouted spreads made with organic fair trade raw cacao, sprouted nuts, dates, vanilla bean and nothing else. These mouth watering spreads are intended for the consumer who craves a divine gourmet experience of rich textures, tastes and aromas, while insisting on the purest and healthiest nourishing product for their family. Handmade in small batches, these artisanal delicacies are available in three flavors, Hazelnut + Almond, Coconut + Almond + Brazil Nut and Walnut + Cashew.
Also debuting is HNINA GOURMET's line of Sprouted Nuts in Pure Maple Syrup and Sprouted Seeds in Pure Maple Syrup snacks. Staying true to HNINA's philosophy of purity these pristine products' sole ingredients are already in the product name, raw sprouted nuts or seed and pure maple syrup, all certified organic of course. Another of HNINA's principles is sustainability and all of HNINA's packaging is compostable, including the wood cellulose cello bags. The first offering in the sprouted nuts line is Almond + Hazelnut + Pistachio and the first in the seeds line is Pumpkin + Flax + Sunflower + Sesame.
HNINA GOURMET's four lines of product, 1. Raw Dark Chocolate Truffles with Sprouted Nuts & Seeds, 2. 88% Raw Dark Chocolate Bars, 3. NUTS ABOUT CHOCOLATE Sprouted Spreads and 4. Sprouted Nuts & Seeds in Pure Maple Syrup are the ultimate labors of love of French born Vanessa Hnina Morgenstern-Kenan, Founder and CEO of HNINA. When pregnant with twins and craving chocolate she could not find any gourmet yet healthy options on store shelves. Necessity is the mother of invention and this mother did some inventing, first for her own consumption but soon for discerning chocolate lovers everywhere.
Vanessa explains "We cut no corners and spare not expense. We have to be the best and that means both exquisitely delicious and uncompromisingly good for you. After all, I'm a French woman living in California so both gourmet and health are non-negotiable."
Winter Fancy Food Show will be held from January 22-24, 2017 at the Moscone Center located at 747 Howard Street, San Francisco, CA 94103. HNINA invites show attendees to stop by and try out all of their products at booth number 5308. For more information on the show, please visit https://www.specialtyfood.com/shows-events/. For more information please visit www.hninagourmet.com.
About HNINA GOURMET
HNINA was founded in 2013 by Vanessa Hnina Morgenstern-Kenan with the aim of bridging the gap between health and gourmet with delicious and nourishing organic raw chocolate & sprouted nut & seed truffles. Its product lines have expanded to decadent yet healthy organic raw chocolate bars, sprouted nut spreads and sprouted nuts & seeds in maple snacks. Guided by the nourishing traditions of her family's Tunisian and Eastern European matriarchs, Vanessa has instilled an ethic for nutrition, wellness and pleasure into every HNINA creation. Being best-in-class is only possible by sparing no cost and tolerating no shortcuts. For more information on HNINA, please visit: www.hninagourmet.com.