Cusa Tea Launches Premium Organic Instant Tea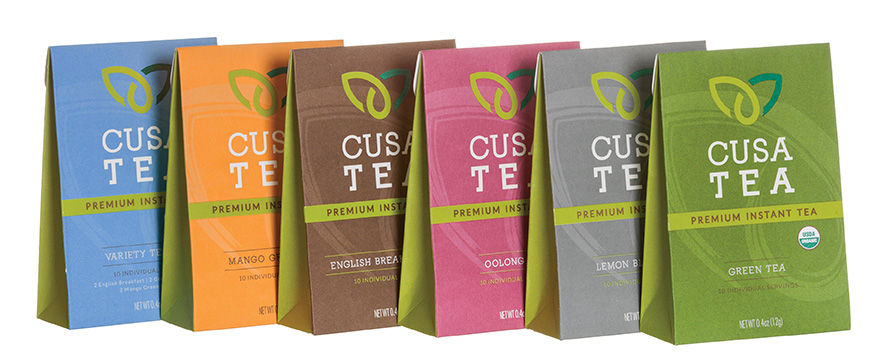 According to a 2017 report by International Market Analysis Research and Consult, "Tea currently represents the world's second most popular beverage after water," and the global tea market continues to grow. "From 2009 – 2016 the industry grew at a CAGR of 5.2%, reaching production volumes worth 5.6 Million Tons in 2016."[1] Despite tea's popularity and constant growth worldwide from teabags to RTD to tea infused foods, no one has created a delicious instant tea that is high-quality, premium, and organic. Until now.
Cusa Tea has just launched the world's first premium instant teas. Inspired by a backpacking trip on which founder Jim Lamancusa, a devoted tea drinker, noticed his friends breaking out instant coffee packets at the campfire, but he soggy, heavy and wet tea bag. Returning home and spending months developing his unique tea technology, Cusa Tea was born. This innovative, easy to make instant tea contains only high-quality, premium, USDA Organic certified teas and fruits, primarily from India and China, with no additives, fillers or sugar. In hot water or cold, at a campfire or conference table, instantly dissolvable Cusa Tea pioneers the next evolution of the tea experience. Cusa Tea is now available in 5 tea varietals: Organic English Breakfast, Organic Oolong Tea, Mango Green Tea, Organic Green Tea and Lemon Black Tea.
While many teas tout great flavor, organic sourcing and a conscious supply chain, what really sets Cusa Tea apart is its revolutionary cold-steep technology making all of those attributes and more, instantly enjoyable. Cusa Teas' packets allow tea drinkers to create a premium cup of tea by simply mixing in hot or cold water, allowing them to enjoy an instantaneous moment of peace anywhere on the planet. No steeping. No waiting. No mess. Just pure, organic tea and Instant Peace.
Cusa Tea's innovative technology took some time to master. Hundreds of tests resulted in failure for one reason or another. The tea would either sink to the bottom of the cup, float at the top, not steep well, or didn't have a premium taste. After 9 months of tests and searching for the right partners and process, Jim discovered a cold-steep technology that allows the tea to steep over 8 hours without the use of heat, which can destroy the taste and benefits of tea. After the cold-steeping is finished, Cusa Tea vacuum dehydrates the liquid to create instantly dissolvable tea crystals. This crystallized tea powder can be instantly re-hydrated when you mix it with hot or cold water. The final product has zero of the heavy metals or pesticide residues that can often be found in other tea products.
In unique and aesthetic standup packaging containing………packets, Cusa Tea stand out from other tea boxes and sits well at check-out, in the deli and coffee and juice sections, as well as in the Grab and Go. Cusa Tea is not only perfect for grocery and mass, but in park commissaries, yoga centers, gyms, office canteens and airports. Cusa Tea truly brings a moment of peace anywhere and at any time!
Cusa Tea can be purchased online at https://cusatea.com/collections/premium-instant-tea.
About Cusa Tea
Cusa Tea is the world's first premium instant tea. Cusa Tea uses only high-quality, premium, USDA Organic certified teas and fruits, which they then cold-steep using a revolutionary technology, that reduces the waste and chemical preservatives found in most ready to drink teas, so that tea drinkers can enjoy an instantaneous moment of peace anywhere on the planet.
For more information about Cusa Tea, please visit www.cusatea.com. For media inquiries, requests for product samples, high-res images, or to schedule an interview with Cusa Tea founder Jim Lamancusa, please contact Margaret Marchuk at mmarchuk@christieand.co or at 805-969-3744.
Join the Cusa Tea community on Facebook: https://www.facebook.com/CusaTeaTime/ [1] Tea Market: Global Industry Trends, Share, Size, Growth, Opportunity and Forecast 2017-2022. (February 2017). Retrieved from http://www.reportlinker.com/p04715176/Tea-Market-Global-Industry-Trends-Share-Size-Growth-Opportunity-and-Forecast.html