Crimson Cup Adds Honduras Siguatepeque Line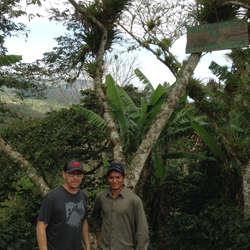 COLUMBUS, OHIO– Columbus, Ohio coffee roaster Crimson Cup Coffee & Tea has introduced Honduras Siguatepeque to its Friend2Farmer line of direct trade coffees. This fully washed and patio sun-dried coffee is a mixture of Bourbon, Typica, Catuai, Pacas and Caturra varietals grown at altitudes of 4,700 to 5,200 feet under a natural shade canopy of indigenous trees. Lightly roasted, it displays citrus acidity with floral and honey tasting notes.
"We are proud to expand our efforts in Honduras through this coffee, which represents the work of over 40 growers who have committed to biodiversity, water and land conservation while achieving economic sustainability for families of coffee growing communities," said Founder and President Greg Ubert.
Crimson Cup Coffee Buyer Dave Eldridge and Coffee Sourcing and Education Director Brandon Bir discovered this new coffee during their most recent trip to Siguatepeque. Located in the geographical center of Honduras in the department of Comayagua, this mountainous region is known for its ideal climate, flowering gardens and coffee.
Through its Friend2Farmer program, Crimson Cup makes regular visits to the region to consult with farmers, co-op managers and wet mill operators on ways ways to improve coffee quality and the quality of life for growers and their workers. The company also invests in community improvement projects.
"We have been building our relationship with the growers of Siguatepeque since our first visit in 2011," Eldridge said. "In addition to regular visits by our team, we have led several student service learning trips to the area, where we have supported efforts including community hospital outreach programs and the building of a raised drying bed for processing coffee. Educational support has included lesson plans, new school computers and other school equipment."
About Crimson Cup Coffee & Tea
Columbus, Ohio coffee roaster Crimson Cup Coffee & Tea is Roast magazine's 2016 Macro Roaster of the Year. Since 1991, Crimson Cup has roasted sustainably sourced specialty and craft coffee in small batches, which it sells directly to consumers and as wholesale coffee beans. The company also teaches entrepreneurs to run successful coffee houses through its coffee franchise alternative program, which includes a coffee shop business plan. Crimson Cup coffee is available through a community of more than 350 independent coffee houses, grocers, college and universities, restaurants and food service operations across 29 states, Guam and Bangladesh, as well as the company's own Crimson Cup Coffee Houses. To learn more, visit crimsoncup.com.