ColorKitchen Launches New Line of Natural Sprinkles & Food Coloring Sets
BEND, OREGON— Riding high on its continued success, ColorKitchen is extending its product line to include new colors and combinations. Focused on eco-friendly, healthy, and vibrantly colorful alternatives to traditional food dyes, the future looks bright for this Oregon-based company.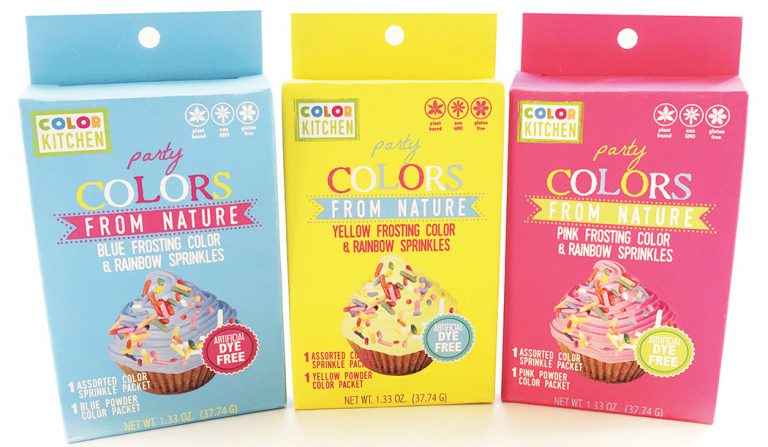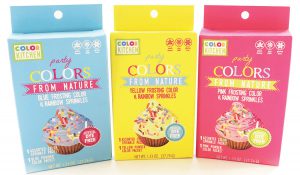 Free from all artificial dyes, ColorKitchen's natural food colorings and sprinkles are vegan, gluten-free, and non-GMO. ColorKitchen's products are made with natural and simple plant-based ingredients like turmeric, spirulina, beet, and annatto. In the process of making the dye, flavors and textures are removed from the plant ingredients, leaving pure color behind.
The company is committed to customers who are sensitive to food dyes, allergens, and dietary restrictions, as well as people who simply want to be healthy. Even ColorKitchen's packaging is thought out with care: made with eco-friendly vegetable inks. The quality outshines other natural food coloring and sprinkles, but healthier:
ColorKitchen's brand-new line, which launches in January 2017, combines sprinkles and food color packets into convenient Party and Holiday sets. Each set includes enough food coloring to color a pint of frosting, along with a bag of coordinating sprinkles. The available sets are Blue, Pink, and Yellow, with multicolored rainbow sprinkles, and Be Mine (a Valentine's Day set with pink frosting and pink, white, and red heart sprinkles), and Holiday (green frosting with green and red tree-shaped sprinkles).
ColorKitchen's sprinkles are a colorful, natural alternative to sprinkles that use unhealthy ingredients like FD&C artificial colors and hydrogenated oils. A natural-dye Easter egg coloring kit is also available.
In addition, ColorKitchen offers food coloring packets and sprinkles in individual packets and in a variety of sets. Food coloring currently comes in 3 colors: bright blue, pink, and yellow. ColorKitchen will add 2 new colors to their line, green and orange, in March 2017. The range of color choices allows bakers to use the dye packets as-is, or combine them to create colors of their choice. These easy-to-use food colorings come in a powder form for an extended shelf-life and ease of storage and shipping. Colors refresh instantly with a few drops of water or glycerin, and readily mix into frosting for cookies, cakes, cupcakes, and other treats.
ColorKitchen currently sells products at retail locations including Whole Foods, Natural Grocers, Mollie Stones, New Leaf, Lunardi's, Wild By Nature, and many other grocery stores across the U.S. and UK.
ColorKitchen products are set to launch in HEB stores in 2017. Products are also available to purchase online at ThriveMarket,com and www.colorkitchenfoods.com.
ColorKitchen will be showcasing its new line at the 2017 Winter Fancy Food Show in San Francisco on January 22-24, Booth #1281.