Biena Offers New Line of Chocolate-Covered Chickpeas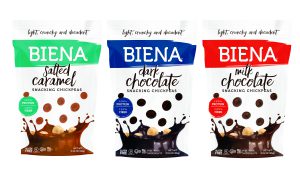 BOSTON– Chocolate lovers everywhere can get their fix and feel good about it with new snackable chocolate chickpeas from Biena, available this summer. By crushing chip cravings with its original Roasted Chickpea Snack line, Biena has achieved a 3-year growth rate of 895 percent. Now, it's taking an unprecedented step and tackling the sweeter side of the snack aisle. The brand will be submerging its signature Sea Salt Chickpeas into delectable chocolate and caramel, creating a unique, healthy and indulgent snack.
"This new line is a game-changer for chocaholics" said Poorvi Patodia, founder and CEO of Biena. "There's nothing else on the market that offers the rich taste of real chocolate and a crispy satisfying crunch with the type of nutrition we pack into each serving. In our consumer testing, we were blown away by the overwhelmingly positive response to these snacks."
The inspiration for new line comes from a simple but powerful insight: consumers today want to indulge, but they want to be smart about it. Ninety-three percent of consumers treat themselves with chocolate, but nearly half of them also want to buy 'better for you' snacks.
Biena's offerings are not only delicious—they're also nutritious. Each chocolate- or caramel-covered serving offers 4 grams of protein and 4-5 grams of fiber. This fulfills hunger in fewer bites and helps sustain appetite between meals. And unlike most decadently sweet snacks, Biena's chickpeas have only 4-5 grams of sugar per serving. The line is made in the United States with high-quality Fair Trade ingredients, so consumers can feel great about what they are eating.
This desire to responsibly indulge is what sparked the creation of Biena in 2012, when Patodia was pregnant and searching for a nutritious, vegetarian and filling snack. Craving her mother's Indian fried chickpeas, Patodia attempted to create a healthier, yet equally delicious version of this snack. She found that multiple stages of dry-roasting produced chickpeas with an airy, yet satisfying crunch. In the years since, she's established Biena and developed a collection of tasty and tempting flavor profiles: Sea Salt, Rockin' Ranch, Habanero, Honey Roasted, Barbeque and Cinnamon Crunch. Biena's new dark chocolate, milk chocolate and salted caramel chickpeas will be available in 3.15-ounce packs for $4.49, starting in June 2017. To find the in-store location nearest you, visit BienaFoods.com.
About Biena Foods
Biena is a snack food company that specializes in deliciously crunchy and healthy all-natural bean snacks. They are available at Whole Foods Markets, Sprouts Farmers Markets, Target, Stop and Shop, Shaws and New Seasons as well as online at Amazon.com and SnackAisle.com. Visit Biena on Facebook and Twitter for product information, updates, store demos and other news.