Pernicious Pickling Co. Honored with 2016 Good Food Award
San Francisco, CA (January 16, 2016) – Pernicious Pickling Co. announced today their recognition as a recipient of the 2016 Good Food Award in the Pickles division. The winners of the Good Food Award represent the forefront of American craft food, making products that are "delicious, respectful of the environment, and connected to communities and cultural traditions," This is a national award with winners from 33 states that were amongst almost 2,000 entries. Winners were processed in a blind tasting with 203 judges held in September 2015.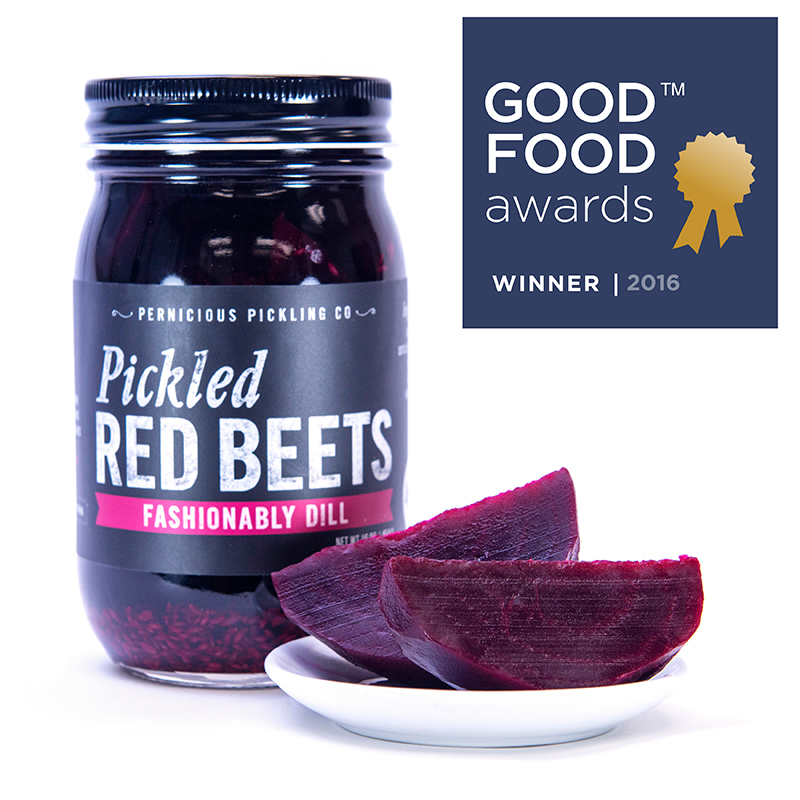 Winners were announced Thursday evening, January 15, at a star-studded ceremony and gala at San Francisco's Fort Mason Center for Arts & Culture, featuring luminaries Alice Waters, Nell Newman and Slow Food Founder, Carlo Petrini.
"It is an incredible honor to be recognized and win such a prestigious award," said Kendra Coggin & Baron Conway, co-founders of Pernicious Pickling Co. "The award represents everything we stand for in our desire to create great tasting and memorable pickles that use the best possible ingredients".
Pernicious Pickling Co.'s winning entry, Fashionably Dill Pickled Red Beets, are a nod to Eastern European flavors with dill in a sweet and salty brine, enhancing the rich, earthy tones of the beet.
About Pernicious Pickling Co.: Hailing from Mississippi and England, we have been avid picklers since our mums first slathered Chow-Chow and Piccalilli on our school lunch sandwiches. Pernicious Pickling Co. was launched in October 2013 to celebrate the bold flavors of our Southern US-English heritages and the rich cultural diversity of our new home in Southern California. With a philosophy that "Pickles ain't just for Sandwiches," Pernicious Pickling Co.'s award-winning family of ten products use the freshest vegetables, a range of different brines, and sophisticated combinations of spices to ensure that each product delivers flavors that are bold, balanced, and as delectable straight out of the jar as they are in the food and drinks we love. We are also honored to have our Ginger & Spice Pickled Carrots as a finalist in the 2015 sofi Awards in the Appetizers, Antipasto, Hors D'Oeuvres category.
Find more information at: perniciouspickling.com
About the Good Food Awards: The Good Food Awards celebrates the kind of food we all want to eat: tasty, authentic and responsibly produced. We grant awards to outstanding American food producers and the farmers who provide their ingredients. Seedling Projects 501 (c) 3 organizes the Awards in collaboration with a broad community of food producers, food writers and passionate food-lovers. Find more information at: seedlingprojects.org and goodfoodawards.org. For more information about the Good Food Awards, and for a full list of winners, please visit http://www.goodfoodawards.org.