Perfect Bar Launching Three New Flavors at Natural Products Expo East
SAN DIEGO (August 2016) – Perfect Bar, LLC, the first to bring refrigerated, whole-food nutrition bars to the grocery category, will be sampling its three new flavor innovations at booth #837 at this year's Natural Products Expo East, September 22-24 at the Baltimore Convention Center in Baltimore, MD.
Launched online and in Whole Food refrigerators nationwide beginning September 1, the three new flavors, Blueberry Cashew, Maple Almond and Coconut Peanut Butter, contain combinations of the same nutrient-dense, superfood ingredients Perfect Bar is known for, and marks the Company's first inclusion of cashew butter into the line that already boasts peanut and almond butter varietals. The Coconut Peanut Butter flavor is a contender for the Best of East Press Room Showcase, an exhibition of the show's newest products that are presented for popular vote by registered press.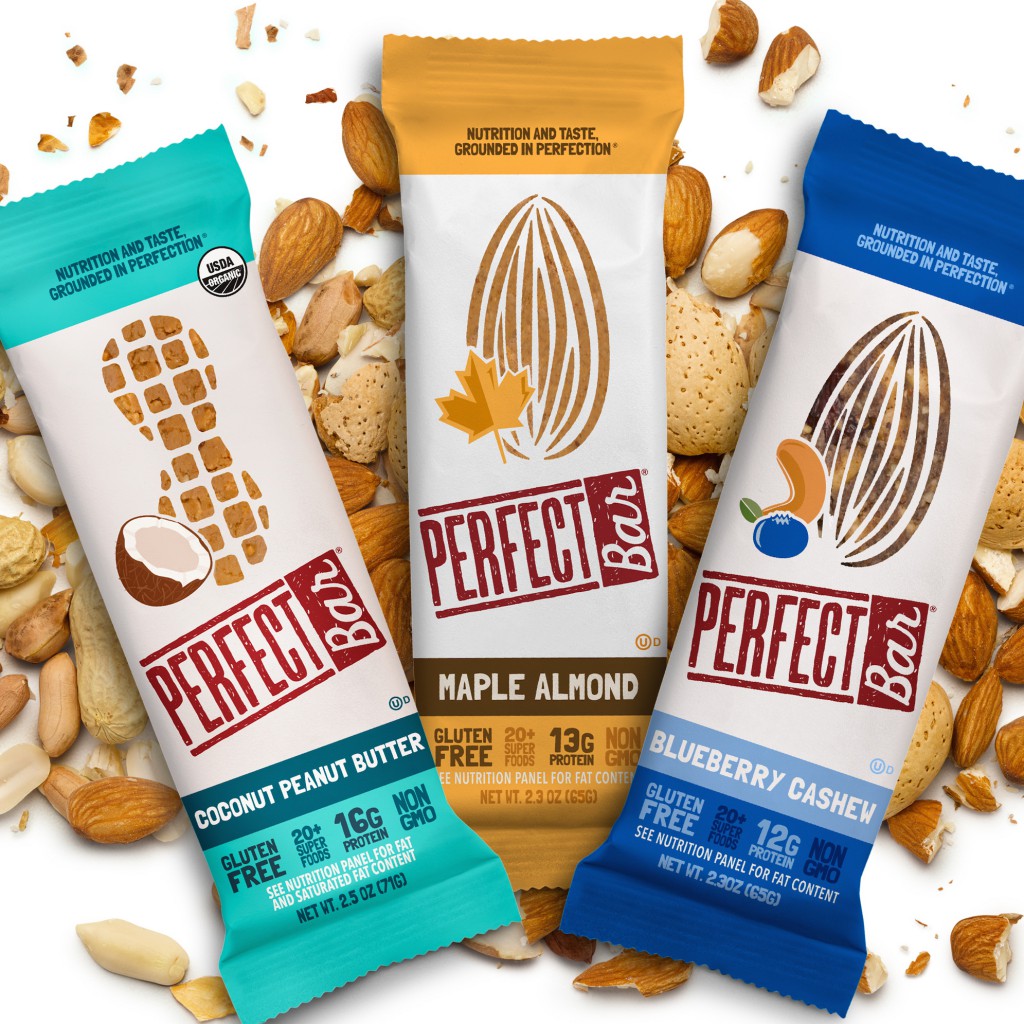 "At Perfect Bar, we are constantly looking for ways to enhance our line and innovate within our category, while still staying true to our Father's whole-food nutrition principles he instilled in us as kids,"said Bill Keith, CEO and co-founder of family run Perfect Bar. "Our three newest flavors are a reflection of months of research, taste-testing, and experimentation with new flavor combinations, and we couldn't be more excited to share these flavors with our customers and fans at Natural Products Expo East."
In addition to the three new flavors, Perfect Bar will be sampling bars from its core lineup, including Peanut Butter, Carob Chip, Fruit & Nut, Cranberry Crunch, Almond Butter, Almond Coconut and Almond Acai. Members of the Keith family, including co-founders and brother-sister duo Leigh and Bill Keith, will be available throughout the weekend for interviews with media.
Each Perfect Bar boasts up to 17 grams of whole-food protein, contains more than 20 superfoods, has zero GMOs or preservatives, and is 100% gluten-free. Holding itself to the highest standards, Perfect Bar's kitchen is OTCO (Oregon Tilth Certified Organic) certified, as well as certified kosher by the Orthodox Union. While all Perfect Bars are found in the refrigerated aisle of grocers nationwide, they will stay fresh for up to one week outside of the fridge or freezer at room temperature.
The new Perfect Bar flavors will be available for online purchase beginning September 1, which will also mark the retail rollout in Whole Foods Market nationwide. All 10 Perfect Bar SKUs will be available online at shop.perfectbar.com and in all Whole Foods Markets locations with a suggested retail price of $2.99 per bar, and $24 per box.
About Perfect Bar: Perfect Bar offers the first line of refrigerated, whole food protein nutrition bars with peanut butter-, almond butter- and cashew butter-based options. The late Dr. Bud Keith (aka Dad), a renowned nutritionist and fitness industry pioneer, constantly tinkered with healthy snack recipes to feed his king-sized family. One day, after grinding up dried fruits and vegetables and mixing them with freshly ground peanut butter and honey, he took a bite and declared he had found the perfect combination. Inspired by his original recipe, the eldest of the Keith siblings, Leigh and Bill, founded Perfect Bar in 2005. Today, 13 Keith brothers and sisters carry on the nutrition principles instilled in them as kids to produce the freshest, whole-food nutrition bars on the market.
Perfect Bars are gluten-free, non-GMO, kosher, and Oregon Tilth Certified Organic.
Perfect Bar is sold nationwide at retail locations, including Whole Foods Market, Target, Kroger, Costco, Safeway, Sprouts Farmers Market, Publix and many more.
For more information, please visit: www.PerfectBar.com