Pamela's Adds New Crop of Health-Driven Mixes
UKIAH, Calif.–(BUSINESS WIRE) — Pamela's Products continues to live up to its role as an innovator and leader in the baking and gluten-free categories by launching a Nut Flour Blend and a Grain-Free Pancake Mix, along with a line of Sprouted Grain Pancake Mixes. These additions seek to feed growing consumer demand for nutrient-dense foods that specifically align with the many specialty-food diets that 44 percent* of U.S. consumers subscribe to – vegan, dairy-free, gluten-free, Paleo and more.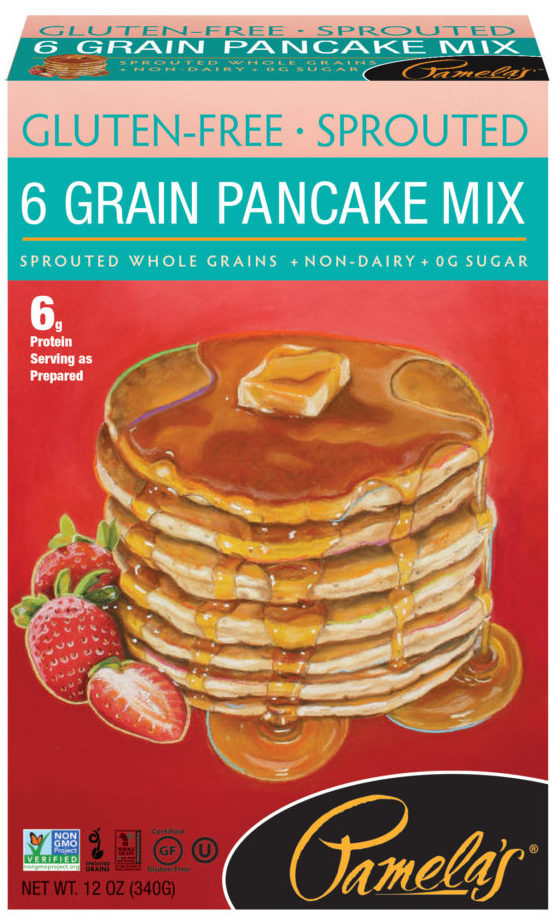 "I'm particularly proud of our Sprouted Grain Pancake Mixes that remind me of when my father first introduced sprouted whole grains into his natural foods store 50 years ago"
"I'm particularly proud of our Sprouted Grain Pancake Mixes that remind me of when my father first introduced sprouted whole grains into his natural foods store 50 years ago," says founder and CEO Pamela Giusto-Sorrells. "As I developed these new lines, I used my background of working in my family's bakery and my 28 years of experience blending my gluten-free mixes to create higher-protein, nutrition-packed products that also achieve my high standards for taste."
Grain-Free Mixes
The fastest growing subset of the baking mix category, grain-free appeals to those with a wide range of dietary needs, including those following a dairy-free, egg-free, soy-free, or Paleo diet**.
Pamela's Nut Flour Blend – The first of its kind on the market, this blend offers a naturally sweet taste that combines almond flour, organic coconut flour, pecan flour and walnut flour and can be used just like almond meal.
Pamela's Grain-Free Pancake Mix – Rich in flavor with a moist texture, this mix is made from nut and coconut flours and offers six grams of protein and zero grams of sugar.
Sprouted Grain Pancake Mixes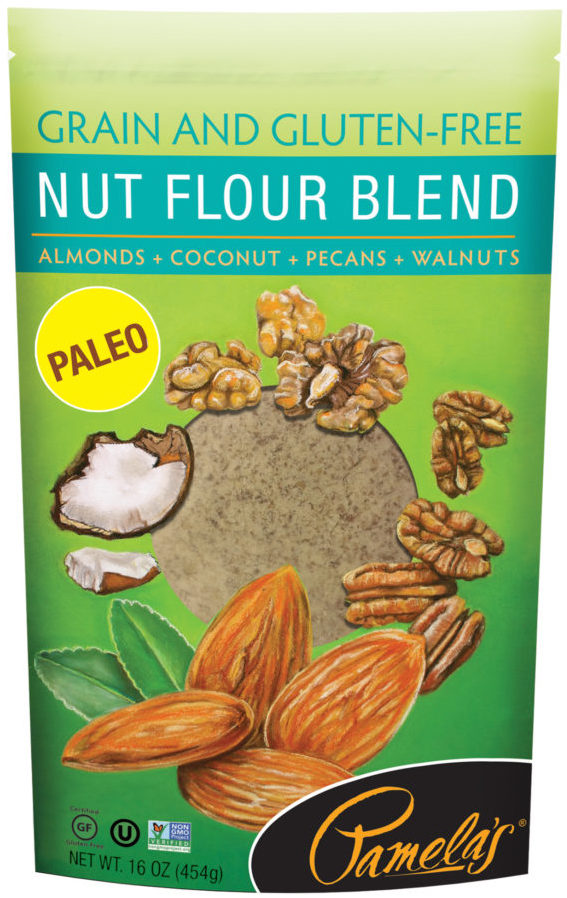 Sprouted grains are quickly gaining interest with consumers who feel that they are easier for the body to process. Pamela's new line of pancake mixes are made with organic sprouted grains and aim to build off the success of the Baking & Pancake Mix, which is currently the top-selling pancake mix in the natural channel.
Buttermilk Pancake Mix – This mix offers the comfort of old-fashioned buttermilk pancakes with a strong nutritional profile.
Protein Pancake Mix – Reap the benefits of 10 grams of protein by just eating pancakes made with Pamela's Protein Pancake Mix.
Non-Dairy Pancake Mix – An answer to Pamela's fans most requested attribute, this mix whips up soft and fluffy pancakes and waffles that are free of dairy.
6 Grain Pancake Mix – This mix creates hearty pancakes, but with the added benefit of six organic sprouted whole grains.
Buckwheat Pancake Mix – Wholesome and nutritious, this mix offers traditional buckwheat pancake flavor with the added nutritional benefit of organic sprouted grains.
The Grain-Free line and Sprouted Grain Pancake Mixes are Certified Gluten-Free, Verified by the Non-GMO Project and are free of xanthan gum and guar gums. Plus, they are made without artificial colors, flavors or preservatives. Now hitting store shelves nationwide, the new pancake mixes will be available for an SRP of $6.49-$7.99 per 12 oz. box, and the Nut Flour Blend will be available for an SRP of $11.99 per 16 oz. bag.
About Pamela's Products
A third-generation baker who is committed to making delicious foods for gluten-free consumers and more, Pamela's Products founder, Pamela Giusto-Sorrells, has been making gluten-free foods since 1988. To this day, she personally develops each of the products that bear her name, often basing them on consumers' desires and needs. Giusto-Sorrells has created some of the best-selling gluten-free products on the market including her top-selling baking mixes, cookies, snack bars, and graham crackers. Pamela's Products can be found in natural food and grocery stores throughout the US and Canada, as well as online. For additional information about Pamela's Products, including recipes, baking and allergy information, visit PamelasProducts.com or find them on Facebook, Instagram and Twitter.
*2014 Packaged Facts report**The Grain-Free Pancake Mix is made with a baking powder that contains a small amount of potato starch as a thickening substitute for Xanthan and/or Guar Gum and may not be suitable for strict Paleo dieters.
Like what you're reading?
Subscribe to BevNET+NOSH Today
Subscribe today and get access to the leading industry resources in the food &amp beverage industries. News, trends, industry data, expert analysis and much more.
Access all of these benefits:
Unlimited access to all content on BevNET.com and NOSH.com
Exclusive access to hundreds of educational videos
Watch subscriber-only live programs such as Office Hours