Lotus Fine Foods Hits the U.S. Market
BOCA RATON, FL– Lotus Fine Foods, a Canadian rooted company with the talent in creating one of the most desirably nutritious, gluten- free foods on the market is proud to report it is releasing its nutritional products into the US market.
Crafted by the hands of a motherly health fanatic, Lotus Ellis, she never ceased to amaze her family and friends with her decadently organic, gluten- free foods. Made up of some of the healthiest ingredients, this product is geared specifically toward prevention, medical conditions and clean eating. Lotus' desire to make a delectable, yet all natural food is truly a gift that will enthrall the US market.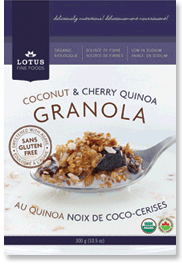 You've heard the old adage: "The best things in life are free." We couldn't agree more… that's why our products are dairy free, gluten free and free of artificial flavors, colors, trans fat, preservatives and refined sugar. What you'll get are all organic ingredients, protein, fiber, vitamins and minerals. And when all this goodness is combined, the result is food that you'll feel fantastic about feeding your friends and family, said owner and CEO Lotus Ellis.
Lotus Fine Food products are different than any other product in the market, in that they are loaded with quinoa, wheat-free oats, sunflower seeds, and ground chia seeds, all of the essential ingredients needed for a healthy diet. With their captivating breakfast choices, the Quinoa Granola Cereal offers five different flavors; Dark Chocolate, Spiced Pumpkin, Coconut & Cherry, Cranberry & Cinnamon and Organic Gluten free rolled oats. Dark Chocolate just happens to be the people's choice, as it won product of the year in the breakfast cereal category. Now offered in a 15kg bag this organic cereal provides one with endless recipe opportunities. Lotus has concocted some of her favorite breakfast recipes, and recommended them on her website Lotusfinefoods.com. The recipes include; Breakfast Parfait, Gluten- Free Breakfast Cookies, Fruit Mini Muffins, Cherry Chocolate Chip Cookies, followed by Apple and Raspberry Crisp.
Lotus Fine Food Products, are not only health friendly, they are also ecofriendly. With its organic influence they are sure to use environmentally friendly cleaning products. This enticing gluten free, sugar free, and dairy free product is a naturally sweetened product that will soon fulfill everyone's sweet tooth in the U.S.
Lotus Fine Foods will be available on Amazon.com, as well as through a number of other online and local retailers. Please contact sara@inhealthmedia.com for more information.
To find out more about Lotus Fine Food Products visit http://www.lotusfinefoods.com
Like what you're reading?
Subscribe to BevNET+NOSH Today
Subscribe today and get access to the leading industry resources in the food &amp beverage industries. News, trends, industry data, expert analysis and much more.
Access all of these benefits:
Unlimited access to all content on BevNET.com and NOSH.com
Exclusive access to hundreds of educational videos
Watch subscriber-only live programs such as Office Hours