Ganeden Announces AVOKE as Probiotic Innovation Jumpstart Winner
CLEVELAND, OH–(Marketwired – July 22, 2016) – It was an intensely competitive competition between entrepreneurs to be selected for the most innovative probiotic food concept, and after careful deliberation a winner has been chosen. A panel of industry experts named AVOKE as the top choice for the startup to win Ganeden's Probiotic Innovation Jumpstart program — with entrant Daniel Karsevar taking home $25,000 for AVOKE to support the launch of the new vegan, avocado-based smoothie bowls with probiotics.

The first-of-its-kind program was launched by leaders at Ganeden to give back to the industry and help startups and entrepreneurs enter the probiotic market, which is expected to reach $36.7 billion over the next five years. After announcing it earlier this year, Ganeden evaluated many impressive entries to select three finalists for in-person presentations: AVOKE, simplyFUEL and Red Lotus Foods, LLC. Similar to Shark Tank, each finalist presented their probiotic food concept to a panel of industry experts, who then chose AVOKE as the winner.
"Our goal for Probiotic Innovation Jumpstart was to encourage startups with unique ideas for novelty foods and beverages to join the probiotic space — an industry that has helped us grow exponentially throughout the years," said Andy Lefkowitz, CEO of Ganeden. "The line of AVOKE Spoonables is going to be a game-changer in the healthy snack category and we plan to put our full support behind this impressive company and launch."
AVOKE's spoonable smoothie bowls come in four varieties: Berry Mint, Greens & Ginger, Spicy Carrot, & Coconut Curry and include half an avocado, two servings of fruits and vegetables, a toasted quinoa topping and 1 billion CFU of Ganeden's patented strain of probiotic, GanedenBC30. Each smoothie bowl will come packaged and ready-to-eat in a half avocado-shaped stackable cup that includes a pop-out, eco-friendly spoon. The concept was created by two NY-based sisters as a fun and healthy alternative to yogurt and other plant-based beverages and snacks. It will be the first avocado-based, probiotic smoothie in the market.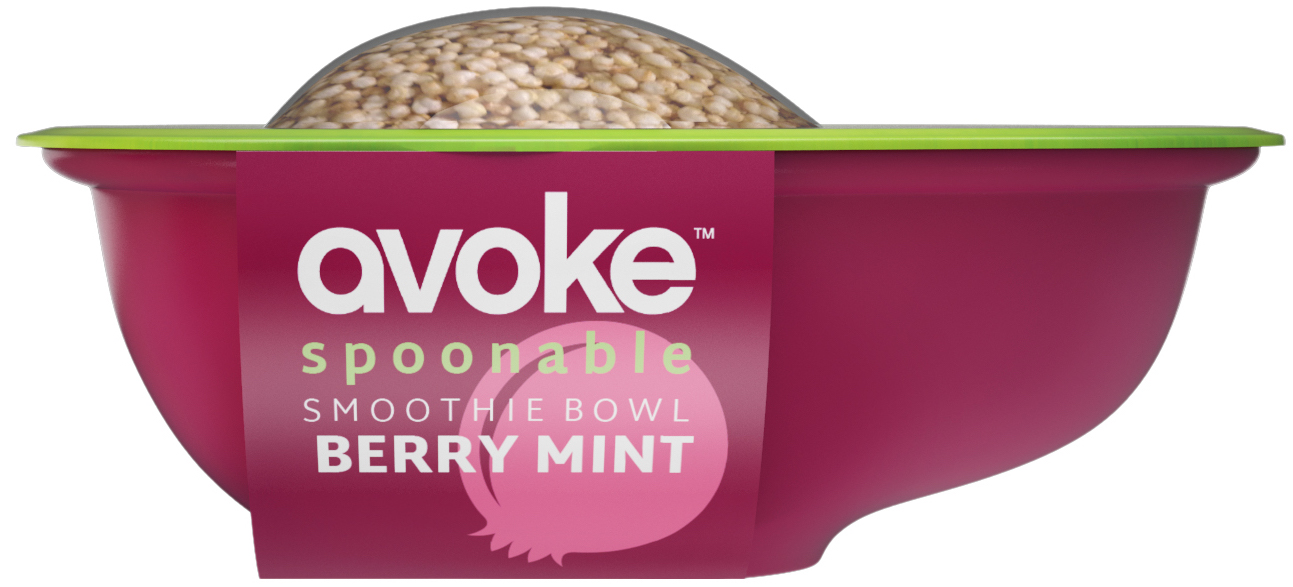 "The use of avocados as a healthy snack is growing immensely in popularity, yet there continues to be a huge void in ready-to-go avocado products in retail," said Daniel Karsevar, consulting COO for AVOKE. "AVOKE Spoonables provide a solution by offering a healthy, vegan snack with a unique design that is convenient for on-the-go lifestyles, and we are proud that Ganeden and the industry experts see the value. Ganeden's additional financial support and expertise will be extremely beneficial for the launch."
Ganeden and AVOKE will work closely to finalize details for the upcoming launch, which is scheduled for this fall. The Spoonables will join the more than 500+ product SKUs internationally with GanedenBC30. For more information on the Jumpstart program, visit GanedenProbiotics.com/jumpstart. For more information on AVOKE, visit avokelife.com.
About Ganeden: Ganeden is at the forefront of probiotic research and product development with an extensive library of published studies and more than 120 patents for probiotic technologies in the food, beverage, animal health, sports nutrition and personal care ingredients markets. Ganeden is best known for GanedenBC30® (Bacillus coagulans GBI-30, 6086), its patented, FDA GRAS, non-GMO, highly stable probiotic ingredient. Ganeden's newest ingredient, Bonicel, is the first science-backed, probiotic-derived, personal care ingredient shown to dramatically reduce signs of aging. For more information about Ganeden and licensing opportunities visit GanedenProbiotics.com.
About GanedenBC30: GanedenBC30® (Bacillus coagulans GBI-30, 6086), Ganeden's patented probiotic ingredient that can be found in more than 500 leading food, beverage, sports nutrition and companion animal products around the world. Unlike most other probiotic strains, GanedenBC30 is a spore-former which makes it highly stable and allows it to remain viable through most manufacturing processes, three years of shelf life and the low pH of stomach acid. The efficacy of GanedenBC30 is backed by over 20 published studies showing safety, digestive and immune support and GanedenBC30 has an exceptional safety record with FDA GRAS status from the United States FDA. It can be formulated into virtually any food, beverage or companion animal product that is baked, boiled, frozen or squeezed…. including all hot or refrigerated beverages! For more information, please visit GanedenBC30.com.