Barney Butter to Release Probiotic and Fiber & Protein Almond Butters
FRESNO, CA (PRWEB) APRIL 21, 2016 — Barney Butter, a leading brand in the booming $448M specialty nut butter market, is launching two new products with ingredients that build on the company's longstanding focus on "better taste and better health." Barney's classic 10 oz. smooth almond butter will soon be available in two new varieties. One will feature added probiotics, while the other will be enriched with higher protein and fiber.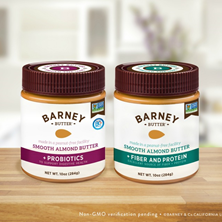 Barney's Smooth Probiotic butter will contain the Ganeden BC30 probiotic strain—a sustainable, organic, non-GMO probiotic proven ten times more effective than common probiotic yogurts in bolstering digestive and immune health. Barney's Smooth Fiber & Protein butter will include pea protein to boost the regular six grams of protein per serving to ten. The cell-building power of the easy-to-digest, plant-based, GMO-free protein is supplemented by its soluble fiber, which can lower cholesterol as well.
Company President & CEO Dawn Kelley put Barney's latest products in perspective. "We've always seen Barney Butter as the kind of dietary staple that deserves to be as good to your body as it is to your taste buds," says Kelley. "That was the thinking that inspired us to develop an all-natural product in the first place. It also drove us to become one of the first specialty nut butters to earn the non-GMO Project Verified Seal, almost five years ago."
That healthy focus put the spotlight on other ingredients that have been added to some of Barney's ten varieties, including coconut oil, chia seeds, and flax. Coconut oil's possible cholesterol-lowering properties, and the high-fiber and antioxidant richness of both flax and chia seeds were just some of the health benefits that led to their inclusion in Barney's product portfolio. But Kelley is quick to point out that good health doesn't have to come at the expense of good taste. "We follow nature's lead when adding ingredients," she shares. "Health and taste work hand-in-hand to create foods that have earned a permanent place in our ecosystem. A healthy apple would have never evolved without the good flavor that entices creatures to consume it. The balance between crunchy and smooth textures in our honey+flax butter or the deep and light sweet pairings in cocoa+coconut prove that you can have your healthy Barney Butter and eat it too."
Kelley's comments point to a corporate mission the company comes by honestly. Barney's Fresno home is part of the Californian tradition of inspiring the latest products and ideas for healthier foods and lifestyles. The company's passionate focus on product purity and quality inspired the "tree to table" workflow that's developed its rich relationships with their network of Fresno almond farmers. It also drove the decision to take complete ownership of the facilities it uses to process their harvests to ensure the company's premium product standards are kept.
"Our work to improve Barney Butter is never really done," concludes Kelley. "Next up is our development of certified-organic products. Navigating between the complexities of certification and the market factors we must address to stay competitive doesn't make that an easy challenge. But Barney Butter's the kind of product more and more customers are enjoying at every time of the day. We want to honor its place on the American table by continuing our efforts to make it the tastiest and healthiest almond butter it can be."
About Barney Butter: Founded in 2008 in Fresno, California, Barney Butter is one of the county's leading producers of almond butter, and one of the few specialty nut butter brands devoted exclusively to almond products. Barney's obsessive focus on the quality of its all-natural almond butters has inspired a three-year growth rate of 553%, earning the company a spot on the Inc. 5000 list of fastest-growing companies in the U.S. Barney crafts its small batch, artisanal almond-butter with organic, fair-trade, non-GMO ingredients whenever possible to create the taste and promote the values rooted in its California home.
Like what you're reading?
Subscribe to BevNET+NOSH Today
Subscribe today and get access to the leading industry resources in the food &amp beverage industries. News, trends, industry data, expert analysis and much more.
Access all of these benefits:
Unlimited access to all content on BevNET.com and NOSH.com
Exclusive access to hundreds of educational videos
Watch subscriber-only live programs such as Office Hours