Terrafunga introduces Dark Chocolate, Mushroom and Hazelnut Terrafunga Bar
JAMAICA, VT (PRWEB) DECEMBER 13, 2015:Â Terrafunga, a Vermont-based company dedicated to growing the highest quality gourmet mushrooms is pleased to announce the launch of its newest mushroom creation: the Terrafunga Bar. The distinctive chocolate tablet features the unique combination of sweet and smoky caramelized Maitake mushrooms with rich, velvety Venezuelan dark chocolate and toasted hazelnuts.
The chocolate eating experience begins with the 61% dark, single origin chocolate followed by the sweet surprise of the candied maitake mushroom and ending with the subtle crunch of the hazelnuts. The way the flavors play with each other is exquisite and complex making the bars a decadent treat. The chocolates are sold as either a single bar or in a box of four on the Terrafunga.com website, under gifts.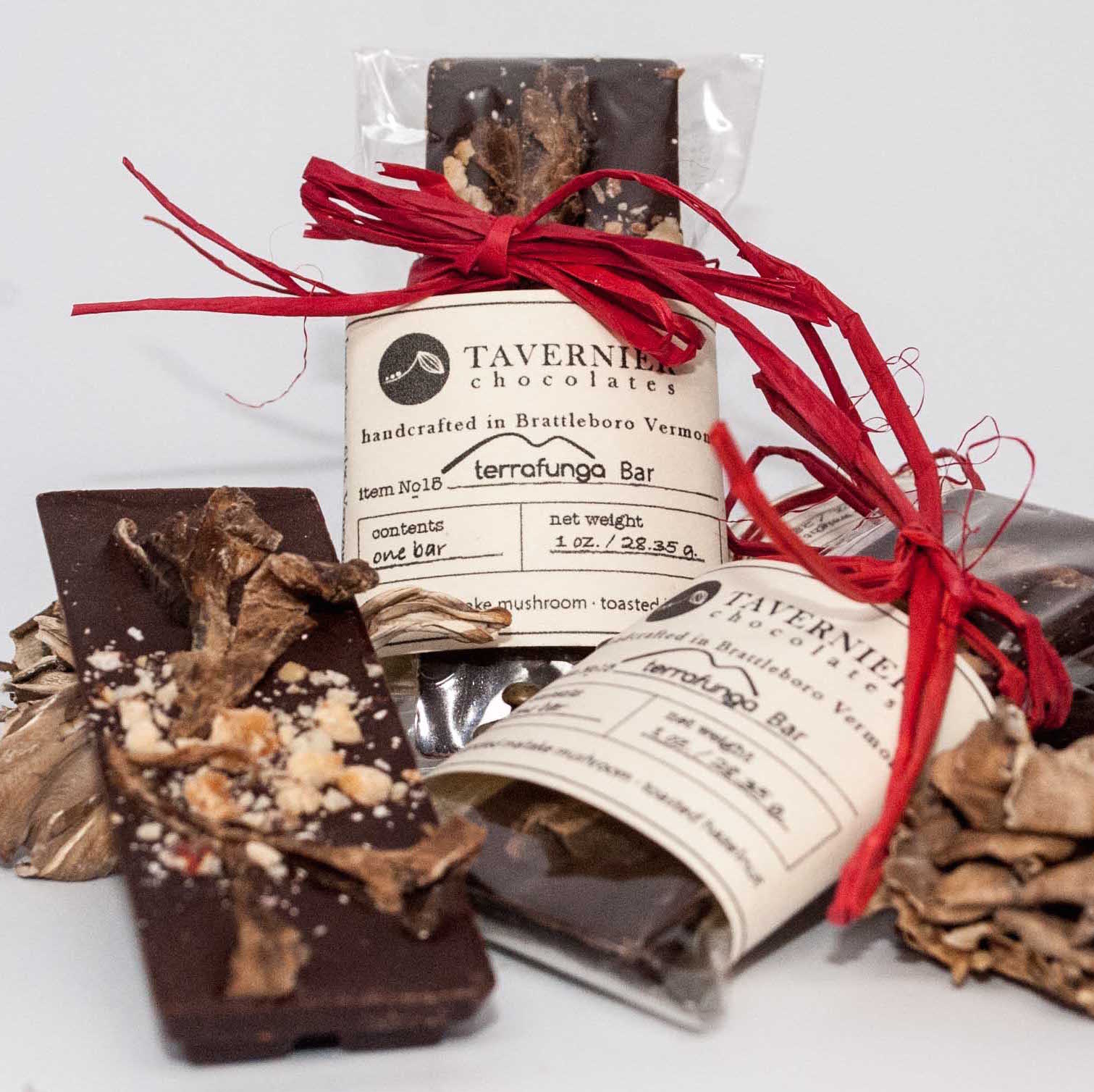 Terrafunga is making the bars in collaboration with Tavernier Chocolates, artisanal chocolatiers in Brattleboro, VT who specialize in exceptional, unique and distinctive chocolate confections. Tavernier's philosophy regarding work ethics, sourcing, sustainability and innovative farming practices mirrors that of Terrafunga's making the partnership that much more meaningful. Each bar contains single origin chocolate from Venezuela that are produced following fair trade precepts, organically grown maitake mushrooms, organic sugar, vanilla and hazelnuts. The chocolates are handmade and packaged in Vermont.
Founded by Pip and Olivia Winslow in 2013, Terrafunga specializes in exotic mushrooms grown organically, outdoors on logs and locally foraged wild mushrooms that are sold fresh in season or dehydrated for sale on its website. In addition, the company offers unique mushroom-related merchandise and foraging accessories.
"Our value-added products were really well received by our customers this season and based on that success, we wanted to expand our mushroom offerings", said Pip Winslow, co-Founder and President of Terrafunga. "The unusual flavor profile of our gourmet tarts and spreads is what customers enjoyed the most and therefore adding a sweet mushroom treat seemed to make a lot of sense." The farm currently makes their artisanal food products from the four varieties of exotic mushrooms that they grow which includes: Shiitake, Blue Oysters, Lion's Mane and Maitake. In addition Pip and Olivia along with their colleagues also gather wild Chanterelles, Black Trumpets, Oysters, Maitakes and Morels during their respective seasons allowing them to create unique savory pastries.
Olivia Winslow, co-Founder and marketing director is excited about the chocolate bars which was her initial creation. "I am thrilled with the finished product that Tavernier Chocolates made for us which has been selling out on the website since they were first introduced a few weeks ago. We have received a lot of compliments on the bars including our presentation which is all sustainable", states Olivia whose creative touch is featured on many other Terrafunga items. "We have other chocolate mushroom combinations that we are excited to experiment with and plan to introduce additional bars next year in time for Valentine's Day." Olivia designs many of the original drawings featured on Terrafunga products including T-shirts, sweatshirts and housewares and also writes a blog on the site that features recipes, highlights the health benefits of mushrooms and summarizes interesting industry news.
The demand for locally grown products continues to grow as consumers want to know the source of the food they consume. Restaurant chefs are committed to the movement by buying fresh from area farms as are specialty food stores and culinary enthusiasts. With the popularity of various cooking channels and a desire by Americans to be more adventurous with their food, there is a huge appetite for these wild and exotic mushrooms and new ways to consume them. Additionally, the multitude of health benefits mushrooms provide is incomparable and appreciated by those who seek a natural way to enhance their wellbeing.
Terrafunga's mission is to grow the highest quality mushrooms in the most natural way and to operate responsibly, respecting nature while developing processes that have minimal impact on the environment. In addition the company is keeping its promise to participate in the local economy by sourcing as many products and services within the state of Vermont and committing financially, as a member of 1% for the Planet, to environmental organizations worldwide.
For more information on Terrafunga Bars, mushroom cultivation, health benefits and the latest scientific research, visit http://www.terrafunga.com. Any suggestions, burning questions, comments or information about the productline, contact Terrafunga at 800/507-6093 or by email at info(at)terrafunga(dot)com