Quaker Launches New Chewy Granola Bars Inspired by Girl Scout Cookie Flavors
CHICAGO, Aug. 11, 2015 /PRNewswire/ — For the very first time, The Quaker Oats Company, a subsidiary of PepsiCo, Inc., is combining its Quaker Chewy Granola Bars with flavors inspired by some of the most beloved Girl Scout Cookies™ to unveil all-new Quaker® Chewy® Girl Scouts® Granola Bars.
The relationship provides a delicious new way for families to enjoy the convenient and fun-to-eat granola bar from the trusted breakfast and snack leader. The Quaker Chewy Girl Scouts Granola Bars combine eight grams of whole grains with two delectable flavor offerings based on the famous cookies and are topped off with chocolaty drizzle.
"We love finding exciting ways for families to enjoy Quaker Chewy Granola Bars through new and inspiring flavors," said Sofia Colucci, marketing director for Quaker Foods North America. "We are thrilled to offer families the delightful Girl Scout Cookie flavors they know and love in a delicious granola bar form."
The Quaker Chewy Girl Scouts Granola Bars will be available in two irresistible flavors – Girl Scouts® Thin Mints® made with real chocolate chips and mint flavor, and Girl Scouts® Caramel Coconut made with sweet coconut and caramel flavor – each finished off with a chocolaty drizzle.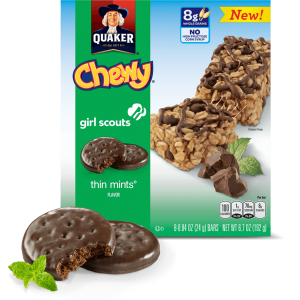 "We are pleased to be working with The Quaker Oats Company to spread the message of Girl Scouts, and the impact it can have on a girl's life, to families across America wherever they shop, and to remind them of the fun of Girl Scouting every day," said Barry Horowitz, chief revenue officer, Girl Scouts of the USA.
Quaker Chewy Girl Scouts Thin Mints Granola Bars are currently available nationwide and Quaker Chewy Girl Scouts Caramel Coconut Granola Bars will be available at Target and select retailers starting in August 2015, and nationwide in January 2016. Each eight-bar box of Quaker Chewy Girl Scouts Granola Bars is $3.29.
For more information about Quaker Chewy Girl Scouts Granola Bars, visit www.QuakerOats.com, www.Facebook.com/Quaker or follow the brand on Twitter @Quaker.
About The Quaker® Oats Company
The Quaker Oats Company, headquartered in Chicago, is a unit of PepsiCo, Inc., one of the world's largest consumer packaged goods companies. For more than 130 years, Quaker's brands have served as symbols of quality, great taste and nutrition. Holding leadership positions in their respective categories, Quaker® Oats, Quaker® Rice Cakes and Quaker Chewy® Granola Bars are consumer favorites. For more information, please visit www.QuakerOats.com, www.Facebook.com/Quaker or follow us on Twitter @Quaker.
About PepsiCo
PepsiCo products are enjoyed by consumers one billion times a day in more than 200 countries and territories around the world. PepsiCo generated more than $66 billion in net revenue in 2014, driven by a complementary food and beverage portfolio that includes Frito-Lay, Gatorade, Pepsi-Cola, Quaker and Tropicana. PepsiCo's product portfolio includes a wide range of enjoyable foods and beverages, including 22 brands that generate more than $1 billion each in estimated annual retail sales.
At the heart of PepsiCo is Performance with Purpose – our goal to deliver top-tier financial performance while creating sustainable growth and shareholder value. In practice, Performance with Purpose means providing a wide range of foods and beverages from treats to healthy eats; finding innovative ways to minimize our impact on the environment and reduce our operating costs; providing a safe and inclusive workplace for our employees globally; and respecting, supporting and investing in the local communities where we operate. For more information, visit www.pepsico.com.
Follow PepsiCo:
We're Girl Scouts of the USA
We're 2.8 million strong—2 million girls and 800,000 adults who believe girls can change the world. It began over 100 years ago with one woman, Girl Scouts' founder Juliette Gordon "Daisy" Low, who believed in the power of every girl. She organized the first Girl Scout troop on March 12, 1912, in Savannah, Georgia, and every year since, we've made her vision a reality, helping girls discover their strengths, passions, and talents. Today we continue the Girl Scout mission of building girls of courage, confidence, and character, who make the world a better place. We're the preeminent leadership development organization for girls. And with programs for girls from coast to coast and across the globe, Girl Scouts offers every girl a chance to do something amazing. To volunteer, reconnect, donate, or join, visit www.girlscouts.org.
Like what you're reading?
Subscribe to BevNET+NOSH Today
Subscribe today and get access to the leading industry resources in the food &amp beverage industries. News, trends, industry data, expert analysis and much more.
Access all of these benefits:
Unlimited access to all content on BevNET.com and NOSH.com
Exclusive access to hundreds of educational videos
Watch subscriber-only live programs such as Office Hours