Bethenny Frankel and B&G Foods Partner to Launch Skinnygirl™ Salad Dressings
Parsippany, NJ (May 6, 2015)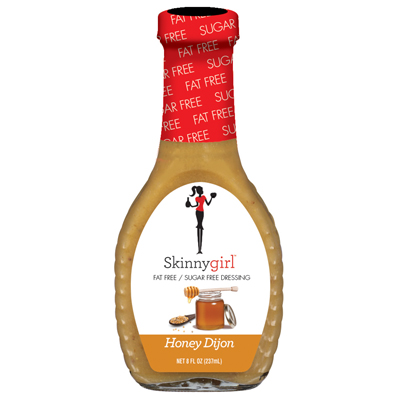 Bethenny Frankel, author, chef, TV personality and entrepreneur, is expanding her popular Skinnygirl™ brand to introduce a new collection of salad dressings. The Skinnygirl™ Salad Dressings are fat-free, sugar-free and contain only 5 to 10 calories per serving. They are available in four flavorful options: Balsamic Vinaigrette, Honey Dijon, Poppyseed and Raspberry Vinaigrette.
"We are always looking for new ways to provide women with sensible solutions that don't sacrifice flavor," said Bethenny Frankel, founder & CEO, Skinnygirl. "Our new line of Skinnygirl™ Salad Dressings makes it easy to add tons of flavor without the fat and sugar."
Skinnygirl™ Salad Dressings are made from quality ingredients and appeal to consumers striving to lead balanced lifestyles without sacrificing indulgent taste. The four new flavors include:
Balsamic Vinaigrette—A must-have for salad lovers; this classic flavor pairs well with almost any salad.
Honey Dijon—Nothing beats the powerful flavors of Dijon mustard and honey; this sweet and tangy dressing will liven up any number of salads.
Poppyseed—With a hint of lemon, this dressing will make the flavors on your plate light up and take any salad to the next level.
Raspberry Vinaigrette—The sweetness of raspberry and tartness of vinegar combine to make this bright, flavorful dressing a family favorite.
"B&G Foods is thrilled to work with Bethenny to expand the Skinnygirl™ offerings through this new line of exciting salad dressings," said Jordan Greenberg, Vice President of Marketing at B&G Foods.
Please visit www.skinnygirldressings.com for more information, including a store locator to find Skinnygirl™Salad Dressings near you.
About B&G Foods
B&G Foods, Inc. (NYSE: BGS) and its subsidiaries manufacture, sell and distribute a diversified portfolio of high-quality, branded shelf-stable foods across the United States, Canada and Puerto Rico. Based inParsippany, New Jersey, B&G Foods' products are marketed under many recognized brands, includingAc'cent, B&G, B&M, Baker's Joy, Bear Creek Country Kitchens, Brer Rabbit, Canoleo, Cary's, Cream of Rice,Cream of Wheat, Devonsheer, Don Pepino, Emeril's, Grandma's Molasses, JJ Flats, Joan of Arc, Las Palmas,MacDonald's, Maple Grove Farms, Molly McButter, Mrs. Dash, New York Flatbreads, New York Style,Old London, Original Tings, Ortega, Pirate's Booty, Polaner, Red Devil, Regina, Rickland Orchards, Sa‑son,Sclafani, Smart Puffs, Spring Tree, Sugar Twin, Trappey's, TrueNorth, Underwood, Vermont Maid andWright's. B&G Foods also sells and distributes Static Guard, a household product brand. For more information, please visit www.bgfoods.com.
About Skinnygirl
What started with the Skinnygirl® Margarita from the mind of author, chef, TV personality and entrepreneur Bethenny Frankel, has turned, quite frankly, into a lifestyle revolution. Skinnygirl is passionate about redefining the way women live by bringing them straightforward solutions that add ease and flair to their lives–each and every day. Women can have it all–and Skinnygirl is committed to creating delicious, smart products to help them enjoy everything they love about life. No guilt. No hassle.
Like what you're reading?
Subscribe to BevNET+NOSH Today
Subscribe today and get access to the leading industry resources in the food &amp beverage industries. News, trends, industry data, expert analysis and much more.
Access all of these benefits:
Unlimited access to all content on BevNET.com and NOSH.com
Exclusive access to hundreds of educational videos
Watch subscriber-only live programs such as Office Hours