Baobab Foods Unveils New Production Facility & Aggressive Ingredient Line Expansion
BELLEVUE, Wash.–(BUSINESS WIRE)–Baobab Foods, creator of nutrient-dense superfood products, today announced the opening of a new, state-of-the-art manufacturing facility in Washington, Mo., to expand the supply and flavor offerings of its innovative BaoBites Superfruit Snacks with the added ability to integrate functional ingredients. These deliciously addictive, nutrient and antioxidant-rich morsels are easily integrated into a variety of food formulations, including cereals and granolas, trail mixes, nutrition bars, baking mixes, as stand-alone fruit snacks, or as a base for panned chocolate or yogurt coatings. All BaoBites Superfruit Snacks will now be made out of the new facility in a joint venture between Baobab Foods and Beyond Ingredients.
Baobab Foods' advanced new facility provides food formulators with the ability to easily incorporate on-trend functional ingredients – for example, probiotics for digestive health, plant-based proteins for muscle tone and endurance, electrolytes for natural hydration and more. In addition, water activity can be adjusted depending on the application, for a turnkey way to boost nutrients and flavor in a variety of food products.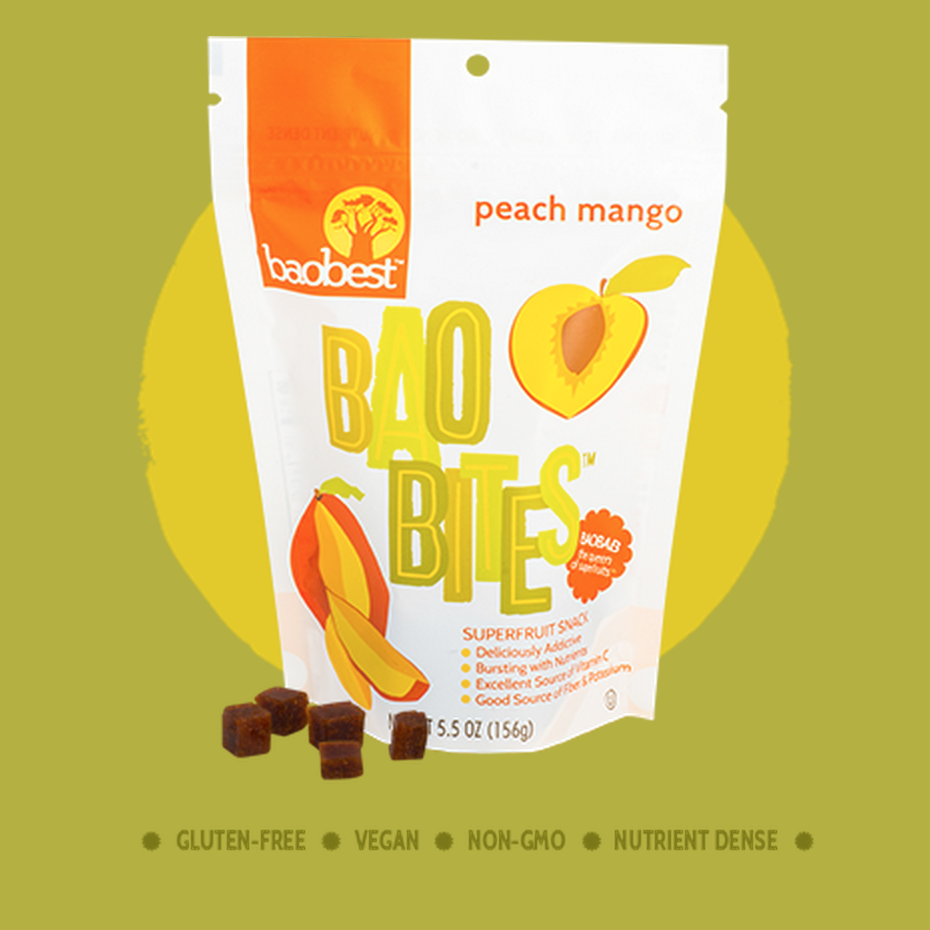 "Although the concept of BaoBites was completely new to the industry a few years ago, the reception has been tremendous, and we've been working closely with our current partners to understand how this novel ingredient can provide increased benefits to the end consumer," said Stephan Broburg, general manager of Baobab Foods. "Our new facility is unlike any other, as it allows us to easily customize the water activity, flavors and other nutritional ingredients in each bite, so the opportunities for food formulators are endless. We're eager to invite our current partners and connect with new ones to explore the opportunities BaoBites can bring to their R&D and innovation pipelines."
BaoBites Superfruit Snacks will also be available in nine new flavors, including Meyer Lemon, Tart Cherry, Blueberry, Raspberry, Strawberry, Mango, Sweet Potato, Raspberry Lemonade and Carrot Mango, in addition to the current three offerings: Blood Orange, Peach Mango and Pomegranate.
With twice the antioxidants of dried blueberries and an oxygen radical absorbance capacity (ORAC) of 50,000, BaoBites Superfruit Snacks are made with simple ingredients, including wild-harvested organic baobab fruit powder, real fruit concentrates and pectin. BaoBites Superfruit Snacks are vegan, gluten free, non-GMO, and free of cholesterol and allergens, including dairy, eggs, nuts, wheat and soy.
As the world's largest supplier and marketer of baobab superfruit from southern Africa, Baobab Foods is proud to provide sustainable and socially conscious ingredients for a multitude of national brands across the cereal, nutrition bar, nutritional supplement, HPP juice and trail mix categories. For more information about Baobab Foods, please visit BaobabFoods.com. For wholesale inquiries, please contact stephan@baobabfoods.com or call 800-682-0221
About Baobab Foods: Founded in 2011, Baobab Foods is the leading supplier and marketer of baobab superfood products, including Baobest™ Baobab-branded products and industrial ingredients like baobab raw fruit powder, BaoBites and Organic Moringa Leaf Powder. As the world's largest supplier and marketer of baobab superfruit from southern Africa, Baobab Foods is committed to socially responsible and sustainable harvesting of baobab, and has pioneered best-practice forestry techniques with its partners, including techniques like hand-harvesting from wild trees. The company is committed to working with local harvesters to create sustainable incomes for women in southern Africa, helping to provide opportunities to uplift them from poverty, feed their families, and gain access to medical care and education for their children.