Preliminary Agenda & Final Speakers for Project NOSH L.A. Announced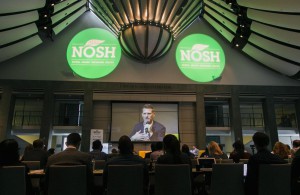 As Project NOSH L.A. rapidly approaches, the team is excited to announce the preliminary agenda for the conference. The event, which will be held on Nov. 1st and 2nd, will bring together entrepreneurs, investors, industry thought leaders, and suppliers for two days of networking, strategizing, learning and noshing. The full agenda  for the conference can be viewed online.
November 1st will be a bootcamp for early-stage entrepreneurs to help them with the beginning stages of their journey. Speakers will include Errol Schweizer, strategic advisor and board member for natural products companies, Bob Burke, Founder of Natural Products Consulting Group, and Noah Hagey, Partner at BraunHagey & Borden, LLP. The evening will close with a cocktail hour open to all conference attendees
November 2nd will find everyone at the Skirball Center ready to go, grow and network.
The day begins with Tom Bilyeu, Co-Founder and President of incredibly fast-growing Quest Nutrition, kicking the conference off with a brisk discussion of food companies as value creators in today's marketplace. He will be followed by Steve Hughes, CEO & Co-Founder of Sunrise Strategic Investors, who will discuss where he believes the industry is headed and the pitfalls that may face brands in the future.
After Noha Waibsnaider, Founder and CEO of Peeled Snacks, and a quick networking break, attendees will hear from Deb Hannah of Starbucks regarding how the coffee chain works with snack brands and creates partnerships to bring CPG food products to their stores.
Attendees won't want to miss RangeME CEO Nicky Jackson, who will draw upon her rich history working with buyers from Target to Whole Foods Market on what it takes to get your brand retail-ready. Finally, before heading to lunch, Brendan Synott will walk the audience through the strategies he's used while leading brands such as Evol and Bear Naked, to execute on goals while the world and industry changes around you.
Lunch will be accompanied by more networking, followed by Suzanne Saltzman Ginestro, the Chief Marketing & Innovation Officer for Campbell's C-Fresh division. Suzanne will touch upon how big food brands can work with small, and how those relationships — and investments — might work as the food business evolves.
Carole Buyers and Duane Primozich of investment group BIGR and Josh Schroeter, President and Founder of Sherpa Foods (and Co-Founder of Sahale Snacks), will bookend Matthew Sade, CEO of Kite Hill. Sade will look at his own work at both Kite Hill and Impossible Foods to discuss the word of plant-based foods and how brands can draw new consumers into this arena.
Before heading to break, a star turn: Galit Laibow and Sarah Michelle Gellar, Co-Founders of baking brand Foodstirs, will join their advisor, Greg Fleishman, CEO of Purely Righteous Brands (and former CMO of Suja Juice and Sambazon) to discuss how they have used content, community, celebrity and e-commerce to drive sales and build their brand.
Finally the day will end with two kinds of inspiration: first, the Project NOSH Pitch Slam, where new brands will compete for fame and fortune, followed by Farmhouse Culture CEO John Tucker, speaking about how he has been able to keep mission and drive front-and-center during periods of rapid growth as a leader at Farmhouse Culture, Dave's Killer Bread, and So Delicious.
While the day's education sessions will be done, networking will continue over cocktails. More information on this social event will be forthcoming.
Project NOSH L.A. will be held on Nov. 1 at the Marriott Marina del Rey and Nov. 2 at the Skirball Center in Los Angeles. The Nov. 1 event is a limited-seating Boot Camp for early stage brands.
Register Now for Project NOSH LA >>
Questions about the event or attendance can be arranged by contacting Jon Landis. Some sponsorship is still available and can be arranged by contacting John McKenna.
About Project NOSH: Project NOSH covers the world of entrepreneurial packaged food companies and services that are expanding rapidly due to interest in Natural, Organic, Sustainable and Healthy (NOSH) products and businesses. The growth of these kinds of products has created an ecosystem of entrepreneurs, consumers, suppliers, employees, distributors, retailers, investors, regulators, and service providers: The goal of Project NOSH is to become the leading source of informed, comprehensive coverage and context in regard to this growing community of businesses and the larger trends affecting it, both internally and externally. Project NOSH is a publication of BevNET.com, Inc.