NOSH LIVE: Michael Ruhlman Joins NOSH For Discussion and Book Signing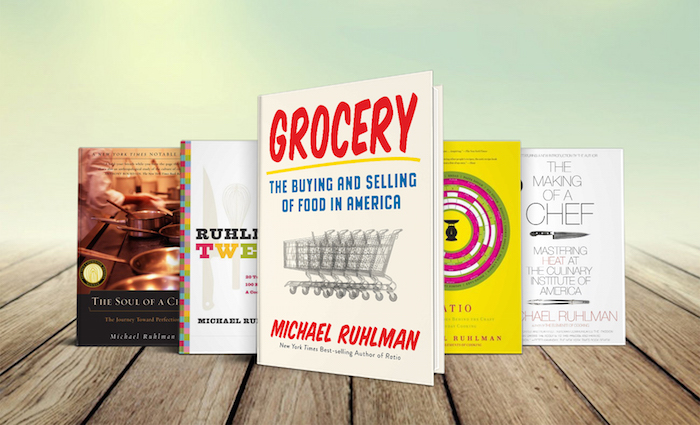 How's this for a bonus course? James Beard award winning author Michael Ruhlman will speak at NOSH Live on June 12 at the Metropolitan West in New York, NY. Ruhlman will be discussing Grocery: The Buying and Selling of Food in America, which looks at the grocery store as a key lens into American food culture and commerce.
In Grocery, Ruhman examines the changing American grocery store and how it has influenced how consumers shop and eat in America. During his research, Ruhlman spoke to all the parties involved in the food industry, including buyers entrepreneurs, and suppliers, leaving him with a unique outlook on how brands can operate within its framework and see success. The book draws a distinct line between the ways shifts in retailing reflect macro trends in the food industry, and the societal impact these changes represent.
A trained chef and journalist, Ruhlman has written over 20 books and collaborated with illustrious chefs, including Thomas Keller and Eric Ripert, on their cookbooks. He also has appeared as part of numerous television programs, including The Next Iron Chef and several episodes of Anthony Bourdain's television series.
"Much of the book is a fascinating portrait of how the sustainability movement is revolutionizing groceries with an avalanche of local produce, grass-fed meat, organic everything and nutritional supplements, Publisher's Weekly wrote in its review of Grocery.
Following his session, NOSH attendees will be able to purchase a copy of Grocery and have it signed by Ruhlman himself.
Meet Ruhlman and many other great speakers and attendees at NOSH Live on June 11 and 12. Conference registration is available online.
About Project NOSH
Project NOSH is the leader in food-focused media and events and is a division of BevNET. The mission of Project NOSH is to offer the best, most comprehensive platform for news coverage, expertise, partnership, networking and support for all members of the community.
Through its website and NOSH Live events, Project NOSH reports on and catalyzes food innovation for the ecosystem of entrepreneurs, consumers, suppliers, distributors, retailers, investors, regulators and ingredients and service providers.
Project NOSH experts are often used as sources for media publications looking for industry information and expertise including the New York Times, Wall Street Journal, Detroit Free Press, NPR, CNBC and Wired Magazine.
BevNET has offices in Watertown, MA, New York, NY, and San Diego, CA.