SnackNation Acquires EdgiLife for 'Better Business Intelligence'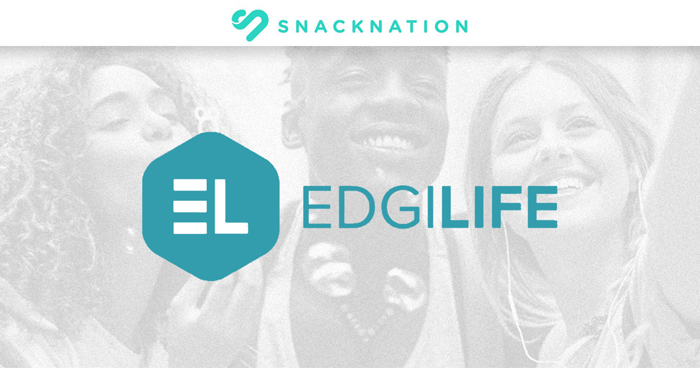 Today snack marketplace and delivery platform SnackNation expanded its consumer insights capabilities and direct-to-consumer presence with the acquisition of EdgiLife, a consumer-focused data analytics company that owns one of the country's largest snack subscription services, Love With Food.
Terms of the deal were not disclosed, however the company did note that Aihui Ong, the founder of EdgiLife, will act as the Senior VP of Data and Insights at SnackNation effective immediately. Founded in 2009, EdgiLife created proprietary technology that allows CPG companies to quickly test a product with hyper-targeted consumer groups and receive rapid feedback online via a streamlined dashboard. The technology is utilized by companies such as The Hershey Company, CLIF Bar, Truvia, Burt's Bees and Nature's Path.
The news comes less than a month after SnackNation closed a $12 million round of funding to expand into new distribution channels and scale its direct-to-consumer business.
The Love With Food product — which was launched in 2012 and has partnered with brands including Chef's Cut, Nature's Bakery, Beanitos, Ocean's Halo and Way Better Snacks — will continue on as "a crucial element of the SnackNation platform," according to SnackNation CEO Sean Kelly. Before the acquisition, Kelly said, direct-to-consumer made up 10 percent of SnackNation's revenue, adding that the recent funding was used to complete the deal.
With this acquisition, SnackNation hopes to elevate how it curates its current snack selections. The box adds tens of thousands of additional consumers, Kelly said, while the analytics platform will allow for greater data specificity. Both of which are expected to enable brands to have more robust data to understand and target their most profitable customer segments.
"From a consumer insights perspective, this acquisition gives us access to more data, more segmentation and improved technology," Kelly said. "The result is brands gaining the ability to analyze and filter insights in a way that is more relevant and action-oriented than before."
For more information, read the full release below: 
SnackNation Acquires Love With Food
LOS ANGELES– SnackNation, the leading nationwide tech-enabled snack marketplace, today announced the acquisition of EdgiLife and its brand Love With Food, a consumer insights and data analytics company with one of the nation's largest direct-to-consumer snack subscription services.
EdgiLife is the creator of a proprietary insights platform that enables emerging food, beverage and CPG brands to tap into valuable customer intelligence while placing products in the hands of the right hyper-targeted consumers. As a result of the acquisition, SnackNation is now able to serve hundreds of thousands of consumers through both the office and the home in every state across America. Terms of the deal were not disclosed.
"We welcome EdgiLife and the Love With Food team to the SnackNation family," says Sean Kelly, CEO of SnackNation. "This acquisition allows us to offer our brand partners access to a larger customer base while providing them with deeper consumer insights and more refined data analytics. This will enable brands to better understand their core customer which in turn will help them more effectively target their most profitable customer segments."
"I founded Love With Food to disrupt the inefficient way CPG companies traditionally gain product insights by creating an easy and affordable way to collect data that can deliver brands a substantial competitive advantage," says Aihui Ong, founder of EdgiLife. "This acquisition feels right because of our companies' shared focused on consumer data and our alignment on the essential elements of core values and organizational culture. Together we'll be able to expedite our progress and provide elevated services to both the brand partners and consumers we love and serve."
Ong, a software engineer, is now Senior Vice President of Data and Insights at SnackNation. EdgiLife's proprietary technology allows CPG companies to rapidly test a product with highly specific consumer groups, to receive rapid feedback, and to make informed decisions based on the insights learned. The data is presented in an easy-to-use dashboard that allows brands to quickly analyze and filter their results based on demographic, consumer purchase intent and more.
"More than ever consumers demand convenience in accessing their favorite foods," says Ryan Schneider, President of SnackNation. "Brands need to respond to this changing market and think outside of traditional distribution channels. That's why combining SnackNation and its thousands of office locations with Love With Food and its thousands of home customers is such a powerful partnership."
Recently Named Best Food Box by The Subscription Trade Association, this acquisition will allow SnackNation to provide an even better customer experience through elevated curations to both its office and home members.
ABOUT SNACKNATION
SnackNation is a tech-enabled snack marketplace that serves today's most innovative, best-tasting, and emerging CPG brands to high value consumers at their most engaged moments. SnackNation exists to inspire more conscious food decisions. Founded in 2015, the company curates and delivers great tasting, better-for-you snacks to half a million people in thousands of member offices nationwide- places like Microsoft, MailChimp, Soothe, and many more. SnackNation also delivers to tens of thousands of homes via the Love With Food brand. The company has donated more than three million meals to families in need through its partnership with Feeding America. To learn more, visit SnackNation.com.