Mondelēz to Acquire Tate's for $500 M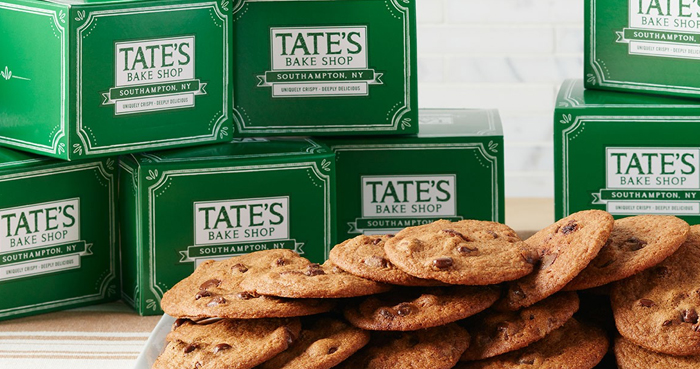 Mondelēz International is ready to harness "the power of the cookie."
The confectionary giant announced today that it has agreed to buy crispy cookie maker Tate's Bake Shop from private equity group The Riverside Company as well as other shareholders for approximately $500 million. Other terms of the deal were not disclosed.
"Tate's is a great strategic fit that will complement our portfolio of beloved snacks brands," Dirk Van de Put, Chairman and CEO of Mondelēz, said via a release. "With a unique and authentic brand and truly delicious products, this acquisition gives us an attractive entry point into the fast growing premium cookie segment."
Founded in 2000 in Southampton, N.Y., Tate's has grown from a regional to national player. In 2014, the brand added CEO Maura Mottolese to spearhead its expansion after receiving investment from Riverside. Over the past five years, Tate's has become one of the fastest growing biscuit brands in the U.S., seeing its sales and earning quadruple, according to Mondelez. Thus far in 2018, retail sales in measured channels grew by more than 40 percent through March, the company said.
After the acquisition closes later this summer, Tate's will operate as a standalone business at its current headquarters, according to a company release. Tate's senior management team will also remain and the company will continue to produce out of its existing manufacturing facility.
The M&A move follows strategic investments and acquisitions by confectionary leaders, such as The Hershey Company's purchase of Amplify Snack Brands and Mar's minority stake in KIND.
This most recent acquisition will allow Mondelez — the maker of brands including Oreo, belVita biscuits, Cadbury Dairy Milk and Trident — to both expand into the premium cookie set and address changing consumer tastes. In February, Van de Put announced that Mondelez would be looking to snacks as part of its product portfolio renovation for this year.
Tate's also gives Mondelēz a presence in the thin and crispy cookie market. The number of bakery launches using the product descriptor "thin" alone has doubled from 2012 to 2017, according to market insight firm Innova. While "thin" can indicate low calorie, Tate's has embraced the term as reflective of their product's snack-like quality.
Investor Riverside noted that while Tate's product portfolio was on-trend, the firm believes the brand's growth has been rooted in the team's ability to respond to the marketplace.
"Our retail partners had a knack for telling Tate's exactly what they wanted, and our distributor partners ensured that those needs were met," Riverside Managing Partner Loren Schlachet said in a statement. "That's the essence of great consumer brand investing and it helped make Tate's a success story."
Mottolese said via a release that she is excited for the opportunity "to take Tate's to the next level" with Mondelēz and attributed the brand's overall success to the company's long standing focus on product.
"At the end of the day, the original Tate's product really was successful based on the product itself," she said at NOSH Live 2017. "The 'sacred cookie' is the thing that got Tate's where it is today and will also be the thing that gets Tate's to the next level."