McConnell's Launches Vegan Line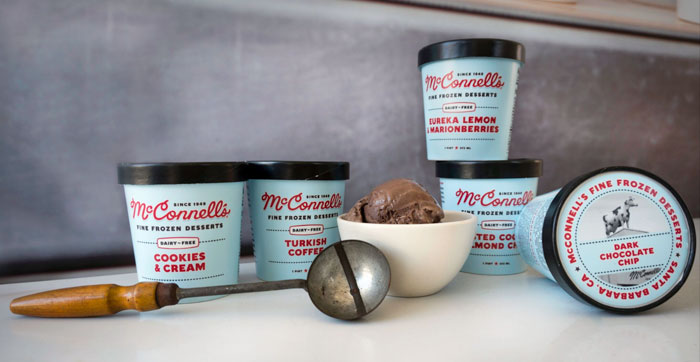 McConnell's Dairy was founded in 1934 as the largest family-run dairy in Santa Barbara, Calif.
Now, 70 years later, the brand's values are the same, but its product offerings are starting to evolve with changing consumer desires.
This month McConnell's launched a line of dairy-free "ice cream" made from a proprietary blend of micronized pea protein. Though many ice cream alternative options lean on almond, coconut or cashew milk for a base, McConnell's is one of the first brands to innovate with pea protein. So far, the line is sold in retailers including Gelson's and Bristol Farms with more specialty retailers coming online in the next month. McConnell's traditional dairy line is sold in hundreds of stores including Whole Foods Market and Safeway.
The dairy-free line will launch with five flavors — dark chocolate chip, toasted coconut almond chip, cookies & cream, turkish coffee, and eureka lemon & marionberries — and retail for $7.50 to $10 a pint.
"People really didn't expect it from McConnell's because we are really known for the most indulgent, highest butter fat, densest ice cream in the business," McConnell's CEO Michael Palmer told NOSH. "But we would never avoid or look the other way at the fact that though [plant-based] is still a very small category, it's growing."
When creating a dairy-free line, Palmer said the company wanted to make sure it brought innovation to market and didn't create a me-too product. As a result, he did not consider coconut or almond milks for the base because "it had been done before." The use of pea protein not only provides a neutral base, according to Palmer, but it also makes the product lower in fat, sugar and cholesterol. Though the line plays to the popularity of plant-based and comes at a time when interest in legumes are at an all-time high, Palmer added that the intention was never to chase trends.
"We don't want to be followers," he said. "In a category that is so little relative to innovation, we don't believe innovating is following someone else who innovated just to get market share."
Milk's declining popularity with U.S. consumers has become a sustained downward trend, as reported by BevNET. Last year, market research group Mintel reported dairy milk sales were predicted to drop 11 percent from 2015 to 2020. In response, dairy lobbyists have been looking to slow the decline by pressuring the U.S. Food and Drug Administration (FDA) to crack down on non-dairy products using terms like "milk" and "ice cream."
To avoid confusion, McConnell's refers to its dairy-free line as a "frozen dessert." Palmer said he thinks "there will always be a great acceptance and love for traditional dairy," but the company is simply embracing alternatives instead of competing against them.
As many consumers have begun to embrace a flexitarian diet, McConnell's is not the first dairy-centric brand to broaden its portfolio to better meet changing tastes and needs. Pint category leader Ben & Jerry's announced its launch into the non-dairy space in 2016, and last year, a number of non-vegan ice cream brands — such as Breyers, Häagen-Dazs, and Halo Top — debuted non-dairy flavors. Then last month, Swedish oat milk brand Oatly announced via its Instagram page that it's entering the dairy-free pint space, and last week, Whole Foods launched its own almond milk vegan ice cream via its 365 Everyday Value line.