Expo East: How to Survive as a Postmodern Organic Company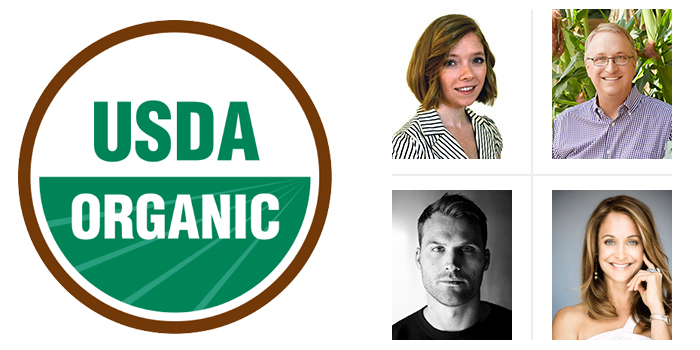 Thirty years ago, being an organic food company meant fighting for shelf space and battling the stigma that organic food was tasteless and boring. But the game has changed, and today the question from consumers is no longer "why would you buy organic?" but rather "why wouldn't you?"
During last week's Natural Products Expo East, leaders in the organic space came together to discuss how they are navigating this marketplace shift and evolution. Though organic is changing, the retail industry as a whole is experiencing its own changes as well, from emerging retail models and marketing platforms to new consumer preferences. John Foraker, co-founder of fresh baby food brand Once Upon A Farm and former founder and CEO of Annie's, Tyler Lorenzen, president of pea protein farm and supplier Puris, and Marci Zaroff, founder and CEO of Metawear and co-founder of Good Catch, all spoke to the audience about how to keep organic brands out in front on shelves and attractive to today's consumers while still maintaining a certain level of quality.
Convincing consumers to switch to organic is certainly less difficult today, according to the panelists. Last year the organic industry was valued at $50 billion — $6.4 billion more than the previous year. Part of this sales bump is a result of organic going mainstream, Zaroff said.
"We have now made organic about making no compromises, and that has been married with transparency thanks to our front-in-center supply chain for the consumer," Zaroff said.
But the best way to push the organic industry to its next growth stage, the panelists said, will be to play up its inherent attributes. Consumers don't want to be in the dark about where their food is coming from, and organic provides a sourcing path that is easily traceable — exactly what consumers are now demanding. A Label Insight Transparency ROI Study found that 56 percent of those consumers surveyed said additional product information inspires more trust in a given brand.
Modern day organic companies do, however, need to improve how they are talking about their ingredients' traceability, the panelists noted, bringing up the importance of social media numerous times throughout the discussion.
"You have to do story building right," Lorenzen said. "How do you personalize stories enough to make them impactful for the consumer and consumable at the point of sale? That is the hardest part from our perspective — tying it all together."
Mission-driven companies are also fueling much of the growth in the natural food space. Nearly eight-in-10 Americans said they are more loyal to purpose-driven brands than traditional brands, according to the 2018 Cone/Porter Novelli Purpose Study. Foraker said he thinks companies interested in organic are also civically minded entrepreneurs looking to figure out how they can use their business to do good. He warned that transparency applies to societal mission: using mission as a core value has to be authentic and integrated into the entire business model so it can scale with the company.
"Core values are called that because it's the core of your being," Lorenzen added. "An athlete without a strong core is not a good athlete."
In the past, the ceiling on organic growth and its ability to "do good" was perceived as low. While the U.S. is the largest consumers of organic food globally, it is not one of the largest producers, and up until recently there wasn't enough demand or compensation for farmers to change that. But with large players starting to add organic options to their portfolios — and organic farmers typically getting paid 35 percent more than those using traditional farming methods — the supply chain is growing. It's now a world where there is a plethora of organic products and they are sold in retailers from Whole Foods Market to Walmart. Still, where consumers can find these products in the stores needs work, according to Foraker, who spoke about his experience at Annie's.
"For years we were going to meals buyer and saying 'you need organize us into your set and here's why,' and they would be like 'oh no, you need to be in the organic section,'" Foraker said. "But as we were added, we were bringing new consumers to category, only taking some share but more so bringing education to organic. Consumers don't want to go hunt for things in a separate section of the store; they want to go right where they think the mac and cheese is."
Overall, the panelists explained that organic is having a moment, but outspoken leaders will be needed to bring the certification deeper in all CPG industries. Zaroff added that she thinks good leadership will be about "meeting people where they are and promoting a healthy dialogue to help the next generation of leaders and companies not born with the same values, but who want to move in that direction."