Distribution Roundup: Ithaca Cold Crafted Adds 2K Stores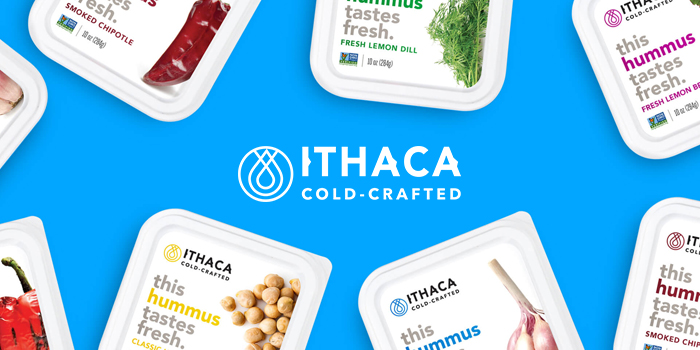 From an HPP hummus maker multiplying its retail footprint, to an instant ramen brand gaining a nationwide presence, here is your latest in distribution news.
Ithaca Cold Crafted Adds 2K Stores
Since extending its shelf-life with HPP technology last year and embarking on a rebranding effort, Ithaca Cold Crafted has expanded its presence down the East Coast. The Ithaca-New York-based hummus brand added 2,000 store locations this summer with retailers including Publix, Stop & Shop and Big Y. Prior to these additions, the company was in 800 stores.
"Tripling our store count definitely helps to get on the map geographically," Ithaca Cold Crafted founder Chris Kirby told NOSH.
With a large distribution expansion in hand, the company will now focus on filling in distribution gaps on the East Coast, and targeting natural, specialty, and premium banners throughout the rest of the country. However, Kirby said at this time, what he believes is most important right now is focusing on sales velocity.
The company hired a national VP of sales, Todd Mullane, to assist with its growth, which has rapidly picked up since switching a more unusual (for the category) square container. Kirby told NOSH the rebrand has also helped convey the company's message in a more effective manner.
"Hummus is a very crowded category and we're always taking steps to break away from the pack," Kirby said. "The square shape is unique and retailers love it because they can fit more on their shelves."
Gutzy Grows Retail Footprint
In attempt to grow brand awareness and the overall adult pouch market, prebiotic fruit and oat pouch brand Gutzy is expanding its retail footprint into 1,200 new locations. The brand is now sold in more than 3,000 supermarkets including Publix, Wegmans, Safeway, and most recently Stop & Shop.
Gutzy's 3.9 oz pouches are gluten-free, vegan, and non-GMO. The current portfolio includes six flavors, including a recently launched new "supergreen" flavor of apple, spinach, kiwi and kale.
The success of Gutzy comes at a time when consumers are increasingly interested in gut health. The brand also fits with changing consumer preferences toward fresh snacking in convenient, single-serve formats. Gutzy founder David Istier told NOSH that the company has seen 186 percent year-over-year growth, and is positioned to continue to see success in the pouch market because of its taste, functionality and the overall normalization of pouches for adult snacks.
"Consumers are now getting used to the pouch format through sport pouches, and the kids eating pouches growing up," Istier said. "As retailers have been looking for healthy innovation in the perimeter of the store, we are right on trend."
Whole Foods Market Adds Homegrown Nationwide
After developing a loyal following in Whole Foods' Southwest Pacific region, artisan jerky brand Homegrown Meats is branching out into all of the retailer's stores nationwide. Four of the San Diego-based company's nine flavors — Joel's Traditional, Western Mesquite Barbeque, Cracked Black Pepper and Paleo — will now be found on store shelves from coast to coast.
"We're thrilled to have the opportunity to extend our footprint nationwide with Whole Foods Market," Thad Benshoof, co-founder of Homegrown Meats, said in a release. "This is an exciting opportunity for the Homegrown Meats family, positioning us as a leading brand in the all-natural jerky category and opening the door for long-term growth and partnership."
Jason Krolikowski, global category manager for Whole Foods described the addition as a testament to the retailer's commitment to support local suppliers and products. Outside of Whole Foods, Homegrown sells its products in non-traditional retail channels including golf courses and resorts, health and wellness stores, universities, and breweries.
Hodo Expands Factory Capacity as Store Count Grows
Hodo announced that a suite of its tofu products will be available in Whole Foods locations nationwide this month. The natural food retailer has picked up the brand's Thai curry nuggets, sesame yuba noodles, chermoula Moroccan tofu cubes, firm tofu, and braised tofu SKUs.
The California-based startup launched in 2004 and started selling its products in retail in 2008. Now the Hodo line is sold in over 2,000 stores including MOM's Organic Market, Big Y and Central Market. To keep up demand as the brand scales, the company announced it is in the process of a expanding its factory to raise production from 40,000 pounds of soy product per day to 70,000 pounds.
Minh Tsai, founder of Hodo, told Bloomberg that he is working to grow his organic tofu line both in storecount and offerings. Soy-free products ranging from plant-based, ready-to-eat offerings, to drinks and snacks are in the company's future, he said.
"'Plant-based' has become an exciting phrase in popular conversation, and it represents the mainstreaming of plant-forward eating," Tsai told Bloomberg. "I want to reframe this product that's thousands of years old, so people talk about it as much as they talk about the Impossible Burger."
Mike's Mighty Good Brings Store Count to 6,000+
As of this summer, instant ramen maker Mike's Mighty Good is now sold in over 6,000 stores after seeing expansion into retailers including Whole Foods nationally, Wegman's, Jewel and Meijer.
Mike's Mighty Good launched at Natural Products Expo West 2017 with two lines of ramen soups. Prior to this national expansion with Whole Foods, Mike's Mighty Good products were sold in three Whole Foods regions and about 5,000 stores with retailers including Sprouts, Safeway, Raley's, Market Basket, AHOLD and Publix.
"What Mike's Mighty Good is about is making a better instant ramen," Carolyn Vinnicombe, Mike's national sales and marketing manager, said in a release. "Before we started, there was a problem with instant ramen: it was almost impossible to find something great-tasting, convenient, and made with great ingredients. We solved that problem by bringing the taste of the ramen bar and making it accessible to everyone."
Other notable distribution news includes:
Truth Bar Lands CVS: In a year and a half, probiotic bar brand Truth Bar has gone from launch to over 3,000 locations. Most recently, the brand launched in Market Basket and CVS stores in August. Truth Bar is also expected to hit shelves in Harris Teeter locations by early December.
Zesty Z Brings Za'atar to Whole Foods:
Iwon Organics Expands Partnership with GNC: The protein chip maker is bringing its newly launched protein puff line to more than 4,500 GNC stores in October. The launch with sports nutrition leader GNC comes shortly after the retailer added the brand's protein chip line to 2,500 stores in July.
Jimmy Bar Deepens Presence in Convenience: The clean snack and protein bar brand was added to over 400 WaWa convenience store locations across Pennsylvania, New Jersey, Maryland, Delaware, Virginia and Washington D.C.
Oriya Gains Nationwide Distribution with Whole Foods: Superfood mix maker Oriya Organics has added its plant-based supplement mix to over 300 additional Whole Foods stores, giving the brand nationwide distribution.