Chef'd Partners with Byte Foods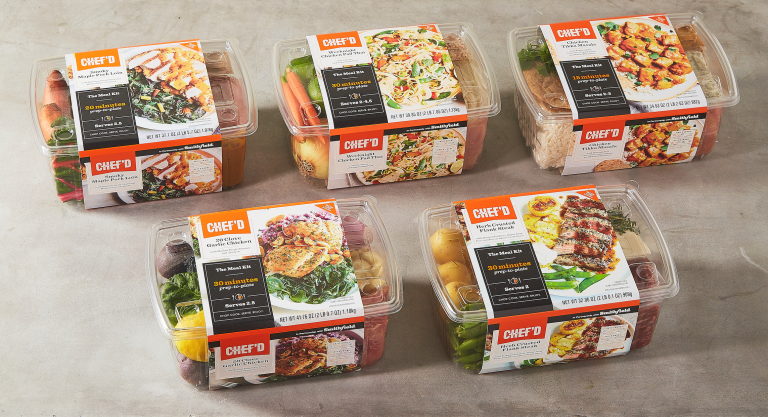 LOS ANGELES — Continuing its expansion into retail, leading meal kit company Chef'd announces its partnership with Byte Foods, the most efficient, affordable fresh food solution for workplaces. The partnership will debut the company's quick and easy recipes and quality ingredients in 100 of Byte's 500+ unattended retail locations throughout the San Francisco Bay Area and Sacramento beginning today, with plans to expand into all locations over the next six months.
Byte Foods has developed patented smart refrigerators to sell fresh food via unattended storefronts embedded within workplaces, hospitals, and apartments. Byte's smart fridges are stocked with an array of high quality, fresh foods—salads, sandwiches, snacks, drinks, and now meal kits. Customers purchase food with their credit card directly from the fridge, 24/7, and Byte's technology automatically knows what was purchased and charges the customer accordingly. It's as easy as swiping your credit card, grabbing a product, and walking away.
"At Chef'd, our goal is to provide a rotating assortment of high-quality meal kits to more consumers in more places," said Kyle Ransford, Chief Executive Officer of Chef'd. "By partnering with Byte Foods, we are able to bring our meal kits to a new channel, beyond our current direct to consumer and traditional retail distribution and provide an innovative solution for grabbing dinner just before you leave work."
"Chef'd is a natural partner for Byte. Both companies share a goal to provide effortless access to fresh meals," said Megan Mokri, Co-Founder and Chief Executive Officer of Byte Foods. "At 4p.m., 80% of people don't know what they're having for dinner that night. By offering meal kits available for purchase in the office, Byte and Chef'd directly meet that last-minute delivery need while still allowing people to cook at home. It's a win-win."
Byte customers will now have access to delicious Chef'd meals including Smoky Maple Pork Loin with Swiss Chard and Mashed Sweet Potatoes; Weeknight Chicken Pad Thai with Carrots and Sugar Snap Peas; and 20 Clove Garlic Chicken with Mashed Purple Potatoes and Spinach. Whether employees are preparing their meals at work or with their friends and family at home, they will now have instant access to a variety of fresh and delicious Chef'd meal kits. Each kit contains two or more servings of ready-to-cook, pre-portioned ingredients, including leafy greens and herbs, and USDA Choice proteins.
"This partnership will support Byte's ability to boost employee wellness and create workplaces that better support their employees, both at work and at home," added Mokri.
Chef'd meal kits will be available in 100 Byte Foods storefronts beginning May 16 with plans to expand to over 500 storefronts in the next six months. Byte and Chef'd will also partner to bring stand-alone, unattended Chef'd fridges to a select number of offices and residential apartment buildings throughout the Bay Area.
About Chef'd
Headquartered in Los Angeles, California, Chef'd is a high-quality ingredient meal kit company that was created to help consumers rethink the home-cooked meal by offering fresh, pre-portioned ingredients that aim to eliminate food waste and cut consumer grocery costs, all without the hassle of subscriptions and delivered conveniently to their door. Launched in April 2015, Chef'd is the only non-subscription-based ecommerce company in the meal kit industry that offers home chefs a variety of recipe options available any time and conveniently delivered as often as they desire. Chef'd also partners with celebrated chefs and culinary influencers to create a variety of delicious recipes that make it easy for home chefs to create memorable culinary moments. In addition to its ecommerce business, Chef'd offers national retail distribution in partnership with Smithfield Foods in grocery stores including Costco, Harris Teeter, Tops, and Gelson's, enabling customers to conveniently incorporate Chef'd meal kits into their shopping lists. In partnership with Smithfield Foods, Chef'd can combine its ecommerce insights, product development expertise, best in class manufacturing assembly, and culinary excellence with Smithfield's unique knowledge of product development and in-store marketing, strong sourcing capabilities and distribution network, and understanding of retail customers. To ensure customers experience the freshest possible produce and proteins whether purchasing in-store or online, Chef'd has pioneered groundbreaking new packaging technology to create meal kits with unparalleled shelf life. Offering more than 1,000 recipes online, Chef'd allows shoppers to purchase the meal kits they want, when and where they want them. Follow on Twitter @get_chefd and Instagram @Chefd. Taste what's possible at Chefd.com.
About Byte Foods
Byte embeds unattended storefronts within workplaces, hospitals, universities, and gyms, providing consumers with 24/7 access to fresh food and the location with a low cost, turnkey "fresh food as a service." Byte's real-time data allow Byte to algorithmically customize the assortment at every location, offering a mix of salads, sandwiches, breakfast items, meal-kits, snacks and drinks. Launched in 2016, today Byte is in more than 500 locations and counts Tesla, Cisco, UCSF, Stanford, Chevron, Sutter Health and many other leading businesses as clients. Learn more at www.bytefoods.co.