The Checkout: Good Day Launches Chocolate Vitamins for Kids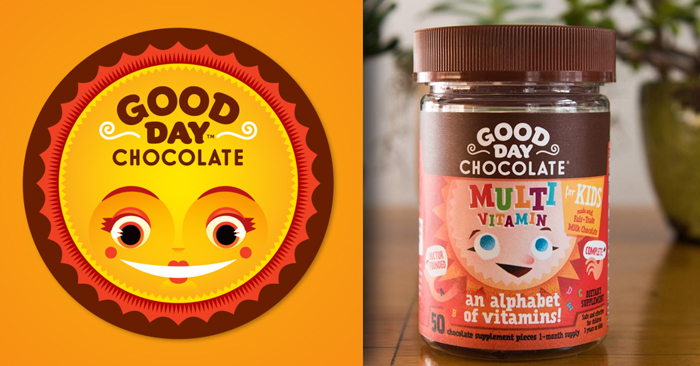 Welcome to The Checkout: an express lane for weekly news you need to know, always 10 items or less.
CPG companies big and small are breaking down barriers by entering new channels to launch products. From a supplement maker debuting a new children's product line to brick-and-mortar grocers getting in on meal kits, here is the natural food news you need to know from this week.
Good Day Launches Chocolate Vitamins for Kids
Gummies aren't the only kid-friendly supplement anymore. Good Day Chocolate, the maker of chocolate supplements for adults, is launching a new product line directed at children. The release marks the start of a new packaging strategy for the brand.
The pediatric line, which launched in 300 Target locations, is available in four varieties: multivitamin, probiotics, sleep and calm. Unlike its original line, which sold eight candy coated chocolate pieces to a box (or two servings), the children's line comes in a 50-count bottle.
Although the packaging is new, the dosing in each chocolate is the same with only the portion size and packaging adjusted for children.
"For years, we have received consumer requests to put our product into a larger-size format and to develop a line just for kids," Denise Day, Good Day's director of marketing, told NOSH. "Until now, we've only marketed to adults, but we have also learned that parents were already giving our products to their children."
In June, the brand will also launch 80-count bottles for adults that will include sleep, calm, probiotic, turmeric and vitamin D, according to Day.
Good Day Chocolate was founded by Andy Goldman, a facial plastic surgeon and Ear, Nose and Throat doctor, and CEO Simeon Margolis in 2014. In June 2015 the Colorado-based brand closed a Series A round of $1.25 million and last year it closed another round with investors including Boulder Food Group (BFG) and AccelFoods.
It's Officially Kosher to Eat an Impossible Burger
Impossible Foods announced this week that its bleeds-like-meat, plant-based burger patties are officially certified Kosher.
The Orthodox Union, the Jewish organization that operates the largest kosher-certification agency, added the plant-based burger to its database of more than 800,000 kosher-certified foods worldwide. Currently, the brand's products are sold in 1,500 restaurants ranging from Michelin-star status locations to fast-food joints such as White Castle. CEO Patrick Brown said he thinks the certification is still "an important milestone."
"We want the Impossible Burger to be ubiquitous, and that means it must be affordable and accessible to everyone — including people who have food restrictions for religious reasons," Brown said in a statement.
Kroger Latest Grocer to Gamble on Meal Kits
Online services are moving to brick-and-mortar grocery stores. On Wednesday, Kroger announced the acquisition of meal kit delivery company Home Chef. The Chicago-based company's sales increased 150 percent and generated $250 million in revenue in 2017.
According to Kroger, the initial transaction price is $200 million, with the potential to increase to $500 million over five years if "certain milestones" are achieved.
The move marks the latest in brick-and-mortar meal kit expansion. Last week, Hak's, a leading manufacturer of condiments, dressings and prepared foods, announced the creation of 30-minute meal kits to be sold in Costco stores, starting with Los Angeles and Orange County, Calif. Last month, Blue Apron began selling its meal kits in stores to help negate slumping sales. And last summer, Albertsons acquired Plated with plans to roll out the kits to hundreds of stores by the end of this year.
Crowd Cow Raises $8 Million
Meat delivery program Crowd Cow announced yesterday that it has closed an $8 million Series A financing round led by Madrona Venture Group, with new participation from Ashton Kutcher and Guy Oseary's Sound Ventures and existing investors including Joe Montana of Liquid 2 Ventures.
Founded by Joe Heitzeberg, a startup veteran from Madrona Venture Labs, and Ethan Lowry, a founder of Urbanspoon, Crowd Cow works with farms to allow consumers to choose their cow and cuts of meat, which are then shipped directly to their door. The company said it will use the funds to add more ranches and farms to its online platform, further improve its supply chain, and release new products.
"Crowd Cow is applying technology to a market that hasn't seen much change in the past 50 years," Scott Jacobson, Madrona Venture Group managing director, said, via a release.
Crowd Cow is not the only meat-centric delivery platform gaining attention from investors. Earlier this month, Porter Road closed on $3.7 million to go after the market with a similar mission.
Lean Cuisine Faces Backlash Over New Marketing Campaign
Earlier this week, low-calorie, frozen-meal maker Lean Cuisine launched a social campaign to help "women explore what having #ItAll means to them."
To make the video, the brand partnered with New York University social psychologist Emily Balcetis to figure out how women affect each others' perceptions of what it means to "have it all," according to Fast Company. However, Lean Cuisine has since been slammed on Twitter for the paradox between its traditional selling point of encouraging women to lose weight and this new friendship building platform, the outlet reported.
"Having #ItAll means not having diet food directly targeted at me because I'm a woman. What year is it again?" one Twitter user wrote.
"Remember when we body-shamed you guys into attempting to survive on child-size rations of food?" another user tweeted at the company. "We did that to nourish female friendship. Don't forget to use the good & memorable hashtag #itall."