With Castanea in Its Corner, Yasso Pushes Into Pints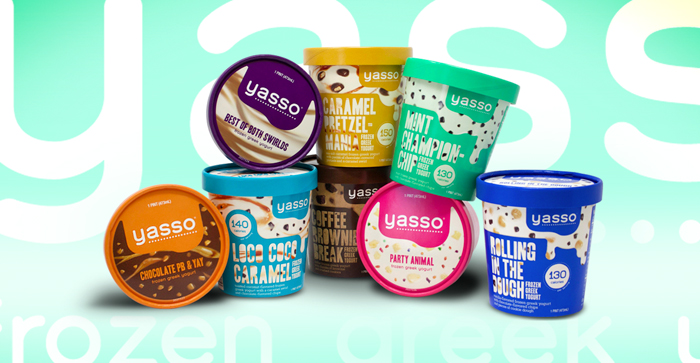 Over the last few years, an influx of new ice cream brands have promised either healthier alternatives or crazy flavors to make the freezer section a lot sweeter.
Now, with the launch of a line of creatively flavored pints – the brand's first steps out of the novelty set – frozen treat brand Yasso wants in. The expansion comes as private equity firm Castanea confirmed earlier this month that it had taken a majority investment in the brand last year.
Founded in 2009, Yasso originally appealed to consumers seeking a portion-controlled treat. It also was unique for using greek yogurt as its ice cream base. While the brand enjoyed continued growth — it reportedly had $82 million in retail sales for the 52 weeks ending December 3, — co-founder Drew Harrington said the time seemed right to enter an adjacent space.
"If anyone was going to move over to [pints] we thought well why not us… At the end of the day we thought there was a pretty significant opening," Harrington said. "Could we deliver with consumers something that tasted great but was more an everyday consumable item with a better nutritional profile?"
The strategy is based on Harrington's belief that there are two ends of the spectrum in pints. On one end, brands such as Jeni's, Häagen-Dazs and Ben & Jerry's deliver unique flavors but are indulgent. On the other end is low-calorie ice cream brand Halo Top, which delivers a healthier alternative to the aforementioned brands but lacks the rich taste profile that many mainstream shoppers still seek. The goal with Yasso's pints is to straddle this middle ground. Each pint has between 80 to 150 calories and 5 to 6 grams of protein per serving.
That's not to say Harrington doesn't recognize there's competition. He acknowledged that Yasso is entering a crowded category with a limited amount of shelf space, and that the fight for consumers' attention has gotten tougher since Yasso first entered the market.
To stand out on shelf, the brand chose to go back to the drawing board with its packaging and take a "disruptive" approach with the new look. Gone are the solid packaging colors, clear-cut names and traditional product shot. In their place is a mosaic of ice cream inclusions, such as sprinkles and cookie bits, and names including "rolling in the dough" and "best of both swirlds."
"In general, consumers see so much content in the day to day and in the course of twenty-four hours with Instagram and Facebook. We see so much much more creatively and consumable imagery by news outlets and brands," Harrington said. "I feel like now a brand really needs to take a disciplined approach to esthetics or brand voice or design to really start to rise about any category."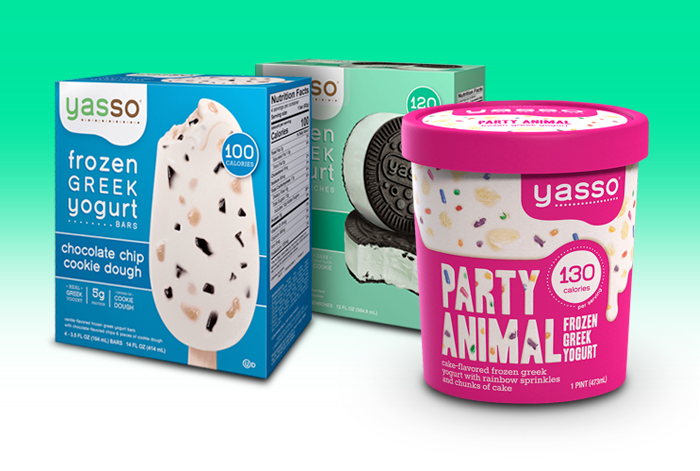 Harrington also believes that Yasso has enough brand equity that consumers will naturally be curious when the see the pints in a nearby freezer door.
Of course capital also helps with gaining consumer attention and retail partners. Almost a year ago, in March, rumors swirled that private equity firm Castanea Partners had invested in the ice cream brand but the deal was not officially confirmed until a few weeks ago. According to Castanea, Yasso wanted to delay the announcement until it had launched its pints.
Yasso was first listed for sale in 2016, with Janica Lane of Piper Jaffray advising on the deal. It was reported that the brand was expected to sell for $150 million and had previously raised roughly $14.5 million. Castanea has previously invested in Jeni's Splendid Ice Creams, a retailer and wholesaler of branded artisanal ice creams.
"From day one of Castanea joining our team, they've been a collaborative partner who has brought fresh perspective to our plan," Harrington said. "Their operational expertise and enthusiasm for our brand mission aided our creative process throughout the pint project and helped us launch our best innovation yet."