Brooklyn Delhi Creates Curry Ketchup for Whole Foods; R.e.d.d. Joins Peet's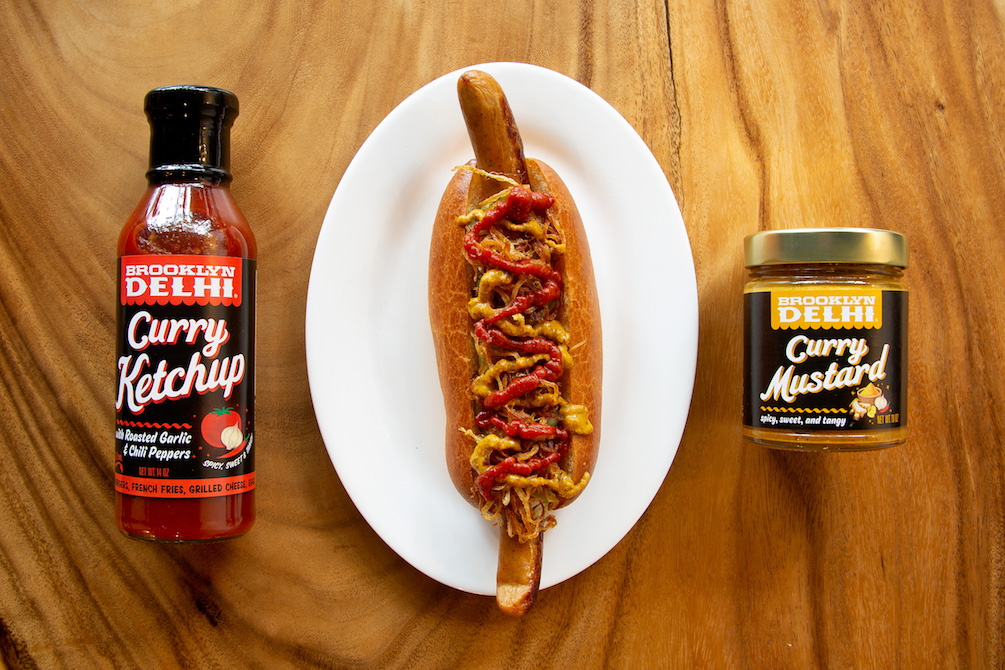 From an Indian-inspired condiment maker getting into more doors with a new product, to a chickpea snack producer growing its distribution with a familiar flavor, here's your latest in natural distribution news.
Brooklyn Delhi Gains Whole Foods with Achaar-Infused Ketchup
Americans may be starting to add achaar to their shopping lists, but ketchup is a staple. That's why Brooklyn Delhi is hoping to make the American condiment a gateway to their more exotic line of products. The New York based company launched this month a curry ketchup and curry mustard nationwide at Whole Foods Market as a 90 day exclusive product.
Brooklyn Dehli was approached by the natural products retailer, which previously carried the brand's tomato and roasted garlic achaar in seven of its stores, about rolling the line out nationwide. After reflection, the company realized that such a rollout would require extensive demoing to educate consumers — costs Brooklyn Delhi could not support at this time. Instead, founder Chitra Agrawal suggested she make the unfamiliar familiar by using her tomato achaar as a base ingredient in a new ketchup.
To compliment the ketchup, Agrawal developed the mustard — both of which will be sold out of the traditional condiment set at Whole Foods.
"I'm hoping my curry ketchup and curry mustard will serve as a gateway to Indian flavors and get people excited about exploring the cuisine further," Agrawal said. "Currently, the cuisine is still nascent in the American market, but it's only a matter of time until achaar becomes part of of the everyday meal just like Sriracha is today."
To further drive brand awareness and trial, Brooklyn Delhi's original tomato achaar line also became available in Blue Apron boxes earlier this year.
R.e.d.d. Bar Grows With Peet's
Coffeehouse chain Peet's Coffee has recently been upgrading its snacking selection by offering more natural brands and now superfood bar maker R.e.d.d. is the latest to join that roster. Peet's began selling the brand's Peanut Butter Superfood Energy Bars in all 250-plus of its locations nationwide at the start of summer.
"Peet's is an ideal fit for us because we share a similar core customer demographic," R.e.d.d. Founder Alden Blease told NOSH. Both of our customer bases appreciate taste, function and design — and an elevated experience."
R.e.d.d., which stands for "Research Enhanced Design + Development," produces five SKUs of bars, all of which are marketed as "part protein bar, part energy shot, and part multivitamin." The line is currently sold in Whole Foods, GNC, Sprouts, New Seasons and Gelson's.
Biena Foods Brings Girl Scout Cookie- Inspired Line to Whole Foods Nationwide
While on stage during this month's NOSH Live, Poorvi Patodia, the CEO and founder of crunchy chickpea brand Biena Snacks, announced that the company's newest chickpea flavor, Thin Mint, has been picked up by Whole Foods nationwide.
Based on the cult-favorite cookies, Patodia said she has found her partnership with the Girl Scouts of America extremely valuable because it adheres to her mission of creating flavors that are relatable and recognizable, even if the ingredient itself isn't as mainstream.
"It [Girl Scout cookies] are part of American culture so by default it made Biena a part of American culture as well," Patodia told the audience.
In addition to the Girl Scout Cookie-inspired chickpeas snacks, Whole Foods will also add Biena's chocolate-covered chickpea flavors — Dark Chocolate and Salted Caramel — and four savory SKUs — Sea Salt, Honey Roasted, Barbeque, and Habanero — to shelves nationwide. Each will be sold in 3.15-ounce packs for $4.49.
Months After Launch, ONE Basix Sees Distribution Growth
Though ONE Brand's Basix line just launched earlier this year, the company announced that as of this month it can be found in over 3,000 GNC locations and 750 Vitamin Shoppe stores.
Unlike it original protein bar line, One's Basix SKUs are formulated with stevia and are free of gluten, sugar alcohols and sucralose. The new line follows the 2017 launch of the brand's new look, which was designed to better appeal to the masses rather than just athletes as the brand begins to platform. For callouts, the new design focused primarily on the bar's 20 grams of protein, one gram of sugar, and dessert-inspired flavors. Peter Burns, president and CEO of ONE Brands, previously told NOSH that creating low sugar options is a space the brand wants to continue to play in.
"Protein is the heritage of the company. That's where we are and that trend is completely solidified in the consumer's mind," Burns said. "We called out sugar second because we think that sugar, or the anti-sugar trend, is moving pretty quickly."
Ozery Grows Retail Presence With Publix 
Ozery Bakery, the makers of bread rounds, is growing its retail footprint. As of this month, the brand has entered about 1,000 Publix locations and has added a new SKU to 380 H.E.B. stores.
In addition to other Ozery baked goods, both retailers chose to pick up at least on SKU of the company's latest innovation: snacking rounds. Available in flavors such as apple cinnamon, cranberry orange, muesli and cocoa cherry, the snacking rounds are described as "the lovechild of a bagel, pita and English Muffin." Each bite-sized bun is 70-calories, non-GMO, vegan and kosher.
Additional recent distribution news includes:
Over the past month, meat snack brand 4505 Meats has added 700 Kroger locations and 1,570 Safeway/Albertson stores to its distribution. Whole Foods also added the chicharones maker to its salty snack set nationwide.
A few months after launching its newest flavors of peanut butter and chocolate, mission-based bar brand Empact is growing its retail footprint to 600 store locations. Natural Grocers, Vitamin Cottage, King Soopers and Gelson's all picked up the snack brand.
Paleo vegan gelato maker Vixen Kitchen has almost doubled its west coast presence, adding retailers such as Rainbow Bridge, Lassen's, Mother's Market, Vitamin City and Clark's.
Coming off of recent distribution growth with Earth Fare, frozen fruit supplier Seal the Seasons has added another new retailer to its roster: Inglis Markets. The retailer will sell the 32-ounce pouches of the brand's Carolina Berry Blend, North Carolina Strawberries and South Carolina Peaches.