Brazi Bites Sells Majority Ownership, Will Build Latin-American Platform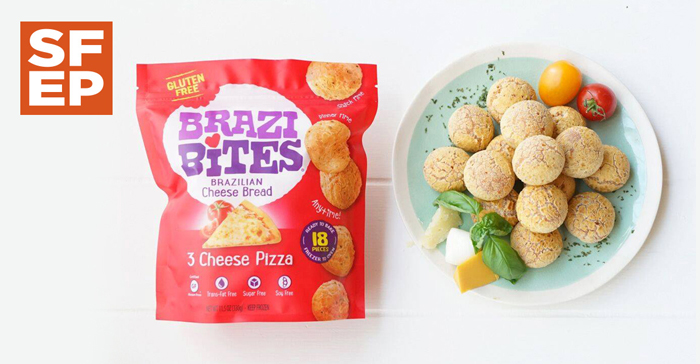 San Francisco Equity Partners (SFEP) announced today that it has acquired a majority stake in frozen, gluten-free cheese-bread brand Brazi Bites. Terms of the deal were not disclosed but husband and wife founders Junea Rocha and Cameron MacMullin, along with their team of seven employees, will remain with the company.
Rocha told NOSH that Brazi Bites had previously taken funding from angel investors, as well as a smaller strategic round in 2015 from a private food business based in the Northwest. An appearance on Shark Tank in 2016 also landed the brand an on-air deal with Lori Greiner, but that investment fell through. Since appearing on the show, the company has grown to be sold in over 6,000 retailers. In 2018 it was ranked number 81 on Inc.'s annual list of "America's Fastest-Growing Private Companies," with a reported $8.5 million in revenue.
As a result of the expansion, the company realized it needed additional capital to continue to scale sales. The choice to sell the majority of the company came after a year of discussion with investors.
"The company was hitting an inflection point," Rocha told NOSH. "It became apparent to us that we were missing opportunities out in the marketplace and we were just working off of low hanging fruit."
Enter SFEP, who Rocha appreciated would bring capital as well as strategic advice. Rocha and MacMullin will continue to own a "significant" minority share so there is also the potential to have a second exit, or "bite of the apple," in the future, Scott Potter, Managing Partner at SFEP, told NOSH.
SFEP, whose portfolio also includes Method Cleaning and San Francisco Salt Company, was interested in the the frozen category for some time, according to Potter, noting that he believed there was an opportunity to capitalize on the change that was occurring in retail freezer aisles.
"We have a broader thesis around the reinvention of the freezer," Potter said. "Clearly clean-label, better-for-you has permeated every aisle and every category of the store, with the frozen aisle being the last one to go through through that transformation. But for the first time, we're seeing growth in frozen and it's being led by these better-for-you brands."
The plan for Brazi Bites is threefold, Potter said. First, enter new retailers with the existing product line and invest in marketing, demos, social media and sales. Second, grow the product line with new frozen products. And finally, in an effort to become a platform brand, expand into new categories with other Latin-American offerings. But, according to Potter, SFEP doesn't plan to rush into brand expansion.
"We want to walk that balance of really leaning into growth but at the same time, running a really thoughtful, scrappy, entrepreneurial culture business," he said.
Part of what has differentiated Brazi Bites from other Latin-American offerings is that though the company is an artisanal product, it has managed to connect with mainstream shoppers both via its traditionally flavored breads as well as with flavors such as three cheese pizza that cater to American palates.
"At the end of the day, it's cheese bread. It's unique, it's South American and it's traditional, but it's very approachable. We've seen that it's easy to understand," Rocha said. "[It's also] made in a way that's innovative and fun. It's where all those things meet."