Barnana Chips Away at a New Line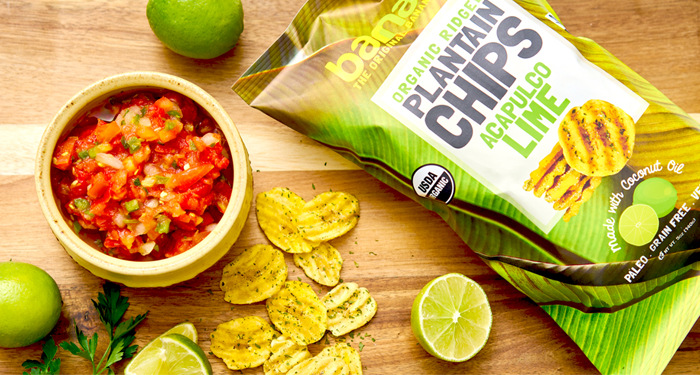 From chickpeas to cassava, jicama to crickets, beans to lentils the chip category has come to represent a proving ground for novel ingredients made crisp and salty. Now, banana-centric brand Barnana is taking its show, hoping to introduce the mainstream American public to a new line of plantain chips.
The line, Barnana's first savory product type, will launch with three flavors: vinegar, a blend of apple cider and white vinegars, Acapulco, a lime and parsley combination, and Himalayan pink salt. Beyond the unique flavors, Barnana hopes to differentiate its chips, which will retain for $4.99 for a 5 oz. bag, by using coconut oil and with its organic certification. To start, the chips will be available from Barnana's own e-commerce store, then roll out on Amazon and will finally hit Whole Food Market nationwide in April. Following Whole Foods, other national retailers will also carry the line — and the brand will launch a barbeque SKU.
Barnana co-founder and CEO Caue Suplicy told NOSH that Whole Foods played an integral role in the product's inception. Barnana was spurred to action after David Woods, the Whole Foods global grocery category manager for salty snacks, asked the company to create an innovative plantain based snack for its shoppers. Coincidentally, Barnana had already been toying with entering the savory space with just such a product.
"It goes back to the goal for Barnana to be the leader in everything bananas," Suplicy said. "So it was only logical to get into the savory, plantain category because it is one of the most well known banana products on the market. [The savory category] is just so much larger and the velocities are so much bigger."
In keeping with the profile of the chip category, the chips will be ridged like a Frito-Lay Ruffles chip, although they will are made from whole slices of the fruit.
In addition to its snackability, the company is also pushing its usefulness as a recipe ingredient, such as a crunchy topping on a casserole, crushed and used as breading, or put in salads.
The company tapped a bunch of its fans for advice on the new product, according to co-founder and CMO Nik Ingersöll. Before settling on the flavors, the company asked its fans what flavors they would like to see and, despite internal favorites of bacon or chile, settled on these top four.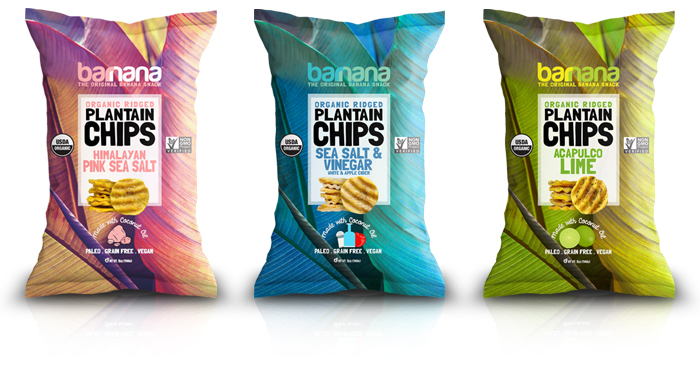 Along with the new launch, the entire Barnana line will feature a new look designed by Ingersöll. The plantain chip bags sport a bright, technicolor background of plantain leaves, a new logo treatment and new company font. Barnana's other lines, chewy bites and banana brittle, will sport a similar aesthetic going forward.
The packaging will be the key, Suplicy said, in differentiating the line from other "commodity" plantain products that are on the market while also fitting in with other products in the salty snack set.
"Before you eat the product, you eat with your eyes. That's why it was so important for us to create a high end, beautiful package," Suplicy said "People will see this packaging as more in line to the higher end brands that they already buy."
Although plantain chips aren't completely new to the American market, they have typically been relegated to "Latin American" sets. The plan is for Barnana chips to sit alongside potato and corn chips, in mainstream sets rather than international or ethnic aisles.
"As consumers go to look for alternatives to Doritos and Lay's Ruffles, they are going to find themselves looking for alternative chips that have familiar flavor profiles but that are better-for-you and a little more sexy," Ingersöll said. "We're taking the plantains out of the esoteric 'ethnic foods aisle,' putting it into mainstream categories and competing on flavor and price with the bigger guys."