ACG Invests in Greek Yogurt Snacking Brand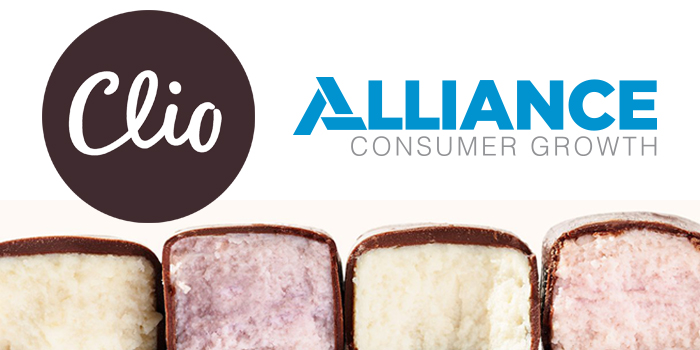 Today, private equity investor Alliance Consumers Growth (ACG), announced an investment in greek yogurt snacking brand Clio. Sold in over 2,000 doors, Clio produces a chocolate dipped greek yogurt bar. The brand declined to disclose the exact amount for the investment, but told NOSH that ACG is the only investor in the brand.
ACG, which has invested in companies including barkTHINS, Krave Jerky, Cookie Chips and Way Better Snacks, brings a strategic background in brands targeting the snack space. Julian Steinberg, ACG co-founder, told NOSH that the group was particularly attracted to the yogurt category.
"Yogurt is a huge category, and it has recently undergone massive disruption through the introduction of Greek yogurt," Steinberg said. "We believe Clio is the next generation of yogurt disruption – delivering not only a new bar format but also incremental occasions to the category."
Clio bars, which are typically found in the yogurt or refrigerated bar set, are currently sold in retailers such as Harris Teeter, Market Basket, ShopRite, Whole Foods Market's Northeast region, and Walmart. Each bar retails for $1.39 and is available in six flavors.
Clio has undergone several major changes in the past year. Heather MacNeil Cox joined the company in October 2017 as general manager and VP of sales and marketing. Then in April of this year, the brand re-launched in modern, monochromatic packaging.
MacNeil Cox told NOSH that the rebrand has been well received; May was the company's biggest sales month to date. The funding will be used, she said, to accelerate this growth.
"With both the product and branding dialed in, we are ready to share Clio with consumers nationwide. The funds will be used to help fuel growth, including capacity expansion, marketing and continuing to build out the Clio team," MacNeil Cox said. "The most often asked question we hear is 'where can I buy [it]?' so we are thrilled to be expanding distribution this year."
The company aims to position the line as a yogurt option for all day-parts — a part of its "spoon-free yogurt revolution." Expanding the eating occasions for yogurt is something brands in traditional cups have tried to achieve via add-ins or by offering indulgent flavors. Clio, however, takes the position that its form factor is the key to making yogurt more portable and easy to consume.
"[Consumers] are delighted that they can also get something that tastes like a treat and offers the convenience of a bar," MacNeil Cox said.