Vital Proteins Raises $19M to Take Collagen to the Masses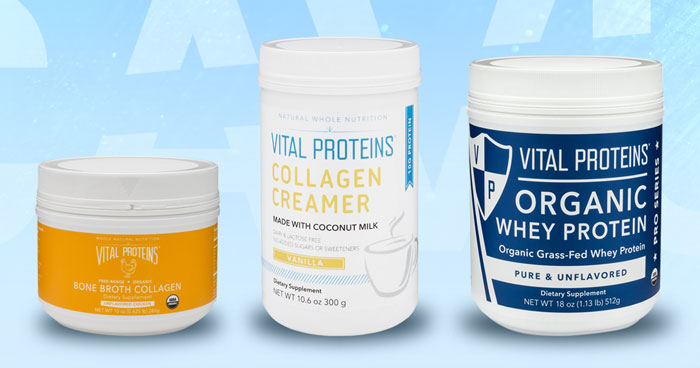 Can collagen move from its fitness fanbase into the mainstream? Vital Proteins and its new investor CAVU Venture Partners both think so. Yesterday the the "collagen-boosting nutrition" brand announced a $19 million investment from CAVU to support its rapid growth.
Chicago-based Vital Proteins said it will use the investment to gain ground in retail distribution and to educate consumers through marketing campaigns. The investment will also go towards finishing a new production facility that will produce five times as much product at half the cost. As part of the deal, CAVU co-founder and managing partner Brett Thomas and CAVU SVP Bader Alam will receive board seats, while CAVU co-founder and managing partner Rohan Oza will serve as a board observer and advisor.
Kurt Seidensticker, Vital Proteins' founder and CEO, told NOSH that he is excited to partner with an investment group that understands what it takes to create a successful CPG product.
"An entrepreneur knows an entrepreneur," Seidensticker said. "When I met all the partners at CAVU I recognized that they had gone through the same journey that I had gone through in my career, and they know the challenges of building a company, growing it and creating an iconic brand. Having that experience is really invaluable in taking an idea, putting a lot of sweat equity into it and growing it into an iconic brand. That's the type of partner I immediately identified and bonded with."
Seidensticker, a self-described "passionate runner," started the company in 2012 after finding it was taking longer to recover from his runs due to joint pain. He then spent two years developing a product and building a facility, leading to Vital Proteins' debut entrance in 2014.
For its first two years, Vital Proteins had limited retail distribution and mostly focused on e-commerce, but since expanding into brick-and-mortar less than a year ago, the company's products have come to be sold in over 8,000 storefronts. Over the past year, Seidensticker said, the company has seen 250 percent growth year-over-year and 50 percent growth quarter over quarter.
To support the expansion, Vital Proteins now has roughly 100 employees, 40 of which are on the production side.
Seidensticker said focusing on e-commerce at the brand's inception allowed the company to build a passionate following of consumers. He also has supported the online play with 260 "brand advocates" who perform demos, attend events and act as mouthpieces for the company. This methodology is a strategy that has benefitted other brands, such as recent Kellogg's acquisition, RxBar, that began by appealing to a niche segment of consumers online, complimented by a robust field marketing program.
The next chapter of the company is bringing collagen into the limelight and to the masses. While it already has awareness overseas, especially in Asia, the American consumer is still somewhat new to collagen's purported joint, skin, nail and hair benefits.
Vital Proteins also comes to market as ingestible beauty products, or cosmeceuticals, are gaining in popularity and increasingly gaining investment. Beauty supplement producer HUM Nutrition, which is sold in retailers including Sephora, just closed a $4 million round of funding from investors including CircleUp Growth Partners.
"I think there's a really interesting thing going on and, in the macro, it's the emergence of food and beauty," Thomas told NOSH. "Being able to have a product that can functionally, by ingesting it, improve your joint health, your tendon health, and also your skin, hair and nails was pretty intriguing to us [at CAVU]. I think it's very on trend."
As part of its R&D strategy, Vital Proteins developed products that can exist in multiple areas of a retailer in order to gain maximum exposure. For example, its beauty waters can be sold in the beauty department, its collagen creamers in center store and its protein powders in the fitness section.
Despite the opportunity to release a slew of products in a variety of categories, Seidensticker said he's focused on being thoughtful and creating products that can become part of consumers' daily habits wherever that may be. For example, one consumer may put Vital Proteins' collagen into a breakfast smoothie bowl while another may add it to their nightly tea.
"We have such authenticity and deep relationships with our customers, it's almost like a partnership. We're out there doing 60 to 80 shows a year and talking and connecting with them, they'll tell us what they want," Seidensticker said. "I wanted to create a very versatile product that people can create stuff at home. I don't want to get into a lot of processed food. I just want people to incorporate collagen into their diets."
One initial roadblock may be sticker shock. Many of the products come in at over $40, but Seidensticker told NOSH that Vital Proteins' products generally ring in at below average prices per serving and prices per gram of protein. Still, while the price of cattle is determined by the market and thus unable to drop with scale, Seidensticker believes manufacturing and packaging efficiencies will help lower costs.
In the end, Seidensticker said the acceptance of price will come as the company continues to strengthen its strategies on communicating why Vital Proteins is more than just a product line.
"When you look at what our product portfolio is, even though there are specific categories that are either food or dietary supplements, it's really a lifestyle brand," he said. "From the time you wake up to when you go to bed you are continuing to build a lifestyle around collagen."