Greyston Bakery Launches New Line, Extends Open Hiring Model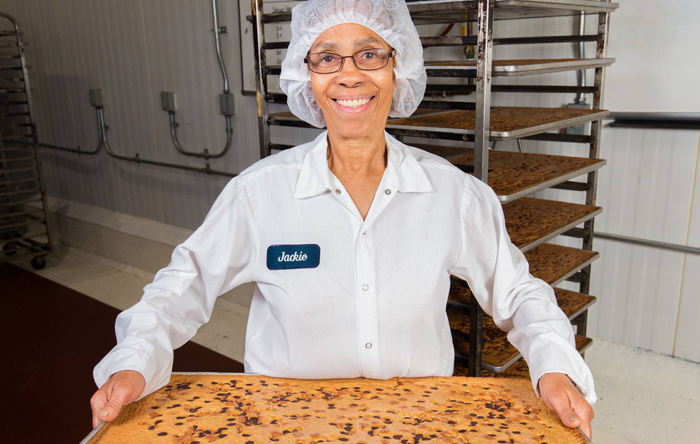 Greyston Bakery is advocating for inclusivity with both its newest product offering and its longstanding hiring policy. Earlier this month, the Yonkers-based bakery announced it was expanding beyond its brownie line into a new sweet category: grab-and-go cookies.
With two varieties, Harvest Cookies and Chocolate Chunk Cookies, the line launched in March exclusively in Whole Foods Markets nationwide for $1.99. The cookies are baked without preservatives, and use cage-free eggs and fair-trade sugar.
CEO Mike Brady told NOSH the main motivation for the new line is the opportunity it offers to expand the company's Open Hiring Model (OHM).
The model, which Greyston created, has been a core of the social enterprise business since the company's inception in 1982 and provides jobs to individuals with barriers to employment — no questions asked. According to the Brady, Greyston created 20 new full time positions at the bakery since launching the cookie line in Whole Foods. Over the course of 2017, he plans to expand those job opportunities even further.
"The reasons people don't get employed are vast and varied, and I think it is unfortunate that others don't appreciate the value of having great employees even if they perhaps have had issues with the criminal justice system in the past, or dealt with homelessness or have gaps in their resumes," Brady said. "Our goal, and the vision of our hiring, is that we are only concerned with what people do in the future, not what they've done in the past."
The bakery not only hires employees of all backgrounds, but also provides its workers with resources like workforce development, child care and access to local, organic produce through community gardens.
"I think from a business standpoint it is critical that people are able to come to work and be productive. If you're concerned that your child is not getting proper care or you are living out of your car, you are going to have a hard time coming to work and being productive and getting brownies out the door, which is what we have to do every day," Brady said. "So, as a businessman, I want to be able to deliver on the productivity requirements that I have. As a human, I want people to be thriving members of our community and giving people the opportunity to be successful at their job is one of the better things I can do."
The B Corp is also looking beyond its Yonkers, New York headquarters through its partnership with Whole Food's Whole Planet Foundation. Greyston donates two percent of all cookie sales to the organization, which is the retailer's nonprofit dedicated to poverty eradication in communities around the world.
Brady noted that the company, known for providing Ben & Jerry's with its chewy brownie inclusions, will continue to diversify its product offerings and extend each line's reach. He added that though the company is "always in talks with Ben & Jerry's," right now there are no official plans for the cookies to appear in pints as its brownie brethren has. Ultimately, Brady hopes to continue to grow his team and stay true to the company's mantra: "We don't hire people to bake brownies, we bake brownies to hire people."
Brady has also been inspired by current events across the nation. In January he released a statement about inclusivity and its importance to the success of his 34-year-old company and the country. He explained to NOSH that he thinks the business world as a whole "can behave in a way that is more inclusive," but that not enough businesses do– and that's something he wants to change.
The company plans to launch a center in 2018 to help industry leaders adopt Greyston's OHM. Brady could not speak to any details about the center's potential offerings or location, but said he excited about the work the center can accomplish.
"As a business leader," Brady said,"I think we all have the opportunity to think about what it is that people need to do to not only be productive at their job, but also to be productive in life."