Expo West: Social Responsibility Part of the Business for Industry Leaders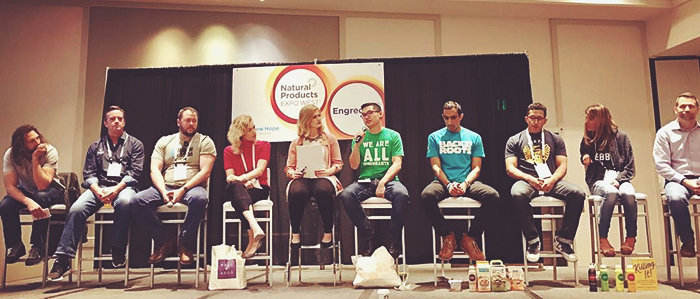 Despite the billions of dollars of revenue increases the category has seen and the promises of investment to further their enterprises, today's natural product industry leaders are motivated by social good as much as they are by profit. During a discussion at the 2017 Natural Products Expo West in Anaheim, Calif., both longtime leaders and rising entrepreneurs spoke about how they're positioning their companies to not only be successful financially, but also as part of a raised social consciousness.
The panelists — Jeff Church, Co-Founder and CEO of Suja Juice, Sheryl O'Loughlin, CEO and President of REBBL, Shane Emmett, Co-Founder and CEO of Health Warrior, Vincent Kitirattragarn, Founder of Dang Foods, Alexia Brue, Co-Founder and CEO of Well + Good, Nikhil Arora, Co-Founder and Co-CEO of Back to the Roots, Justin Gold, Founder of Justin's nut butters, Miguel Garza, Co-Founder and CEO of Siete Foods, and Don Clark, Whole Foods Market's Global VP of Purchasing for Non-Perishables — spanned across categories and parts of the industry, but each were united in that they are businesses that are fighting for change: environmental, humanitarian or political.
The discussion first revolved around issues of nutrition accessibility. Arora spoke about his company's efforts in improving the availability of healthy food among children. Back to the Roots announced last week that its cereal cups will now be served in the New York City public school dining system to its over 1.1 million students. During the show, the brand also toured local students through the show to expose them to new natural brands and products. But Arora knows there's still more to be done to increase the availability of minimally processed products. "When we talk about superfoods, we're focusing on making it accessible for people of all communities," Arora said. He also spoke of creating an understanding that vegetables — things growing out of the ground — can all be thought of as "superfoods."
For Gold, who remains with the company he started, even after it sold to Hormel last year, a deeper look into his nut butter's supply chain led to his newfound focus: protecting the world's pollinators. During the panel, he noted that one out of every three bites of food relies on bees, and that their survival is integral to the success of his company.
"For [entrepreneurs], it's always about survival," Gold said. "Our mission statement at first was more so just to see the next day and we were so entrenched in that, but, now that we started to take off, we decided to dive down deeper into our supply chain … and we found that almond trees are primarily pollinated through insects."
Health Warrior is also looking to help boost the economy within its supply chain. The chia bar company is raising funds to restore the drought-stricken farms of the Tarahumara people. Profits from its newest Mexican Chocolate Chia Bars will benefit Operation Farm & Run. "We thought 'How can we help them?'" Emmett said. "So, we thought 'we'll make one bar.' We'll pay to make it, restore the soil, plant the crop of chia seeds which we would then buy back for much more money than we would normally ever buy chia seeds for." Beyond an initial Kickstarter campaign, the bar will also be on shelves in Whole Foods this April.
Calling herself a "serial" mission-based entrepreneur, O'Loughlin, the former CEO of Clif Bar, is now at the helm of a company with the goal of eradicating modern-day human trafficking — one of the fastest growing illegal industries in the world — through responsible agriculture and humanitarian efforts. The company also donates 2.5 percent of its net sales to this mission each year. "When people are impacted by climate change and can't grow crops, they become extremely desperate and many turn to trafficking as source of income," she explained.
Other panelists built their companies on values instilled by their personal relationships with culture and family. Kitirattragarn, wearing a t-shirt proclaiming, "we are all immigrants," spoke to his experience being the son of immigrants and how he believes diverse backgrounds shape innovation within the U.S.'s food system. Garza spoke about family as well, noting that six out of seven of his immediate family members work in the family's grain-free chip and tortilla business. Meanwhile, Church, whose company is now partially owned by the Coca-Cola Company, said he is focusing on both transparency and creating products with less sugar and more vegetable-based nutrition.
A company's mission also can influence its relationship with retailers. Clark noted that vendors with a strong brand mission appeal to Whole Foods, a mission-driven company itself. "Over again tonight you've heard mission, purpose, values," Clark said. "I think one of the leading positions that Whole Foods has done has been to position themselves in that place in the world, too. So as we think about products, it has to fit those standards and expectations, and be mission-aligned."