Canadian Investor Bets on Pulse-Centric Pasta, Chickapea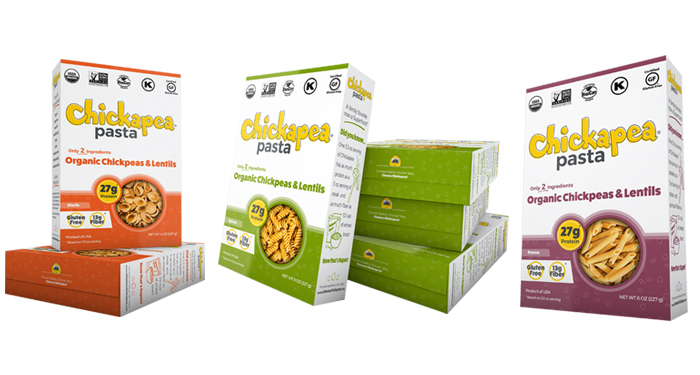 Canadian pasta brand Chickapea is looking to grow in the U.S. after boiling up a new investment.
The chickpea-based pasta company announced it had closed a round of funding with District Ventures Capital, a venture fund backed by Canadian food processor, distributor and retail owner George Weston Ltd. Terms of the minority investment were not disclosed. Arlene Dickinson, a television personality and CEO of District Ventures, will join Chickapea's board of directors.
Chickapea, which president and CEO Shelby Taylor founded in 2014, produces gluten-free pasta from only two ingredients — organic chickpeas and lentils — and avoids binders like rice or tapioca flours, xantham gum, or pea protein. It first appeared on Canadian retail shelves in 2016 but added U.S. independent retailers earlier this year. Across all markets, , Chickapea's lines are in more than 1,000 retailers, including Whole Foods in both Canada and the US, National CO-OP Grocers, and Sobeys in Canada.
Taylor said she's excited to work with District Ventures because of the its relationship with Weston Ltd. The funding will help the company continue its distribution growth and increase brand awareness.
"We'll continue to reach out to and listen to our customers through online feedback, social channels, marketing campaigns, and sales follow up, and we'll continue to support our retailers with promos, demos, marketing materials so they can get behind the Chickapea brand too," Taylor said. "For Chickapea, [our goal is] to become a household name for nutritious family favorites across North America – a name people can trust for simple, clean, organic ingredients and great taste."
For now, Taylor said, the company has the same marketing, distribution and product innovation strategies for both American and Canadian consumers. But, she added, that may change as the company develops more sophisticated marketing strategies and is exposed to more consumers.
News of Chickapea's investment comes less than a month after another chickpea pasta brand, Banza, announced the close of a $7.5 million financing round. Both brands success are evidence of the growing consumer demand for plant-based, high-protein convenient meal.
Like Banza, Chickapea will be launching its first "meal" line, mac and cheese, this fall. The company is also working on long cuts of Chickapea Pasta to complement its current pasta shapes. Taylor said the company's product line is inspired by her own needs and struggles as a mom of two.
"We all want to eat the foods we know and love – the ones we grew up on – but not feel as though it's a guilty pleasure or that we're feeding our families non nutritious foods," Taylor said. "Chickapea will be known for creating convenient meal options that are not just better for you, but good for you."