Tio Gazpacho Partners With Acclaimed Chef José Andrés
Drinkable soup brand Tio Gazpacho today announced a new partnership with award-winning chef José Andrés and his company ThinkFoodGroup. Tio Gazpacho will collaborate with Andrés, a culinary innovator often credited with the Spanish tapas boom in the U.S and whose company owns 25 restaurants in the U.S. and Mexico, on new marketing and retail initiatives for the brand. The partnership will also enable Tio Gazpacho, which markets a range of ready-to-drink bottled gazpacho products, to tap into ThinkFoodGroup's sourcing network of high quality produce suppliers.
Tio Gazpacho founder and CEO Austin Allan told BevNET that he first connected with Andrés last year hoping the star chef would consider investing in the brand. Although Andrés was not part of Tio Gazpacho's $1.25 million funding round which closed in March, 2016, he later reached out to Allan to discuss a possible partnership with ThinkFoodGroup and its mission of "changing the world through the power of food."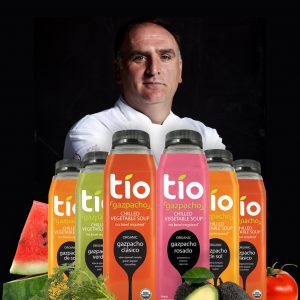 "They want to change eating habits," Allan said. "They get to be a part of this young brand and help us grow. Even though Andrés is mostly known for fine dining, [his influence] really extends to people who are interested in food and creative things with food and changing the way we eat little by little. Which is what we want to do."
ThinkFoodGroup currently has no financial stake in Tio Gazpacho, Allan said. He declined to comment on whether ThinkFoodGroup held an option to invest. It will, however, enable Tio Gazpacho to leverage the currency of Andrés' star power; the company will use his name and promotional quotes about the brand on its website, social media and in some trade marketing.
Andrés will play a more limited role in new product development, but Tio Gazpacho will gain access to ThinkFoodGroup vast sourcing capabilities. Allan noted that the company has been "at the sourcing game for over 20 years" and that buying power will enable Tio Gazpacho to improve cost efficiency.
"We can leverage not just the contacts, but some of the contracts as well, because they're buying from multiple locations," he said. "They can help us get the absolute best tomatoes, for example, and where the best growers are and the best time to negotiate contracts and things like that."
The partnership with Tio Gazpacho is not Andrés' first foray into consumer goods. In 2013 ThinkFoodGroup launched José Andrés Foods, a brand focused on small-batch and artisanal foods made by Spain-based companies seeking greater exposure for their products, particularly in the U.S. Allan described the relationship with Tio Gazpacho as "very different" in that "there's really no way to make a fresh gazpacho product in Spain and bring it to the United States."
"I've always wanted to find a way to bring amazing gazpacho to the people of America outside of my restaurants, and when I tasted Tio Gazpacho, I knew this brand shared this same passion," Andrés said in a press release.
Andrés and ThinkFoodGroup were also enticed by Tio Gazpacho's relationship with General Mills. 301 INC, the venture capital arm of General Mills, was an investor in Tio Gazpacho's funding round, and Allan said that ThinkFoodGroup was excited about the prospect of working with the food and beverage conglomerate.
"It's really clear that a lot of attention is going to be paid to what comes out of the relationship with us and José," he said.