Colorado Hemp Honey Launches Elderberry Support And Feeds The Bees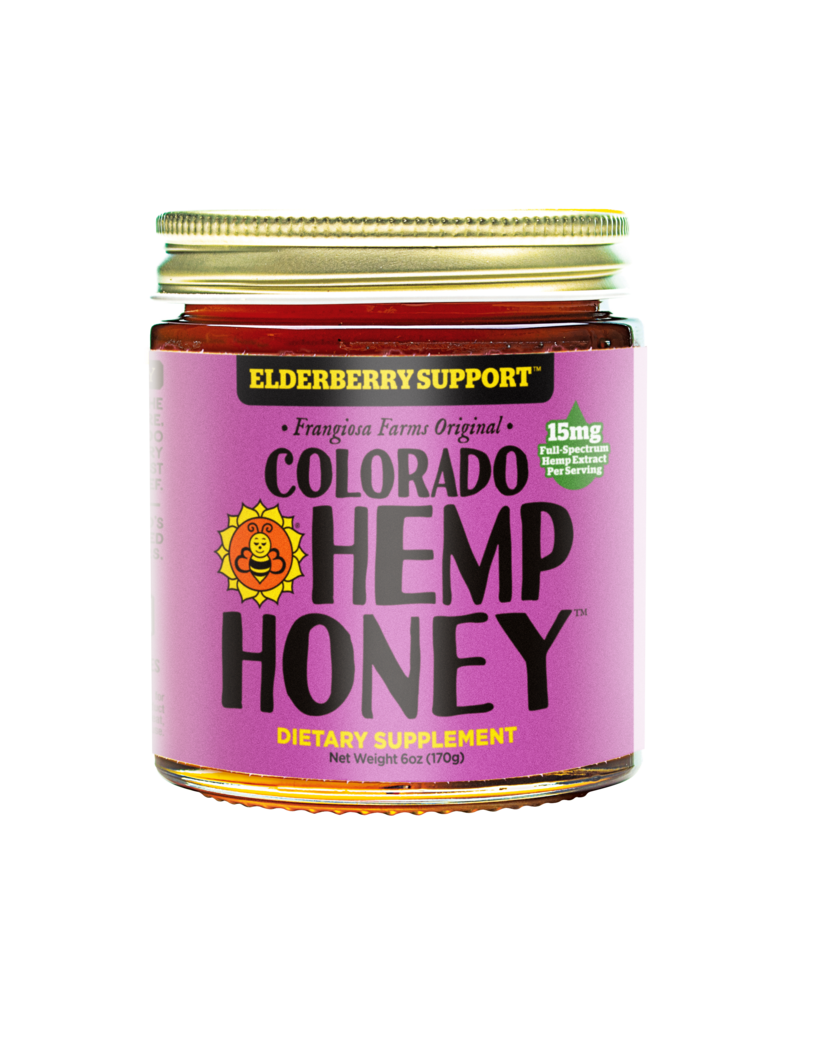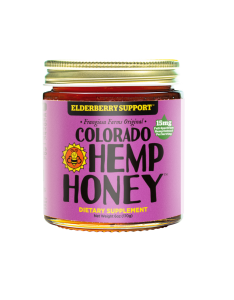 Parker, CO – Colorado Hemp Honey, the original hemp honey company, is thrilled to announce its new line of Elderberry Support Hemp Honeys with naturally occurring CBD sourced directly from their farm. Utilizing the proven health benefits of Black Elderberry Extract (sambucus nigra) along with the unique delivery system of raw honey and full-spectrum hemp extract in these fast-acting, delicious single serve sticks and jars. It is a natural evolution in Colorado Hemp Honey's line of products suited for the natural health and wellness consumer and their pets.
"Our original flavors still contain Organic Essential Oils like Ginger, Lemon and Tangerine to enhance the terpene profiles and naturally-occurring CBD in the full-spectrum hemp extracts we use in every jar and stick. With this new Elderberry Support product, we are able to incorporate the 100 mg of herbal Black Elderberry extract and their beneficial anthocyanins into each serving. As beekeepers and hemp farmers, we are always looking for innovative new ingredients to enhance the ingredients we grow in the fields and harvest from the hives and Black Elderberry couldn't have been a better and more timely ingredient for us. It allows our consumers to benefit from the healing powers of all three while allowing us as farmers to further our sustainability goals by maximizing every bit of crop that we produce here at Frangiosa Farms," said Nick French, a former U.S. Marine, "Bee Shepherd," farmer and co-founder (along with his wife Ali French) of Frangiosa Farms, which produces Colorado Hemp Honey. The line includes both jars and single serve sticks, both featuring 100mg Black Elderberry Extract plus 15mg full-spectrum hemp extract in each 1 teaspoon / stick serving.
Feed The Bees
Colorado Hemp Honey strives to build the best environment for bees to live and thrive. This means looking after the land, plants, and insects that call our farm their home. On our small farm in Parker, Colorado we grow a variety of plans that bees love; lavender, red and white clover, sages, sunflowers, fruit trees, and many wildflowers.
Across the country (and the world), both wild and honey bees often struggle to find "bee friendly" plants locally, so each spring, we enlist our retailers and customers across the country to help plant our special Feed The Bees Seed Mix in their own communities! This will provide local bees with the forage they need to survive, thrive, and maintain healthy colonies that are crucial to the health and well-being of our food supply and the planet!
Throughout the 2021 spring planting season (while supplies last), our Feed The Bees Seed Mix will be available, free with any purchase at select retailers across the country wherever Colorado Hemp Honey products are sold. "We expect to feed more than 5 million bees with these bee-friendly flowers this summer and we are excited to partner with our customers to help achieve this goal.  Join us and be part of the community that is doing its part to help Feed The Bees and keep them healthy!" said French. Additionally, to celebrate the Feed The Bees campaign, Colorado Hemp Honey will be giving away a Feed The Bees gift basket to the best social media post featuring the planting and growing of these wildflowers or any social media post featuring Colorado Hemp Honey products.
About Frangiosa Farms and Colorado Hemp Honey
Frangiosa Farms was founded in 2008 with the goal of creating local artisan neighborhood honey using organic practices. In 2015, Nick and Ali French created Colorado Hemp Honey using raw honey from the farm; full-spectrum hemp with naturally occurring CBD; and organic essential oils. Frangiosa Farms helps save bees and veterans with its community outreach efforts, supports local farmers, and recently began growing industrial hemp. Colorado Hemp Honey has been featured in Food & Wine, Westword, and CNN, among others. Colorado Hemp Honey products are available in natural food pet and hemp/CBD retailers nationwide.
For More Information:
https://coloradohemphoney.com/