Oregon Fruit Products Debuts New Pantry Staple, Blueberries in 100% Blueberry Juice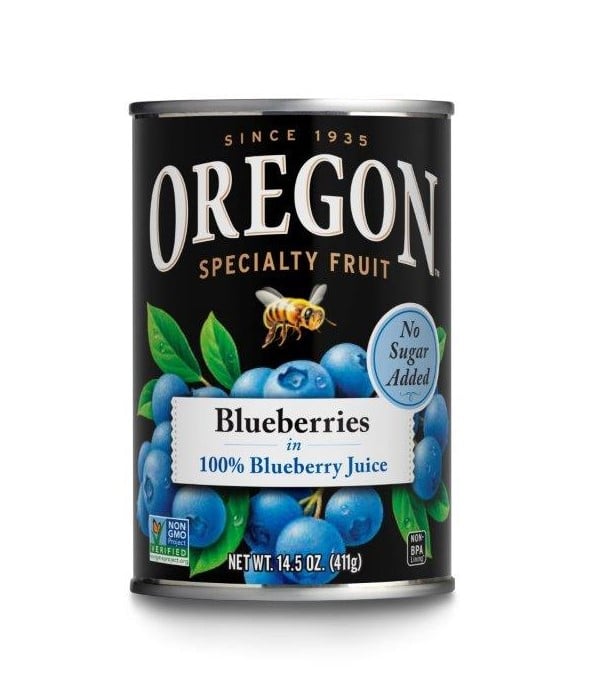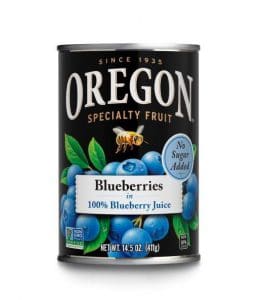 SALEM, Ore.– With an 85-year track record of manufacturing high quality canned specialty fruit, Oregon Fruit Products LLC added to its range of canned fruit offerings with the release of Blueberries in 100% Blueberry Juice. Packed in 100% unsweetened, not-from-concentrate blueberry juice, the new Blueberries in Juice contain no added sugar and are a healthy and delicious way to get the daily requirements of fruit by eating the berries and drinking the juice.
Blueberries in Blueberry Juice are naturally rich in antioxidants and contain 13 grams of natural sugar. Enjoy the fruit straight out of the can or swap for fresh or frozen blueberries in a favorite recipe. The juice can also be poured right into a glass for drinking, frozen into cubes, or boiled down to a concentrated fruit syrup.
"Even grandma added a little sugar when she used to can blueberries," says Lisa Klarp, national sales manager for Oregon Fruit Products. "But as Americans are cautioned to watch their sugar intake, we felt packing the fruit in unsweetened juice would be a delicious way of delivering a lower-sugar option, without compromising flavor."
Oregon Fruit sources the freshest and most flavorful blueberries and blueberry juice exclusively from the Pacific Northwest, just a few miles away from where they're packed in Salem, Ore. Blueberries in Blueberry Juice contain Non-GMO Project Verified fruit and juice, arecertified kosher, and preserved in 100% recyclable cans without a Bisphenol A (BPA) lining.
Blueberries in Juice is now available on Amazon for $24.54 for a 4-can pack of 14.5 oz cans.
Oregon Fruit Products LLC
Founded in 1935, Oregon Fruit Products offers a complete line of canned, frozen and shelf-stable premium fruit for consumers, foodservice operators, brewers and ingredients.  The company is located in Salem, Oregon and can be found on the web at www.oregonfruit.com.
For More Information
www.prweb.com/releases/oregon_fruit_products_debuts_new_pantry_staple_blueberries_in_100_blueberry_juice/prweb17179078.htm